Austin Fernando appointed as presidential secretary – a most unerring appointment made by good governance yet !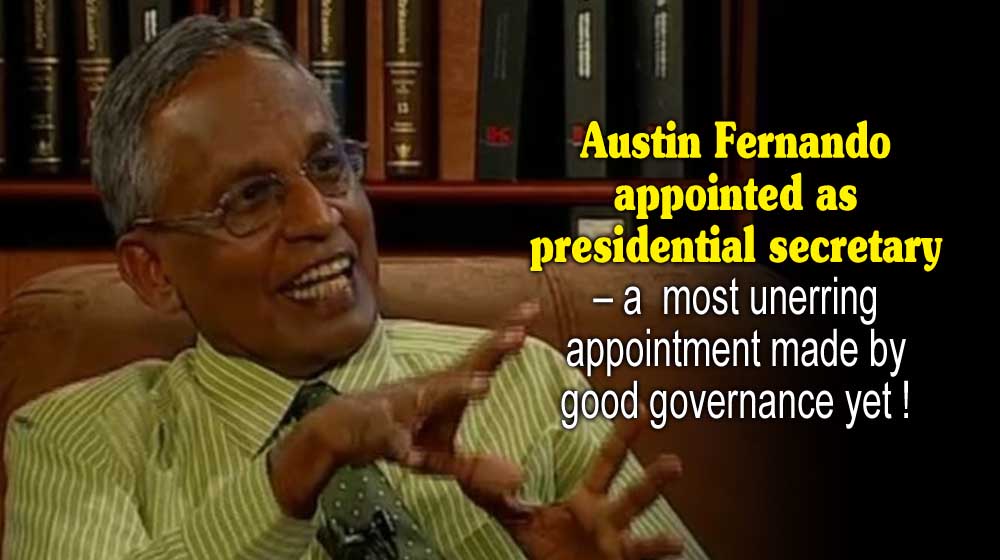 (Lanka-e-news -03.June.2017, 11.30PM) As reported by Lanka e news yesterday so it happened . The vacancy that arose following the resignation of president's secretary P.B. Abeykoon , was filled by Kalupage Austin Fernando a most popular and reputed State administrative officer. This appointment was made by the president this morning.
It is the view of political analysts , this is the first most unerring appointment Maithripala Sirisena made since becoming the president .
Austin Fernando is a government officer who is a long time UNP sympathizer, and at the same time a supporter of any progressive policies of the SLFP . He can safely and surely be described as an officer who was never racism prone , and therefore ideally suited for the promotion of reconciliation policies of the government .
As Lanka e news already revealed yesterday , Austin Fernando is not venal and never after bribes. He is a gentleman and a most sought after government servant during his 50 years of service or more in the state sector . Besides, he is proficient in both languages .
He is an old boy of Richmond College , Galle and passed his degree examination at the Peradeniya University. Later he secured the post graduate qualification from Sri Jayawardenapura University. Prior to joining the administrative service , he was serving as a teacher for a short period.
He had worked as district secretary Polonnaruwa and Nuwara Eliya; Commissioner of cooperatives ; and Post master general. He has also served as secretary at powerful ministries including Ministry of administration , ministry of internal affairs and ministry of defense .
He also held the post of governor of Eastern province , and prior to his latest appointment as secretary to president , he was an advisor to the president.
By a strange quirk of fate , when president Maithripala Sirisena secured his first appointment in his career as grama sevaka , Austin Fernando was his superior officer holding the post of District secretary .
In any event thankfully , what Lanka e news feared and reported based on recent events , did not occur, that is , some weird thing happening in the previous night before the appointment which perhaps could have befouled the sane and sensible thinking capacity of the president.

In the evening of 2015-01-09 after Maithripala Sirisena took oaths as the president of the country at Independence square , when he was inquired by those who were in the vanguard of propelling the good governance government to victory , about the presidential secretary to be appointed , Maithripala replied , he has not decided that yet.
Subsequently , other leaders held discussions in the night with regard to who shall be appointed as president's secretary. Everyone proposed names but none mentioned P.B.Abeykoon. However while the president was at home and as the night advanced , the president phoned the other leaders and informed he has found a secretary , whereupon other leaders lost interest in looking for a secretary.
The other leaders realized only the following morning , Maithri has referred to Abeykoon as the secretary. Though they could not believe their ears , they kept silent assuming that there was an understanding between the president and Abeykoon.
However , when the tasks were entrusted , and official activities were in progress , the president lost confidence in Abeykoon and was disgruntled with his performance. During the last over two years Abeykoon became noted as the officer who faced most flak from the president . Perhaps, this fact is best known between both of them – the president who appointed the misfit and Abeykoon with the putrid antecedence who became president's incessant pain in the neck finally .
But now there cannot be such issues between the old 'boss' who is the present secretary, and the president.

Lanka e news congratulates and wishes Austin Fernando all the best on his new assignment !
---------------------------
by (2017-07-03 20:03:37)
We are unable to continue LeN without your kind donation.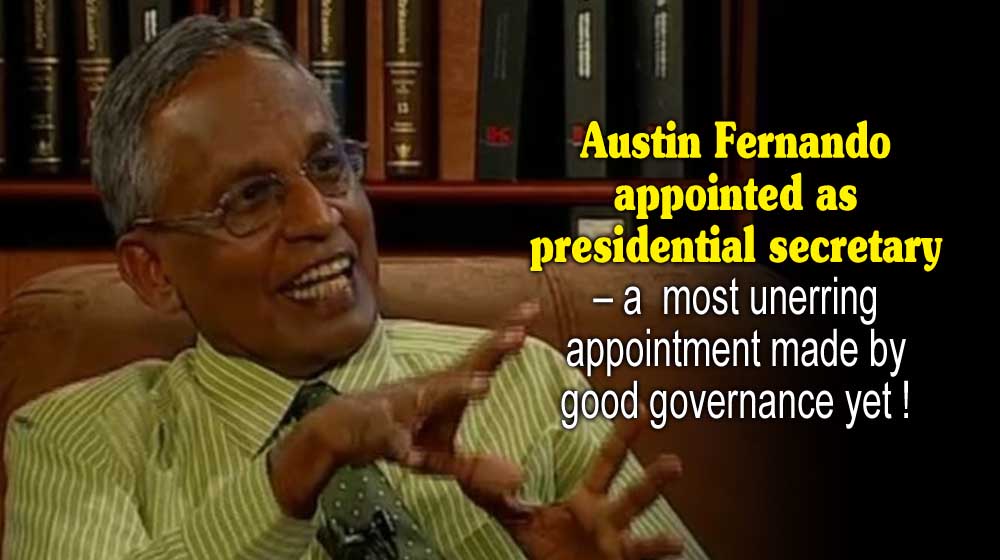 Leave a Reply