JVP and Joint opposition Highway robbers secretly plot to bring no confidence motion against Rajitha !
-Parliament is now a pavement for these pickpockets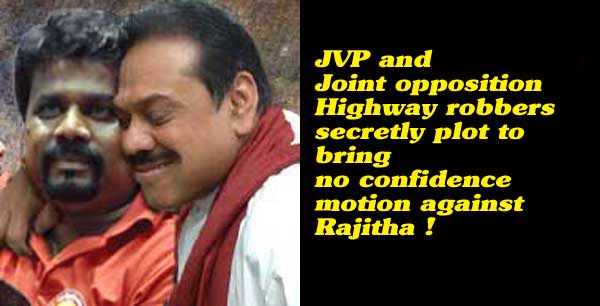 (Lanka-e-News -26.Aug.2017, 2.50PM) The joint opposition shameless hoodlums best known for making the parliament the August assembly a bedlam in the recent past are now desperately making another dastardly move to make the parliament a pavement for their pickpocketing by trying to bring a no confidence motion signed by 39 notorious pickpockets against health minister Dr. Rajitha Senaratne. This motion was handed over to the speaker of Parliament .
What is most ludicrous and ridiculous about this attempt is, among these joint opposition pickpockets and hoodlums are also those who were responsible to make the parliament a scene of bedlam recently and behaved in a most rowdy manner – those who rang the quorum bell ; sat in the chair reserved for the president ; and wrested the mace most barbarically .
Ironically , these are the scoundrels who have jointly decided to table a no confidence motion against Rajitha on the grounds that the latter's conduct within parliament is improper. This move is in fact a sequel to an argument that raged between Rajitha and JVP leader Anura Kumara Dissanayake in parliament.
On the 23 rd chief opposition whip Anura Dissanayake accused that hospitals have no medicines , and two prescriptions are issued to patients. Rajitha responding challenged him to prove it , and said that he would ask from that hospital director whether it is so. Thereafter a heated argument ensued between them with Anura insulting Rajitha by calling him 'Tommiya' and 'beggar'
Another allegation mounted by Anura Dissanayake was : After Rajitha became minister of health, pharmacies and labs are being run in front of hospitals. But the actual position is , the pharmacy - the Union chemists at Town hall roundabout near the General hospital had been in existence since the time of the British rule.
Anura also alleged that Rajitha collected Rs. 10 million from president's fund and went to Singapore for his heart surgery. Bankrupt heartless politico like Anura Dissanayake who was responsible for the killing of thousands of innocent citizens like mice ,and even until today has not asked for forgiveness ,making such statements is not a matter for surprise. His inborn killer and animal instincts have apparently expunged his human feelings so much so that he does not know the value of human life. No wonder he cannot understand Rajitha was granted those funds to save his life.
No matter what , the joint opposition crooks today getting signatures for a no confidence motion against Rajitha is because of the unofficial sly and sinister relationship the JVP has with them . During the agitations staged against SAITM too the JVP got together with them shamelessly and meaninglessly.
Anura Kumara's rowdy conduct on the 23 rd was also due to the fact that it is Rajitha who figured powerfully and prominently to quash the anti SAITM protests staged along with harebrained JVP's participation.
Anura has a long standing grudge against Rajitha because when Anura and his armed murderers were on a killing spree in the past , Rajitha was then with the Mahajana party leader Vijaya Kumaratunge and other leaders including Devabandara Senaratne . When Anura and his killers ruthlessly murdered them in cold blood one by one , it was only the leader Rajitha who could not be murdered by them. It is this disappointment which is still kindling the innate animal instinct of Anura.
During the JVP's killing spree period it was Dinesh Gunawardena , Mahinda Rajapakse , Dallas Alahaperuma of the present joint opposition who extended support to Anura's murderous politics and his criminal gang . Needless to mention Wimal Weerawansa alias Modawansa alias passport horaa- wansa was always with the murderers .
In the circumstances it is very evident it is the same putrid alliance which escaped putrefaction is today again engaging in villainies and traitorous activities to the detriment of the country . The no confidence motion that is being brought forth by these bankrupt politicians only bears ample testimony to that.
---------------------------
by (2017-08-26 09:48:16)
We are unable to continue LeN without your kind donation.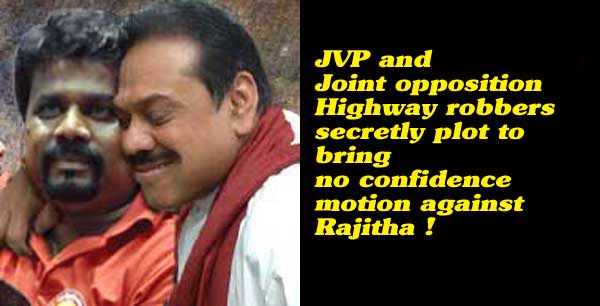 Leave a Reply