Dealdasa turns turtle finally ! Unanimously voted and thrown out ! None to wipe his tears-full report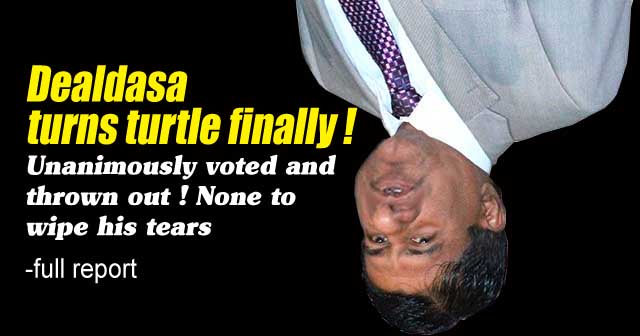 (Lanka-e-News - 18.Aug.2017, 3.45PM) The resolution tabled before the UNP working Committee and at Parliamentary group meeting yesterday (17) against Wijedasa Rajapakse on the grounds that the UNP parliamentarian group has no confidence in him and therefore shall be chased out from his ministerial post forthwith was passed unanimously with not a single member voting in his favor.

The resolution proposed by Aashu Marasinghe the national list M .P. was seconded by Sydney Jayaratne M.P. When it was questioned by Sydney in a loud tone whether there was anybody opposing the resolution , not one M.P. or Minister raised the hand in support of Wijedasa.
In the five main grounds cited against Wijedasa , it was clearly mentioned Wijedasa as justice minister failed to discharge his duties duly.
The resolution stated , Wijedasa while not adhering to the UNP manifesto had failed to fulfill the following requirements in the manifesto :
Bring forth new laws to combat bribery and corruption
Recover the monies that were earned illicitly in the past by culprits and restore those earnings to the people .
Failed to minimize the inordinate delays in courts when hearing cases against the murderers and crooks of the last decade.
Since justice was not being duly dispensed , and the people were denied their deserved justice and fair play on that account , the government and the UNP party were rendered most popular among the masses.
In the circumstances the confidence reposed by the UNP Parliamentarians in him has been undermined , the resolution stated.

The first salvo was fired by deputy minister Ajith P. Perera . As revealed by him to the media earlier so speaking at length on this occasion he disclosed his views against Wijedasa most lucidly. He went on to elaborate that Wijedasa has no conscience , and hence he cannot be allowed to go on .
Minister Mangala Samaraweera speaking against Wijedasa said , this is not a personal issue , and it is a matter of policy.
Minister Sarath Fonseka speaking against the statements made by Wijedasa to the media insisted , immediate action shall be taken with regard to him.
Ravi Karunanayake revealed , though Wijedasa conducted himself like an innocent infant his conduct and activities were hostile to the government.
A large number of members expressed their views against Wijedasa. In addition to the names mentioned above , Nalin Bandara , Harin Fernando , John Amaratunge , Ravi Samaraweera , Harsha De Silva , Ranjan Ramanayake , Chandima Gamage , Ananda Aluthgamage , Sydney Jayaratne , Asoka Abeysinghe , Ruwan Wijewardene and Eran Wickremeratne also spoke against Wijedasa.
Ruwan Wijewardene who is usually reticent also mounted criticisms against Wijedasa. He revealed , all the youthful M.P.s and members are opposed to the conduct of Wijedasa . Eran Wickremeratne who spoke finally , insisted that the decision that is to be taken against Wijedasa shall be made today itself without postponement.
It was only Daya Gamage the politician who knows only about business who showed some sympathy towards Wijedasa. He said, because all of them had been together and working , time must be granted to Wijedasa to reform.
Wijedasa on the other hand when making his speech said he is not accepting any of the allegations leveled against him ; neither did he ask for pardon. But as always he told a profusion of lies. He told a most blatant lie that he did not say Hambantota Port was sold. Aashu Marasinghe then asked him , why didn't he contradict that allegation when made? Besides , why he shared the Lankadeepa newspaper report in his face book which carried his statement that the Hambantota port was sold , thereby adding fuel to the fire ?

Ajith Perera referring to Wijedasa's repudiation of allegations told the prime minister that by Wijedasa's denials alone it is proved his heart is not with them.
When Sydney Jayaratne who seconded the resolution against Wijedasa loudly asked , whether there is anybody in the crowd opposing the resolution against Wijedasa, and if so to raise their hands. Not one raised the hand , not even a mouse or cockroach made a sound in support of Wijedasa. Daya Gamage too did not raise the hand in favor of Wijedasa.
Subsequently , a three member committee comprising the UNP president , Gen. secretary and Mangala Samaraweera was appointed by prime minister to decide on what measures shall be taken next against Wijedasa with instructions to furnish a report within 2 days.
After the end of the meeting when the participants were leaving one minister asked from another , if Wijedasa who has been a notorious wheeler dealer negotiating illicit deals with the adversaries and enemies while being within the government and acting most unconscionably, is dismissed from his justice and Buddha sasana ministerial portfolio , and is to be offered another portfolio , what shall that be ? The other minister at once replied , the most suitable ministry would be that concerns causing death by slow strangulation to those who awarded him the ministerial portfolio , and slitting their throats .

At the time of reporting this article , according to unofficial sources, Wijedasa is going to quit the government and take a seat with the joint opposition.
It is a pity Wijedasa despite being a minister and a lawyer did not have that little grey matter to understand that even after he paid large bribes to monks out of his huge wealth amassed illicitly ,to induce them to make statements in his favor , none of those monks are eligible to vote at the UNP meeting.
Mentally warped Wijedasa had to finally court disaster because truth declares itself some day and emerges victorious finally . Selfish rapacious slimy Wijedasa's trickeries and treacheries directed against the very government and party he served after all did not reap him dividends.
It is significant to note in the historical records of SL, the names of Heroes only had been etched permanently hitherto , and never those of traitors and betrayers. Now, it is Rajadurage Wijedasa alias Rajapaksage Wijedasa alias Wijedasa Rajapakse , a disgraceful name which has earned the disgust, disdain and displeasure of all citizens is today for the first time going to enter the historical records of SL as the greatest betrayer and traitor of all times.
---------------------------
by (2017-08-18 10:27:11)
We are unable to continue LeN without your kind donation.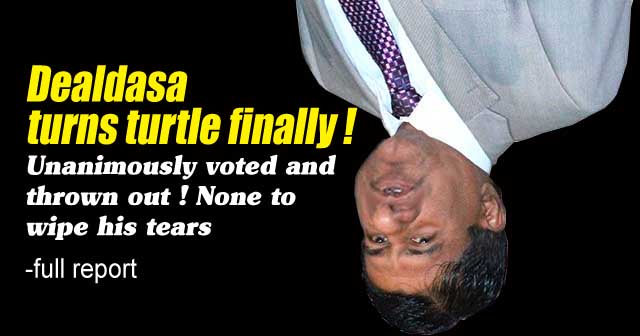 Leave a Reply