SC chases Geetha home -where she ought to be ; Basil and Gota also on same derailed train..!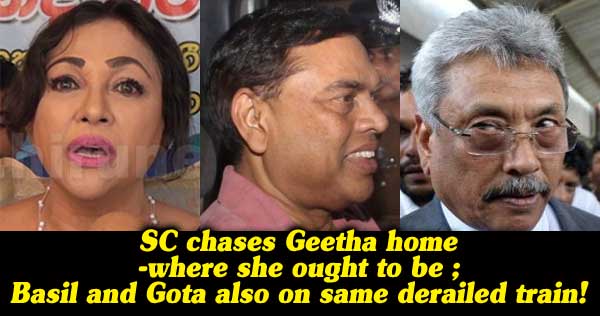 (Lanka-e-News -03.Nov.2017, 7.20PM) The Supreme court (SC) on the 2 nd delivering a landmark verdict decided that Geetha Kumarasinghe Galle district M.P. who is having dual citizenship cannot hold a member of parliament post . That is ,the SC held that the earlier decision delivered by the appeal court is tenable and valid.
This is the first time the SC of Sri Lanka decided a dual citizen cannot be an M.P. In other words ,though Geetha has broken many scandalous records and by now best known for the most squalid reasons , this was the first time she earned the discredit of creating a record as the first M.P. who was unseated based on dual citizenship .

The appeal filed by Geetha Kumarasinghe in the Supreme court (SC) challenging the decision delivered by the appeal court on 30 th May against her was rejected by the SC on the 2nd. The SC confirming he decision of the appeal court decided she cannot sit in parliament as a people's representative (M.P.). The court also ordered the court registrar that this decision be immediately communicated to the Parliamentary secretary.
The appeal was heard in the SC before five judges including chief justice Priyasad Dep (president of the panel)
With the unseating of Geetha, Piyasena Gamage who is next in the UPFA list on the preferential votes will secure the opportunity to enter parliament. He too was in court on the 2nd.

After the decision was delivered , Gamage speaking to the media said , as he is a vice president of SLFP , he is with his party. By that he implied in parliament he will not be with the UPFA but with the SLFP group.
It is noteworthy Basil Rajapakse who has formed a new political party is also a dual citizen . He says he will not cancel his dual citizenship. Gotabaya Rajapakse the other Rajapakse manimal who is now trying to become a 'man' (human) through "Vipath Maga' (Disaster route ) , a new organization of his is also a dual citizen. He too is not prepared to give up his American citizenship . He is so Americanized that he wears tie and suit not only when he goes to America but even when he has to go to the latrine at home, sources say. Besides , how can these two infamous racketeers who have purchased a large number of properties in America out of illicitly earned colossal wealth and plundered public funds of Sri Lankans withdraw their American citizenships ?
No matter what , the decision of the court against Geetha signals what is in store for these two crooked scoundrels too.
---------------------------
by (2017-11-03 13:57:32)
We are unable to continue LeN without your kind donation.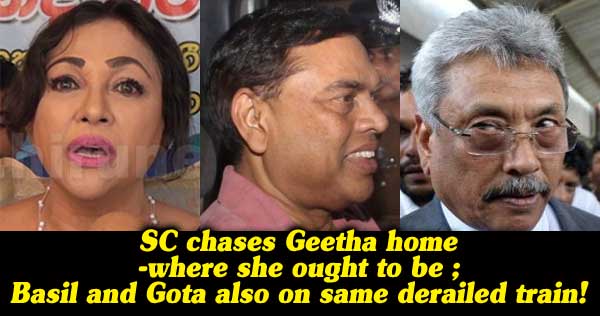 Leave a Reply