Cause of Sinhala youth's death not as previously suspected ; CID launches investigation ! Lohan and Dilum involved -President obstructs arrests !!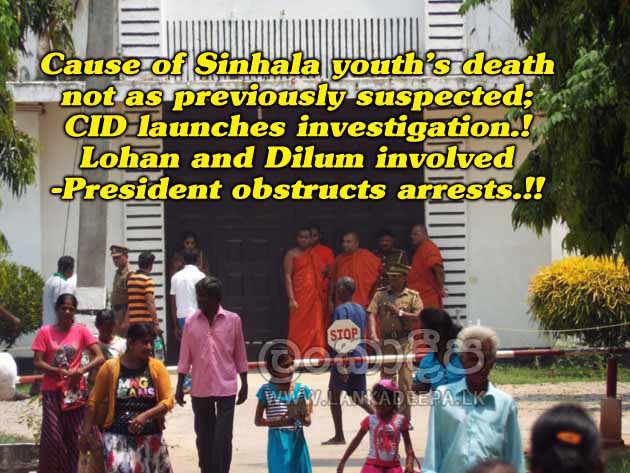 (Lanka-e-News - 26.March.2018, 6.30PM) The allegation made that the death of Kumarasinghe a youth in Teldeniya was due to an attack launched by three Muslim youths which triggered communal violence in Kandy targeting Muslims , is now reported to be false , and the CID has commenced an investigation into this.
Following a quarrel between the Muslim youths who are three wheel drivers and the deceased who were all under the influence of liquor , Kumarasinghe has lodged a complaint with the Police and has got himself admitted to Teldeniya hospital . This was on 22 nd February. According to the police the deceased had no serious injuries at that stage.
After some days , alleging that Kumarasinghe's condition has suddenly turned for the worse , he was transferred to Kandy hospital where he passed away on March 3rd. Kumarasinghe was recovering at Teldeniya hospital and he had been without any problems eating the food that was brought from home, his parents have vowed.

As copious information and evidence have surfaced arousing suspicions as to the cause of death , the CID has launched an investigation . However since revealing the information can militate against investigations , for the moment we have held that back .
By now it is learnt that the deceased is a relative of notorious racist monk Sumanarathane of Mangaramaya , Batticaloa. There is cogent evidence too that following the death of the youth, Sumanaratne arrived in Teldeniya and incited the public . This racist monk has also met with president Sirisena two days before that .

It is the Hiru and Derana TV channels (always thriving in division and devastation of the country) by telecasting the video footages of CCTV camera recordings of the attack , first provoked the public.

Meanwhile during interrogation of the individuals who launched the preplanned attacks in Kandy , the suspects have disgorged copious information like parrots. That is , even before the death of Kumarasinghe on the 3rd and while he was in hospital , the attacks on the Muslims had been planned.
Among the group that planned this racial holocaust are Lohan Ratwatte and Dilum Amunugama based on the revelations. The president is obstructing the arrest of these two accused.
Meanwhile , the secretary of Bodhu Bala Sena , Galagoda Athe Gnanassara who always fishes in troubled waters ( communal unrest) had visited the Aburadhapura prison on the 24 th to inquire about the welfare of the group including Amith Weerasinghe of Mahason Balakaya now in remand custody in connection with the racial violence . Galagoda Athe had just returned after his tour of Japan with the president .
---------------------------
by (2018-03-26 13:02:46)
We are unable to continue LeN without your kind donation.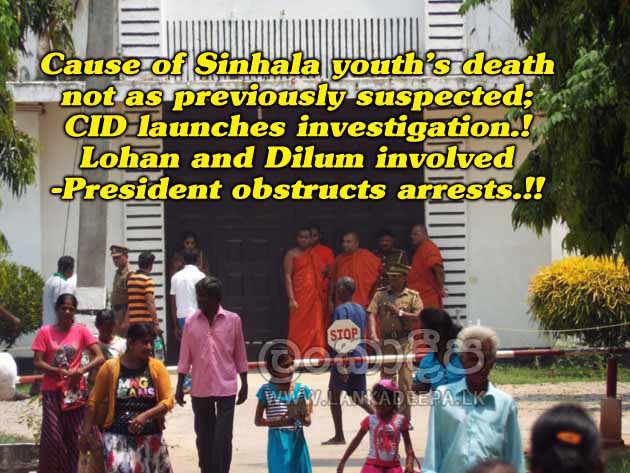 Leave a Reply