Conspiracy hatched by SC judges to save Rapist Abrew and thereby Rajapakses in their crimes !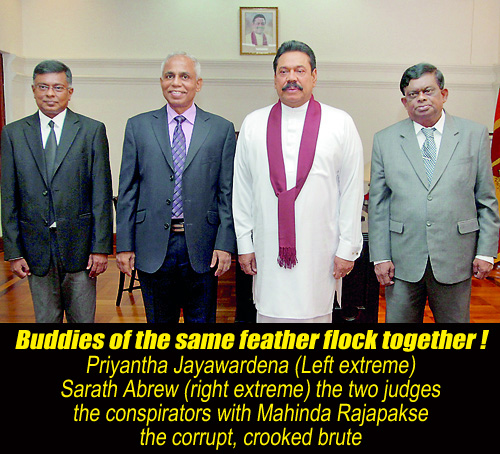 (Lanka-e-news -21.Dec.2015, 5.00AM) A Supreme court (SC) conspiracy to provide relief to notorious judge of the SC , the rapist Sarath Abrew and thereby to Rajapakse corrupt brutes is under way , according to reports reaching Lanka e news inside information division.
While a case has already been filed by the Attorney General (AG) against Abrew on heinous charges of rape ,Abrew has filed a fundamental rights (FR)petition in the SC in which Abrew is himself a judge on the grounds that the charges against him are based on political revenge .This has been handed over to the SC registrar , and the preliminary inquiry is scheduled to be held to determine whether this shall be heard or not
Meanwhile, Priyantha Jayawardena, a lawyer who was languishing in Rajapakse Walauwa doing nothing except bootlicking the Rajapakses , and was made a president's counsel and then a SC judge by the Rajapakses, now having laid hands on this FR petition is deeply in his toils to blow this 'dead' case out of proportion, and revive it.
While an accused in a criminal case cannot file a fundamental rights petition, manipulative attempts are being made to take up Abrew's petition and deliver a decision ; and thereafter in order to rescue Abrew , falsely show that charges against Abrew were politically motivated and was to take revenge on him . Incidentally , Abrew has made a request to retire , and that is take effect on 6 th January.
Abrew in his petition had stated that after he forwarded a letter of retirement based on an undertaking given to him that a case will not be filed against him , he was deceived , and a case was filed. Though his plea is of no relevance to a case of heinous crime , pro Rajapakse judges led by Priyantha Jayawardena whose brain and law books are moth eaten are conspiring to make a bloated case out of this , take it up for inquiry , and prove this is indeed a political revenge against Abrew.
These conspirators are aiming at killing two birds with one stone. After a decision is somehow delivered in favor of Abrew , to use this as a precedent . It is their motive to cite political revenge as a grounds and rescue the accused (Rajapakse crooks and corrupt scoundrels) when cases are filed shortly against them by the FCID.
In the event of those cases filed by the FCID against the Rajapakse crooks being dismissed by some chance consequent upon these subterfuges, it is their earnest hope to drive the government of good governance into a state of severe unpopularity among the masses taking advantage of that. This in other words is to pave the way for the defeated discarded Rajapakse crooks to get a stranglehold again in the political arena. This is the plan and plot of the conspirators , but with this report their clandestine and conspiratorial actions and intentions stand exposed.
In the backdrop of these calculated conspiracies and machinations of these conspirators and traitors , the masses will be able to understand what difficulties and setbacks are faced by the good governance revolution to destroy at once the evil apparatus created and maintained by corrupt ,criminal, brutal Rajapakses over many years.
A government of good governance that has just come into being and is obstructed from all quarters by the corrupt , criminal and the crooked , cannot act rashly or hastily to combat the growing conspiracies . These have to be handled cautiously , cleverly and calmly without playing into the hands of these traitors , villains and scoundrels , and without administering saline wittingly or unwittingly, which can only revive them.
---------------------------
by (2015-12-20 23:35:51)
We are unable to continue LeN without your kind donation.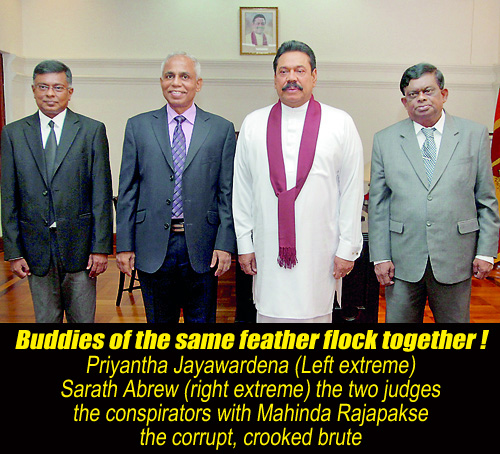 Leave a Reply