Yoshitha Rajapakse, Nishantha Ranatunge, Rohan Welivita of CSN are the record breaking culprits in SL's biggest ever fraud investigation ! Why they were put behind bars?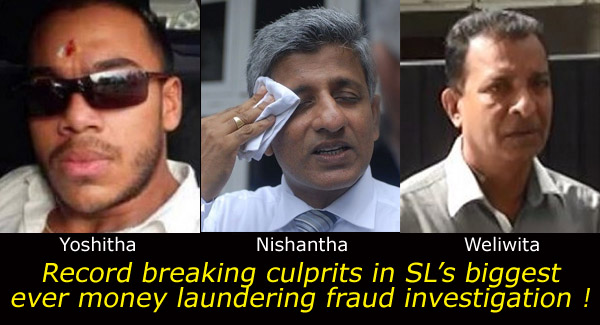 (Lanka-e-News -31.Jan.2016, 1.25PM) It is very unfortunate the unscrupulous media coolies of Sri Lanka in keeping with their sordid traits tried to paint a picture that the arrest and remanding of the five high ranking officers of the CSN channel including Yoshitha Rajapakse (son of Mahinda Rajapakse) ,Nishantha Ranatunge (younger brother of Arjuna Ranatunge ) and Rohan Welivita are the consequence of political vendetta .
One of those stinking media coolies who was there without bathing holding the mike for Mahinda Rajapakse did not have the guts to question 'Didn't your son go to jail because of daylight robbery of public funds?' and 'why did you allow your son to rob and you remained an idle spectator ?' . The stinking media coolies were also unable to ask from Arjuna who parades as a paragon of virtue criticising all and sundry pointing out the frauds of all others across the country while his brothers were most corrupt ,why Arjuna could not notice the robberies of his own younger brother committed under his very nose? and, is it because his eyes were blurred by the exudation from his eyes due to eye gland infection?
These unscrupulous media coolies who would sell even their souls for a mess of potage notwithstanding , let us emphatically state , it is the responsibility of the true media to expose the truth pertaining to the criminal incriminations of these culprits , Yoshitha Rajapakse , Nishantha Ranatunge, Rohan Welivita, J.T.S Fernando and Kaveeshan Dissanayake of the CSN , and why they had to be put behind bars.
According to reports reaching Lanka e news , this investigation launched into the frauds at the CSN channel is the biggest ever in Sri Lanka 's history. The magnitude of the fraud is so huge , it is still not fully unravelled , but based on information surfacing so far , it is in the region of about Rs. 520 million ! though the actual figures are still being probed. This fraud is so extraordinary and astounding , because of the scheming modalities adopted much more than the amount of money involved.

In any Establishment when there is a fraud , it is only a section of that establishment or some group that is involved, but in the CSN , the entire establishment had been involved with the participation and collusion of all in general. In other words this Institution has been established with the sole primary aim and objective to commit frauds. From the very beginning –that is ,from the time of registration including the auditing and audit reports, the operations have been fraudulent .
The CSN does not have a permanent chairman. This is because its chief is Yoshitha Rajapakse and being an officer in the Navy he cannot legally hold that post in a private establishment .Therefore that aspect was kept hidden. Though Yoshitha was not the chairman overtly , he had signed all important documents. Hence , those actions of his alone are enough to dismiss him from the Navy.When any Institution is launched , an initial outlay is necessary. How is it provided and by whom ? must be clearly made known .
However pertaining to CSN , although a sum Rs. 90 million is its initial outlay, it is not mentoned who invested that Rs. 90 million or from which source it came. The worst part ? though the chiefs of the CSN were interrogated for the last several months in this regard , none could give an answer.That means this amount of Rs. 90 million is 'black' money out and out .The next question is , to whom does this money belong?
In addition , a further sum of Rs. 169 million had been remitted to this company from Singapore.Even the remitter of this sum is not recorded anywhere .The details and documents furnished in Singapore in this connection are also spurious, and nobody knows who remitted. Interrogation for two months was unavailing as none of the culprits were giving answers during the interrogations.
These 'black' monies have come to this Co. not from Singapore alone. From these transactions it is clear CSN was utilized for the money laundering activities of Rajapakses.
Money laundering is a most grave and heinous offence under the law. Those incriminated in money laundering cannot be ganted bail by the Magistrate court , as the latter has no powers to grant bail. Bail can be sought only through the high court . Therefore after Yoshitha and group were produced before the Kaduwala Magistrate court yesterday (30) they were remanded until the 11 th of February .
We have in our aforenoted report only revealed just a part of the massive fraud at the CSN based on what have been hitherto uncovered . A detailed report of the colossal misuse of state property and funds will be brought to you shortly.
By a special Lanka e news reporter
Translated by Jeff
---------------------------
by (2016-01-31 10:27:51)
We are unable to continue LeN without your kind donation.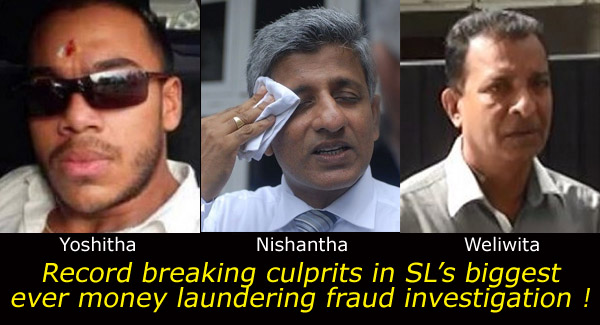 Leave a Reply