The present Navy Commander who servilely served Yoshitha then is disdaining Naval laws on his behalf now..!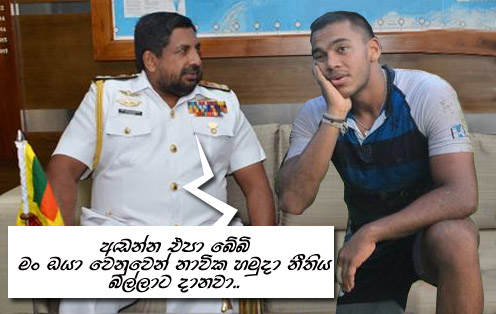 (Lanka-e-News- 13.Feb.2016, 11.45PM) The Naval officers have questioned the navy Commander, why the laws of the Navy do not apply to Lieutenant Yoshitha Rajapakse.
According to the laws of the Navy , if any officer no matter his rank is remanded based on charges filed against him , he shall be interdicted with immediate effect , and until the case is concluded the interdiction remains valid. Besides if he is found guilty and sentenced to jail even for a day , he is demoted ,and deprived of all his perks, privileges and payments. In addition after a Navy inquiry , he is liable to a punishment meted out by the Navy. On the other hand if he is proved not guilty , he is reinstated , his salaries refunded and his promotions are restored.
It is a well and widely known fact that Yoshitha Rajapakse is now in remand custody for the last two weeks based on charges of financial fraud , yet the Navy Commander has still not enforced the Naval laws against Yoshitha.
If an ordinary officer of the Navy had been similarly involved , the Navy Commander would have issued a 'Navy General' message interdicting that officer. As regards Yoshitha however the Navy Commander is silent .
It is well to recall during the period when Yoshitha was in the Naval academy , Trincomalee , the present Navy commander Rear admiral Ravindra Wijegunaratne was the commanding officer of the academy.While Yoshitha was acting in breach of all the disciplinary laws of the Navy , Wijegunaratne without meting out any punishment was on the other hand most servilely serving Yoshitha and doing all his menial work . Although there were more talented officers than Yoshitha in his batch , it was the present Navy Commander the Rajapakse stooge who selected Yoshitha for the foreign scholarship award overlooking the more suitable cadet officers.

It is the defense ministry that should know what ought to be done when Navy Commander is today disdaining and discarding the sublime Naval laws .
---------------------------
by (2016-02-14 00:01:13)
We are unable to continue LeN without your kind donation.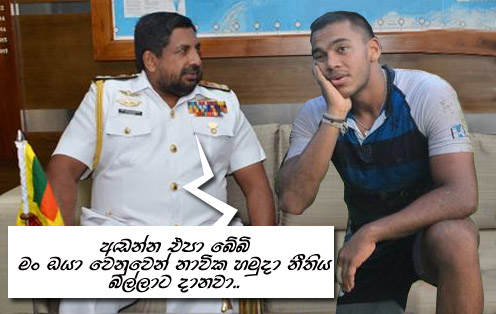 Leave a Reply