Gagan's record breaking feat..! 8 junkets in 9 months..! Enrique- love- sick daughter and families too in them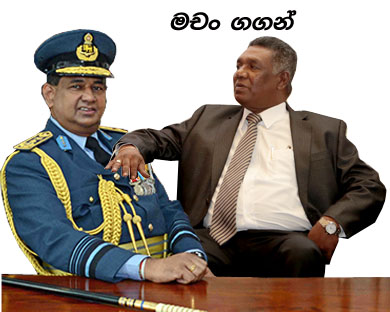 (Lanka-e-News- 09.May.2016, 10.40PM) The Air force Commander of Sri Lanka Gagan Bulathsinghala has created a world record ! That is ,he is the only Air force commander in this whole Universe who has gone on 8 foreign junkets ! in just nine months since his date of appointment. His last record breaking tour was to Russia lasting three and half weeks. This great Bulathsinghala 'hero' descended from the sky last weekend to arrive in Sri Lanka at the end of the tour .
Even the Air force commander of America has embarked on his first foreign tour one year after appointment. So it is with the Air Force Commander of India our neighbor . That is obviously because , a responsible duty conscious Air Force Commander when appointed needs at least a year to put things in place in his new pastures, and streamline operations.
Our Bulathsinghala zero alias Air force 'hero' on the contrary has no such concern , obviously because he has other illicit agendas. By trying to hit sixers from the first ball of the first over like Sanath Jayasuriya , he had only end on a 'zero' score. This 'zero' was appointed as Air force Commander only in June 2015. Yet by now he had toured India , Pakistan , Bangla Desh , Nepal , England, Australia ,Canada and Russia (his last touring country). Mind you in respect of all these junkets he has been travelling on business class air tickets. All these expenditures have been met out of Air Force funds ,-that is precious public funds!
What's more ! This Air Force 'zero' has taken his entire family along when touring England , Australia , Canada and Russia . In addition ,on his tour of England and Australia, he has taken along the family (Laugfs gas chief Wegapitiya's family) of his prospective son –in- law due to marry his daughter Ayendra Bulathsingala who created a storm of controversy recently by shamelessly hugging and kissing the foreign singer Enrique most passionately when he was performing on stage in Sri Lanka . This Bulathsinghala , the bulath (betel) eating Singhala (or so the name suggests ) disgraced the entire Sinhala race by openly demonstrating her sex frustration ( itch at the wrong place ), while her's and her father's Sinhala race is noted for their love for betel (bulath) chewing , and decent Sinhala traditions.
Believe it or not ! this commander in chief of the Air Force on his tour of Pakistan has taken a wheeler dealer by the name of Mohomed M. Saleek Marzook , and when travelling to India , he has taken Wegapitiya and Saleem together with two more Muslim wheeler dealers.. All these expenses have been defrayed by the Air Force. In other words , it is precious public funds that have been wasted !!
It is the Air Force that had met the expenses of all these junkets and the groups the Air Force Commander took along with him. That is ,precious public funds have been wasted on all of them.
The worst part is : Gagan Bulathsinghala has made the tours citing bogus grounds. He had claimed that he has to make the tour since six planes are to be purchased , and he has to be there to inspect and select them .
The true position is , although a proposal has been made to the Cabinet to purchase 6 planes , still the approval has not been granted. In a cash strapped country where the Vat levy is being increased to re pay country's debts , there is no such necessity to buy six planes at once. In such circumstances there isn't any need for anyone to travel from country to country to inspect planes . Besides , when purchasing a plane, nobody has to travel abroad to inspect the planes in the same way as going to the Pola to squeeze and feel like when buying tomatoes . If anybody has such an affinity and derives a thrill from that there are better things ( not only tomatoes) in Sri Lanka for squeezing and feeling.
So far , in Sri Lanka planes have never been purchased from Bangla Desh , Nepal or Australia, yet Gagan has chosen these countries ostensibly for the purchase of planes in order to go on junkets with his families at public expense.
Unbelievably , it is the defense secretary the notorious moron who had approved these junkets of Gagan Bulathsinghala . May we recall Lanka e news in an earlier report exposed how the defense secretary Karunaratne Hettiarachi enjoys drinking orgies together with Gagan; and Hettiarachi is the only defense secretary in the world who puts his arms around the Air Force chief and calls him 'machan.' Naturally , it is this liquor bottle camaraderie that has led Hettaiarachi to accept whatever bogus reason cited by Gagan and give ministry approval. Gagan had made hay while the sun shines exploiting their drinking bouts in the nights after the sun has set.
At the recent security council meeting ,the president had inquired about the absence of the Air force commander Gagan at the meeting. It was this moron of a defense secretary who had defended and saved Hettiarachi who did not attend several security council meetings, and who is breaking ignominious records while wasting public funds on his worthless foreign junkets.
In our subsequent reports we shall reveal the measures taken by Gagan Bulathsinghala together with Air Marshal Rohan Pathirane to obstruct information of corruption and rackets from reaching Lanka e news
---------------------------
by (2016-05-09 17:29:55)
We are unable to continue LeN without your kind donation.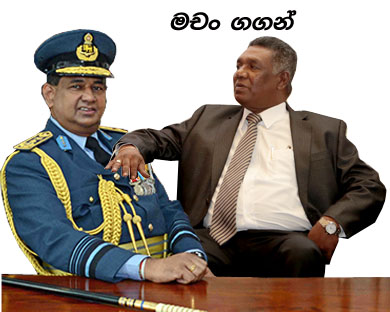 Leave a Reply