3 months since new AG took office; Rajapakses and brigand still free ! AG dept. suffering from somnolence and somnambulism !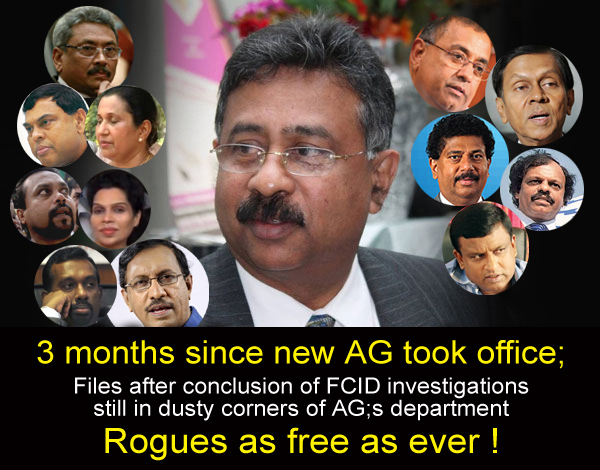 (Lanka-e-News- 11.May.2016, 4.10PM) It was while grave charges were being mounted that former Attorney Generals Yuvanjana and Suhada Gamlath were concealing the files against the Rajapakse criminals and their brigand during the Rajapakse era , Jayantha Jayasuriya was appointed as the new Attorney General (AG) on 2016-02 -10 with the blessings of all of the department.
One month after new AG took office Lanka e News published a report captioned 'Not only Gota, Basil, Wimal, Mahindananda, P.B., Cabraal, Senarath, but even present minister Anura Yapa in "rogues' gallery" files -Details of the 22 investigations into the regime's crimes concluded by the FCID
while stating enough is enough and highlighting that the files against the criminals of the Blue Brigand are still languishing in a dusty corner of the AG's department, and taking action against the criminals is being delayed.
In response , the AG's department informed us , it is not 22 files rather 32 files are there , and arrangements will be made to file cases in respect of all them within three months. Yet, though three months have elapsed since this undertaking was given , and even until yesterday (10) no cases have been filed.
Believe it or not ! it is nearly a year since the file of former corrupt chairman of Ports authority Priyath Bandu Wickremage was handed over to the AG's department , but still no action had taken place , and the culprit is as free as a bird. Similiarly the files against Sajin Vaas Gunawardena regarding the grave and outrageous misuse of vehicles of the presidential office for his private business purposes are also languishing in a limbo of oblivion , even though investigations have been concluded and files handed over to the AG nearly a year ago . This culprit too is scot free.
On top of all this procrastination , based on the investigations under way , there are enough and more evidence to arrest the members of the Rajapakse family , yet the AG's department has still not issued its instructions to arrest them . Consequently , this delay has enabled the Rajapakses to carry on their pretences and theatrical activities now even with greater vigor than before.
For instance , in the Thajudeen murder , in the relevant video footage , Namal Rajapakse is very clearly displayed , yet the AG's department has still not issued its instructions. In the Malwana palace involvement , the advice of the AG's department to arrest Basil Rajapakse has also still not been received.
Sadly , though the AG is supposedly good , his assistants are not as good as he , reports reveal . There is nothing that says anything in their favor. The wife of one of them is a legal officer at Coca Cola Co. based on information reaching Lanka e news inside information division. The investigation file into the release of pollutants into Kelani ganga by the Coca Cola Co. had gone missing at the AG's department . Surely , that cannot get lost simply or magically unless the department has recruited magicians also along with lawyers. It is a clear pointer within the AG's department there are rats gnawing at the very legal foundation.
No matter what ,Lanka e news inside information division is vigilantly and diligently keeping a watch over those in the AG's department who are paid salaries out of public funds to discharge their duties duly , but are taking sedatives to 'sleep' in the office . Lanka e news that reports fearlessly , frankly and forthrightly wishes to warn , it will not hesitate to expose the details including names and addresses of all those who are suffering from somnolence and somnambulism to the detriment of the country while pretending they are working in office .
---------------------------
by (2016-05-11 10:47:52)
We are unable to continue LeN without your kind donation.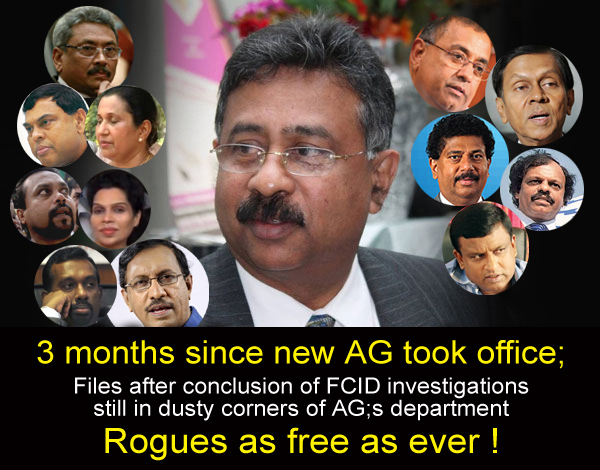 Leave a Reply