If you put the devils at the wheel those can only drive government to hell
-Three devils of the administrative service named - Corruptions Watch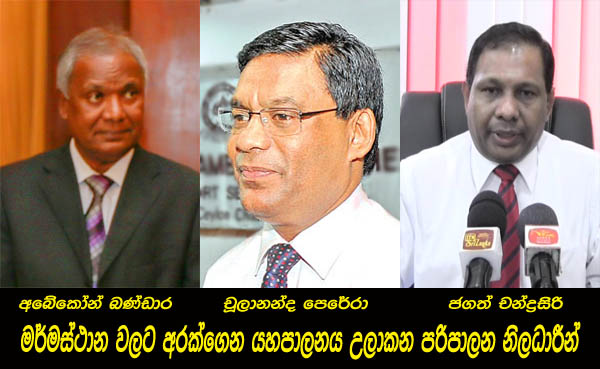 (Lanka-e-News -31.May.2016, 1.45PM) Following the outrageous appointment of most infamous notorious corrupt Anusha Pelpita as the additional secretary to the ministry of Home affairs of minister Vajira Abeywardena it has become necessary to center discussions in a direction in which hitherto the country did not focus. That is , the attention of the public has been attracted to the rule of most corrupt officers who are unconscionably and shamelessly carrying on their tasks without getting eradicated or uprooted via good governance administration nor through Sakra rule. These are the infernal devils driving the government to hell !!
Although the base conduct and lawlessness of politicians may be tolerated on their lack of education , cursed birth and innate nature , the unscrupulous, treacherous and perfidious activities of so called government officers who have secured high government positions' after passing competitive exams cannot be pardoned. These are officers who have passed degrees out of public funds only to become political pimps to serve the corrupt purposes and purses of evil politicos , when they should be truly and honestly serving the public to whom they are deeply beholden. Therefore they cannot be permitted to misuse public assets and resources under any circumstances , nor can they prostitute their official positions for political and personal gains.
This report aims at highlighting , though these administrative officers are wearing a 'white band' and are trying to show a clean slate they are truly most unscrupulous lackeys and lickspittles of self fattening politicos , and who have therefore transformed the past pristine pure dignified administrative civil service into an obnoxious corrupt service abounding with rascals and scoundrels. Hereunder are some striking examples that deserve to be brought within the government's surveillance net…
Abeykoon Bandara the present secretary to the President-
Under the previous Rajapakse corrupt despotic regime , he was a leading 'bath gotta' (self fattening opportunist).He was one of those culprits who was seen deeply sorrowing over the defeat of the Rajapakse regime after taking lodging at the Temple Trees on the day of last presidential elections until the following dawn. But mysteriously and mischievously became the secretary to president Maithripala Sirisena on the following day.

This Abeykoon who is over 60 years old is best noted for his worst wasteful ways in the administrative service , and sadly does not have even a basic knowledge of English essential as an officer of the administrative service. The only (dis)qualification he has is , the friendship he had with M.K.D.S Gunawardena of the same village in Kanthalai , Trincomalee who renounced his position to come out with president .
He is presently carrying on the tasks which Gamini Senarath was discharging under ex president Mahinda Rajapakse. After appointing two most notorious corrupt crooks now under him , to the Customs and Motor vehicles department (RMV), which are most infamous for bribe taking and corruption ,Abeykoon is weekly amassing huge sums of money through those officers , about which putrid activities the senior officers of the administrative service are well aware.
During the period when Abeykoon functioned as the secretary of public administration a circular was issued by him naming the government departments that are well and widely known for bribery and corruption as those deriving 'benefits' for the public service. Though in such a department an officer can function for a maximum period of 5 years, Abeykoon was working in the Immigration and Emigration department for 8 years. However after becoming the secretary of Public administration he issued a strict advisory code for other employees that he /she shall only work in a department for a maximum period of 5 years.
Customs Director General Chulananda Perera…
Chulananda Perera after working in the Immigration and Emigration department for about 12 long years , and as an assistant (close sidekick) of Abeykoon ,he was transferred out. Being of the same corrupt category of Abeykoon ,,eyeing the corrupt RMV he crept into the transport ministry. Having failed there , he was targeting the post of Controller , Imports and Exports. Thereafter when he failed in that attempt, he wormed his way into the presidential secretariat in order to grab the post of Director General Customs- reasons are too obvious!

His first attempt at the target was obstructed by the officers of the administrative service through the action taken by the prime minister(P.M.)
Subsequently Chulananda's efforts made through Finance Miniser Ravi Karunanayake proved successful. In the first week of his appointment as the Director General , Customs, by manipulating a reduced appraisal on hundreds of Land cruisers and levying Rs.1.6 million per Land cruiser instead of Rs. 5 million as duty per vehicle engendered a loss of many hundred millions of rupees to the country. These vehicles were released directly to the importers themselves.
Chulananda who lectures on ''positive thinking ' uses that to think only of wealth and affluence however earned, chooses to serve only in Institutions of the government where tthere is a high tide of underhand cash transactions . His positive thinking is stinking so strong that it is only leading to 'country's sinking'
RMV Commissioner Jagath Chandrasiri
Before Vajira Abeywardena appointed Pelpita as the additional secretary, during the time when Abeykoon was the secretary of the public administration , it was Jagath Chandraisri , a most corrupt officer in the administrative service , cum most bootlicking stooge of Abeykoon was the additional secretary .However , his greed is so enormous for filthy lucre that he demoted himself to become a Motor vehicle Commissioner to swallow the RMV wholesale.
Under tthe previous Commissioners , the RMV was to some extent in a state of improvement .The present minister of administration Ranjith Madduma Bandara who was the minister of transport under the 100 days interim government after appointing Jagath Chandrasiri the rascal of an administrative officer , made the RMV a paradise for crooks ,brokers ,the corrupt , and ravenous crows to the detriment of the country and nation.
The President , and the Prime Minister ….
If the government Institutions are to be restored to a state of good and proper administration , it will be best if these ghosts and apparitions which have possessed the Financial and administrative epicenters are probed thoroughly in order to investigate the assets they have acquired and illicit earnings they have made via the public service

'Corruptions Watch'
Translated by Jeff
---------------------------
by (2016-05-31 08:24:55)
We are unable to continue LeN without your kind donation.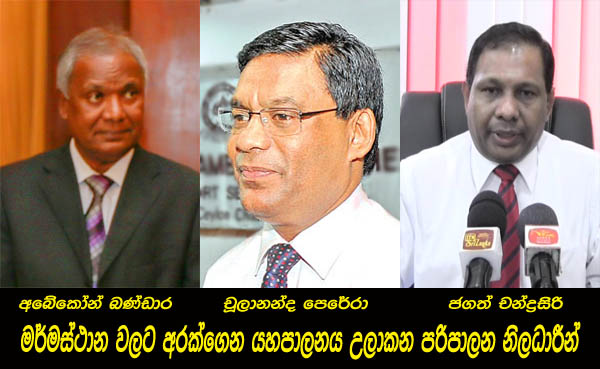 Leave a Reply