Kiriella and Daya Gamage share loot of Rs. 3.63 Billion.! Cabinet misled and ethics relegated to dustbin
-Herein is evidence ; good governance or friends in business ?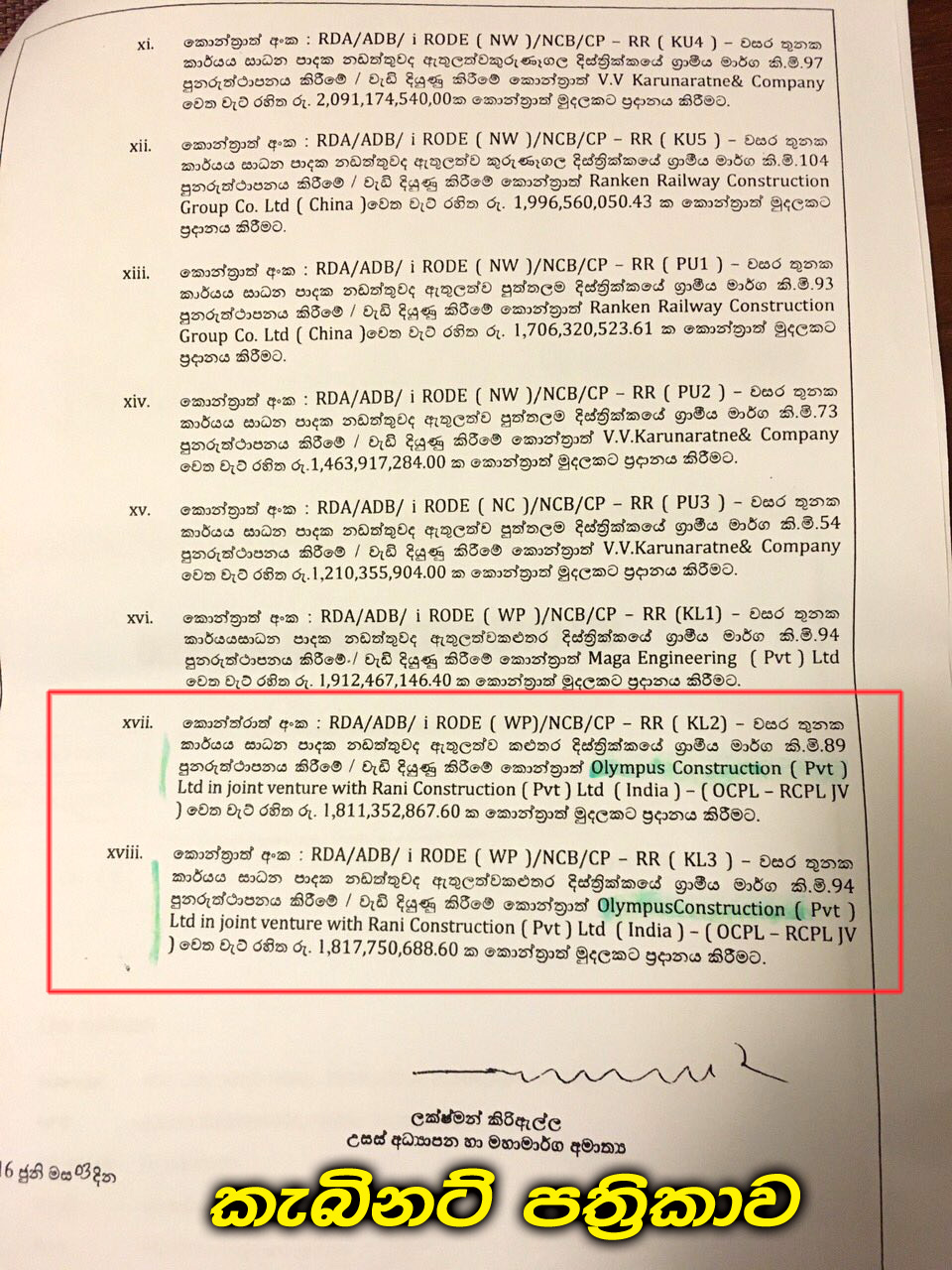 (Lanka-e-News -23.June.2016, 9.15PM) Minister of Highways cum leader of the house Lakshman Kiriella, and minister of primary Industries Daya Gamage together have secured the cabinet approval for the construction of a highway costing Rs. 3630 million (Rs. 3.6 billion!) via a subterfuge after misleading the Cabinet and casting away accepted political ethics into the garbage bin.
On the 3 rd of June when the cabinet met, the Highways minister by submitting a cabinet paper had secured the cabinet approval for 18 contracts , and among them the approval for 17th and 18th contracts have been obtained in favor of Olympus Construction (Pvt) Ltd. Co. which was shown as a joint Co. of Rani Construction Pvt. Co. India.
It was indicated that these two contracts are in view of Gramiya (village) road rehabilitation and renovation, Kalutara. One contract covers 89 kilometers while the other covers 94 kilometers .The cost of 89 kilometers is Rs. 1,811,352,867.60 while the other that is 94 kilometers costs Rs. I, 817, 750,688.60 , and the total cost is Rs. 3,629,103,556.20 . (copy of the cabinet paper is herein)
Though this lucky Co. , that is Olympus Construction (Pvt) Ltd. is on the face of it an Indian Co., truly the owner is none other than Daya Gamage (the evidence in support are provided herein).
Lakshman Kiriella and Daya Gamage had jointly trampled accepted ethical codes and deluded the Cabinet as follows ….
While these contracts were being projected as having been duly and legally secured via tender, Lakshman Kiriella should have informed the cabinet ahead before the tender was submitted for approval of the cabinet that the owner of Olympus Construction Pvt. Ltd . to which Co. it is being awarded is within the Cabinet. On the 3 rd , Lakshman Kiriella did not notify this. Hence , it is very evident the Cabinet has been deceived.
The charges of unethical conduct is mounted because , when such a tender, that is a tender of his is being submitted to the Cabinet , what Daya Gamage should have done was , instead of raising his own hand to give approval to it , kept away and marked absent. Whereas , what Daya Gamage did was , on the 3 rd by raising his hand had grabbed it himself.
When we are ourselves ashamed to expose this outrageous corruption and racket , we wonder how Daya Gamage can go about with dress on in public after most shamelessly indulging in such dastardly activities of corruption .
It is true Daya Gamage was a road construction contractor before he entered politics , and was the first businessman who constructed roads with world bank loan . Though he had the qualification therefore to be granted this contract, it cannot also be forgotten that the people on the 8 th elected a government of good governance not to perpetuate the same corruption that prevailed earlier, rather to put a full stop to it. Hence it is best if perpetrators of frauds and rackets understand clearly this government has been appointed to halt these corrupt business activities even if those are being carefully organized by bosom business pals.
In the circumstances this attempt at pulling the wool over the eyes of the cabinet , and uncaringly hurling every ethical code into the garbage bin by people's representatives themselves cannot be treated as something trifling. Besides , it is worthy of note , though Daya Gamage is the minister of primary Industries he had never made any worthwhile contribution towards the development of the country in his role as a minister so far .
( By clicking on the image below the supporting evidence can be read by magnification)
---------------------------
by (2016-06-23 20:12:22)
We are unable to continue LeN without your kind donation.
Leave a Reply