Good governance government welcomes two deadly serpents into its bosoms..!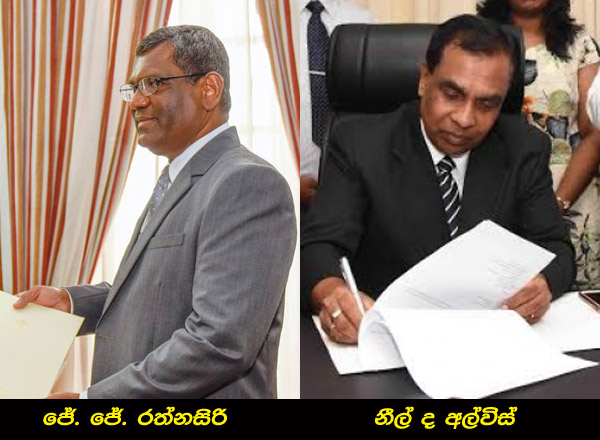 (Lanka-e-News -08.Aug.2016, 11.20PM) The appointment of J.J. Rathnasiri as the secretary to the public administration ministry and Neil De Alwis as the secretary to the ministry of Internal affairs ministry , which are two nerve centers of the good governance government are tantamount to welcoming two deadly poisonous serpents into its bosoms.
Dadallage who was the former secretary to the public administration ministry was transferred to the ministry of posts because he was impeding the present government's good governance . However he finally retired after severely castigating the government . Now it is the serpent J.J. Rathnasiri who had replaced Dadallage.

Previously , Rathnasiri was the secretary to the ministry of Home affairs. It was Rathnasiri while serving his own minister Vajira Abeywardena , who didn't care two hoots for the directives of the minister , and acted most uncaringly neglecting the task of his of securing the relevant official residence to him.
Rathnasiri is a most notorious shameless stooge of fraudster Basil Rajapakse a former minister , and was the Gampaha district secretary of Basil. Even when he was the secretary to minister Vajira Abeywardena , Rathnasiri openly was praising Basil Rajapakse the racketeer to the sky , 'No matter what ,Basil is a great worker.' He often said this to Vajira to his face.
If these revelations of Lanka e news are doubtful , just an examination of the calls received and taken by Rathnasiri on his mobile phone for the last six months alone will confirm what a bootlicking scoundrel he is of Basil. A probe into the calls will prove how many calls had been exchanged between him and Basil ,as well as Gotabaya .
Truly , Rathnasiri with this putrid antecedence is still working with commitment towards bringing the Rajapakses back to power. Yet , this villainous snake under the grass has now been appointed as secretary to State administration ministry which controls the entire state administration ,a post that is more powerful than his previous one . It is a most senior public officer who ought to be appointed to such a post , whereas Rathnasiri does not have that eligibility nor is he suitable.

Under such circumstances , then who appointed him? Is it Lakshmi Wijayawickrema the relative of Lalith Weeratunge (niece of Lalith Weeratunge) who is functioning as the secretary , legal affairs in the presidential secretariat and belonging to the insidious group that is 'varnishing' the dirty stinking tops and bottoms of Rajapakses , and who are still carrying on manipulations to suit the evil aims and agendas of the Rajapakses.
Based on reports reaching Lanka e news inside information division , it is Lakshmi who had engineered this appointment of Rathnasiri , and Lalith Weeratunge has assisted from behind the scene , while the Rajapakses had been backing all of them . May we warn at this juncture , it would have been infinitely better if the government of good governance had swallowed lethal poison rather than appointing Rathnasiri as the secretary to ministry of public administration.
Neil De Alwis who has filled the vacancy at the ministry of internal affairs arising following Rathnasiri's new appointment is a most notorious corrupt public officer. During the run up to the last presidential elections this is the rascal who while he was the Amparai district secretary distributed goods unlawfully on behalf of Mahinda Rajapakse.
This scoundrel who did nothing good or worthwhile for the Ampara residents , and the amount of harm he inflicted on them can be known by asking from those residents.
Following the defeat of the Rajapakses , he got a transfer to Matale his native place , where his full time occupation was serving and toadying to the Rajapakses. To him good governance was anathema . Hence , it is a huge question mark , who appointed such a corrupt villainous rascal to the post of secretary , ministry of Home affairs which is considered as the second powerful nerve center of the government ? It is only somebody considered as the second most senior officer in the public administration ought to be appointed to that post, whereas Neil De Alwis is 113 th in the seniority ladder . In that case, the next question is who appointed him to such a responsible post ?
In truth rascals and villains like J.J. Rathnasiri and Neil De Alwis who treated the public service as 'Rajapakse service' and therefore acted like their latrine coolies should now either be in jails or cesspits and not in the ministerial 'cockpits' for the treacheries and corruption they engaged in.
Appointment of these individuals as secretaries to ministries considered as nerve centers is indeed most detrimental to the country as a whole. The pro government for good governance masses are not only disillusioned but even rudely shocked at these appointments specially because there are enough and more pro good governance state officers of honesty and rectitude who can man those positions much better and more efficiently .
It is the general consensus among the people , much worse problems are going to be faced owing to these two corrupt, slimy and stealthy rascals than what were faced by the issues created by Dadallage. No intelligent human being who knows about serpents and the place where they ought to be kept will voluntarily thrust serpents into their vitals .

---------------------------
by (2016-08-08 17:54:24)
We are unable to continue LeN without your kind donation.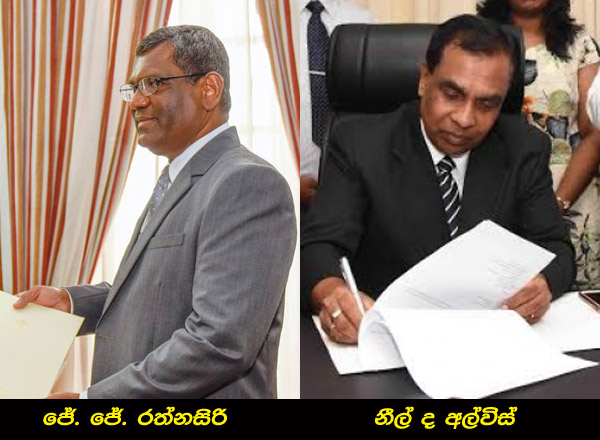 Leave a Reply