Minister of Justice Wijedasa Rajapakse the Judas among disciples..! Shocking details herein...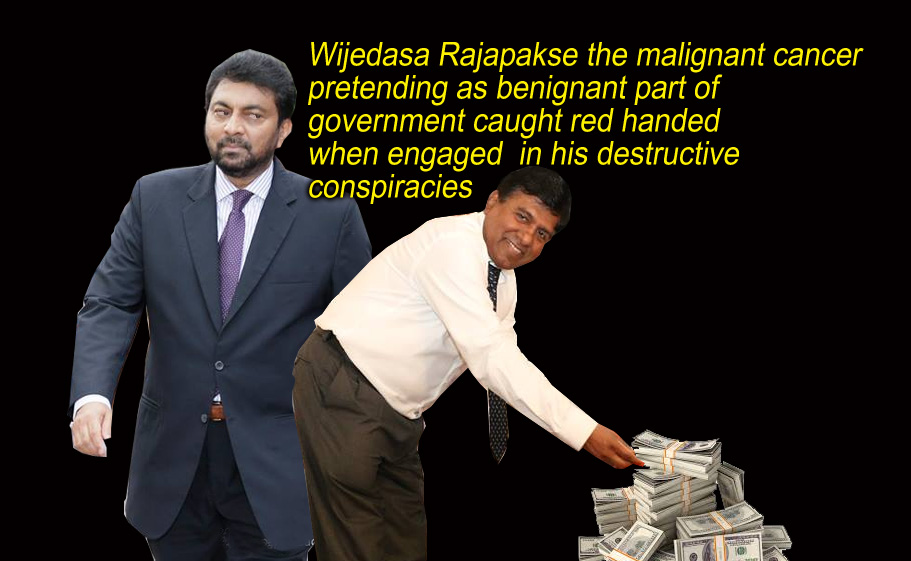 (Lanka-e-News -10.Oct.2016, 11.55PM) In the multiple murder of 10 students who were most ruthlessly and brutally killed after collecting extortion monies by officers in the Navy during the nefarious decade of the corrupt criminal Rajapakses , it is the present minister of justice Wijedasa Rajapakse who had given counsel on the sly to the murderers , based on shocking reports reaching Lanka e news inside information division.
It is most clear based on the shameless , sly and shallow conduct of Wijedasa Rajapakse while being within the good governance government by resorting to this nefarious and illicit activity, he has indulged in a most dangerous and despicable conspiracy to disloyally cripple the very government he is serving . This is akin to biting the hand that feeds . Even a stray dog in the streets would have a better sense of gratitude than this type of scoundrels.
The ex Navy commander Vasantha Karannagoda was interrogated for 5 long hours recently by the CID over these ghastly murders committed during the period 2008-2009
Shockingly , on the night before the day Karannagoda was questioned , Wijedasa Rajapakse the shameless corrupt wolf in human clothing and ex Chief justice Sarath N .Silva the most notorious and infamous CJ Sri Lanka ever produced had met with Karannagoda in a chalet ( navy officers' home) , and proffered advice to Karannagoda on how to escape from the arms of the law.
Both these rascals have instructed Karannagoda not to give any answers beyond what he has already furnished in writing . Indeed Karannagoda even before he was questioned had told the CID ,Wijedasa and Sarath Silva are his pals.
It is a well and widely known fact , Wijedasa was the villainous, slimy ,scoundrel who made a statement in parliament that he would not allow the arrest of corrupt Gotabaya, a name synonymous with murder and mayhem during his heydays.
However this was the same Wijedasa , and not any other ' Baludasa' who at the Human rights conference in Geneva gave a solemn promise that he would conduct an impartial and independent investigation into the brutal murder of 10 students (Tamils and Muslims) committed by a group of Navy officers after collecting extortion payments during the Rajapkse regime , and the culprits will be brought before the law.
Hence , this minister Wijedasa giving counsel on the sly to the culprits after giving such solemn assurances internationally is to disgrace and denigrate the government of good governance while still shamelessly remaining as a minister of that very government . This is a deliberate treachery and hypocrisy that can totally overturn good governance and disorientate the government's salutary policies locally and internationally. In fact it is placing the vey government of which he is a minister in dire jeopardy.
Above all, if such a shameless , slimy and shallow individual is to proffer advice to criminals while being a minister of justice of the government that came to power after promising justice , fair play and good governance to the masses , such a rascal does not deserve to be kept back in the post of a minister even for a second within the government of good governance.

What's more ? his son is holding the post of media secretary at the defense ministry . Following the father's betrayal it is now crystal clear and confirmed beyond doubt they cannot be trusted , and no faith can be reposed in them that they will not leak out confidential state information to the enemies of good governance government .
A brief account of Vasantha Karannagoda's student murders and infamous white Van crimes….
During the period when Karannagoda was the Navy Commander he was bitterly hostile to Sarath Fonseka who was the army commander then. Their embitterment was so grave they were not even on speaking terms. Under those circumstances Karannagoda ingratiated himself into the favor of Gotabaya whom he thought is a better 'catch' to serve his selfish and sordid aims . Thereafter , what Karannagoda did was , carrying out all the illegal orders to the letter of Gotabaya the devil incarnate.

Tamil youths suspected of having links with the LTTE were abducted via the white van , killed and after severing their bodies were hurled into the sea so that those bodies will not be discovered . These operations were conducted by a group with the knowledge of Karannagoda .This bestial group who got the sweet taste of criminal operations like their mentors started abducting youths to collect extortion payments. But the worst cruel and brutal operation of theirs was , abducting innocent youths , and killing them after collecting extortion monies .
Right now , investigations are being conducted into only ten children (Sinhalese , Tamil and Muslim) of affluent families from Dehiwala, Mattakuliya and Trincomalee who were killed during the period between 2008 -2009 since evidence are available only in regard to those ten children. They were children who had successfully completed the GCE adv. Level and seeking entrance to Universities . There are also another about 38 children who were abducted to commit extortion.
The suspect who truly led this mercenary cum murder team is Flag Officer Captain Sampath Munasinghe , who was the personal assistant to Karannagoda. Unbelievably , it is Karannagoda who had made his most closest crony and personal assistant Sampath the leader of the murder gang .This murder gang was comprised of 12 murderers attached to the Navy including Commodore D.K.P Dissanayake and Lieutenant commodores , Ranasinghe and Hettiarachi .
As it often happens , while Karannagoda was busy with his murder operations with mercenary objectives , his wife turned busy starting a torrid illicit love affair with his closest personal assistant Sampath Munasinghe . The latter who was a skilled murderer and extortionist had demonstrated to her another skill of his by plumbing her depths well and thoroughly. However when this came to light , Munasinghe now turned enemy of Karannagoda had fled away. His whereabouts are unknown. Karannagoda who realized a trifle too late how much 'plumbing the depth' Sampath had done on his wife , gave strict instructions to Navy media spokesman , Commodore D.K.P. Dassanayake to assassinate Sampath wherever he sees him .

Instead of carrying out Karannagoda's instructions , Dassanayake on the other hand took steps to smuggle Munasinghe out of the country. The Navy Commander Karannagoda , who got wind of this , in order to take revenge on both Dassanayake and Sampath , handed over the identity cards of the students who were liquidated to the CID during the Rajapakse administration.
Munasinghe after coming to know that information along with evidence had been passed to the CID ,adopted a queer methodology to overcome his dire straits. He made a confession to the then army commander Sarath Fonseka . The latter and Karannagoda were deadly enemies.

Munasinghe in his confession said , the white Van operations at that time were conducted with the knowledge and consent of Karannagoda , while also requesting for security protection. Sarath Fonseka who gave Munasinghe the best possible advice to find an escape route had surrendered him to the CID.
It was when Sampath surrendered to the CID that the media reported during that period , 'Navy Sampath' who operated the white van crimes was taken into custody.
Sampath was married to the daughter of Raja Collure , ex M.P. cum member of the Communist politburo. Because of those connections , and he had committed murders on behalf of Gotabaya , he was held in custody of the CID until the memories of the people regarding the crimes faded . Thereafter he was released during the nefarious decade of the lawless Rajapakses without any charges being filed.
Now this incident has surfaced again. After the advent of government of good governance , at the Geneva Human rights conference , the government of Sri Lanka, promised that the criminals involved in this barbaric brutal killings which are supported with adequate evidence will be brought before the law .It was Wijedasa Rajapakse who attended the conference as minister of justice , and hence he is fully responsible as part of the government , and has subscribed to that view.
Currently however , Wijedasa along with Sarath Silva has made it a nocturnal habit to give counsel to the aforementioned criminals after creeping into the chalets of the Navy .
If the president and prime minister continue to remain deaf and blind even after all these treacheries, villainies and conspiracies surfacing of Wijedasa Rajapakse who is like a malignant cancer destroying every cell of the government while pretending to be a benignant part of it , all what we have to say is , doom and gloom is for sure looming over the country.
---------------------------
by (2016-10-11 01:43:45)
We are unable to continue LeN without your kind donation.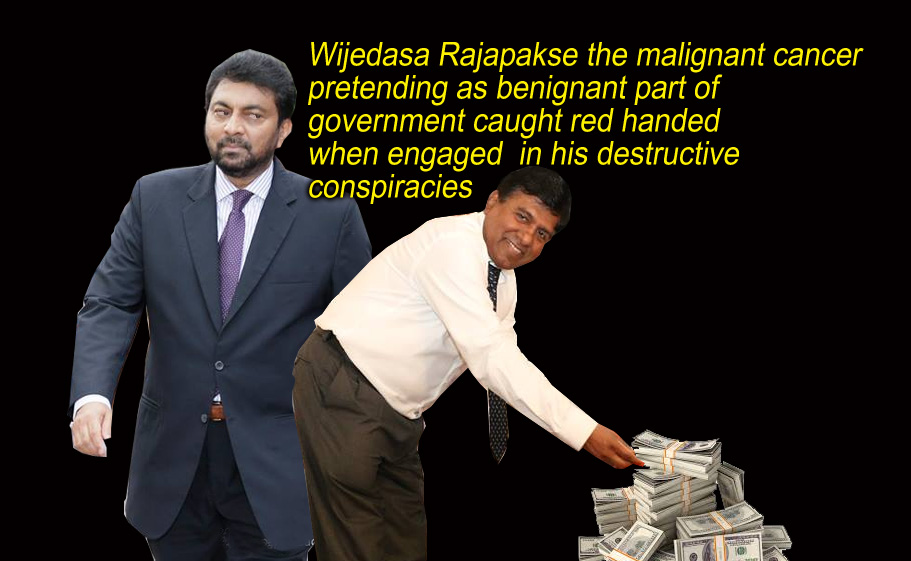 Leave a Reply