FCID serving political agendas? If not , why Dilan the ace crook even confirmed by Auditor General not arrested? -12 grave charges of frauds against him.!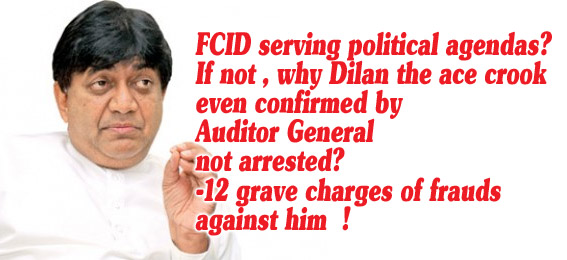 (Lanka-e-News -19.Oct.2016, 7.20PM) We are herein revealing an incident which makes one wonder whether the allegation made by the president recently that the Institutions conducting investigations are working according to political agendas are indeed true.
The Auditor General on 2015-06-16 in his report revealed that Dilan Perera the notorious minister during the nefarious decade of Rajapakses has committed as many as 12 frauds , and based on that report a complaint was duly lodged with the FCID on 2015- 06 23 , yet , unbelievably so far no investigation has been launched into it.

The ref. No. of the Auditor General's report is IS/INV/PC/GDE/2015/04. According to that report , it is no less a person than the chairman of the SLBFE Nandapala Wikremeratne (lawyer) who has made the complaint on 2015-06-23
The 12 glaring frauds committed by Dilan Perera are as follows :
1.A fraud in a sum of Rs. 9,119,909.00 was committed via the walks staged at Colombo, Gampaha and Hambantota under the guise of advertising foreign employment .
The most shocking part of this fraud is the daylight robbery of Rs. 900,000.00 committed via balloon purchase which truly did not take place. Though it was said balloons to the value of Rs. 925,309.00 were bought , not a single balloon was in fact purchased. Besides , the approval of the Director Board was also not obtained for this walk. In other words it was a cold calculated fraud perpetrated by Dilan to rob public funds.
2.Payment of Rs. 1,693,600.00 after making fake documents
By saying an Insurance scheme is to be propagated , this sum was released to Ravanaella Food and catering Co. who were to supply food to those participating (800 participants) in the meeting .Though the caterers did not supply the meals , through blank invoices the monies were claimed and paid to the caterers . The latter had later deposited those monies to the account of Dilan Perera Foundation.
3.By saying a pinkama is to be given at Haliela on behalf of the migrant workers , a fraud in a sum of Rs. 3.5 million was committed citing the reason , a pirikara pooja has to be conducted with the participation of 1115 Sangha members and 1500 'Kiriammas'.
No such pinkama was in fact conducted at Hali ela .. This fraud was committed by producing fake documents and bills.
4.Saying relief is to be provided to the families of the migrant workers who fell victim to landslides in December 2014 in Badulla district , a fraud involving a sum of Rs. 3,962 , 410.00 was committed.
This robbed sum was wasted fully on the presidential elections . No family was provided relief.
5.A sum of Rs. 9,157 600.00 defrauded citing the Hali ela Sampath Headquarters foundation laying ceremony .
No such ceremony ever took place. Out of that defrauded amount, Rs. 8 million was wasted on Dilan's political meetings.
6.Under the pretext of empowering the migrant workers organization , salaries and allowances were paid in respect of staff vehicles.
7.Payment of Rs. 7,524,910.00 to Bohoon Trust Co. Ltd.
A sum of Rs. 6,373,622.00 had been paid in excess.
8.When making payments on leases , a loss of Rs. 20 million was incurred through advance payments made.
These disbursements have been made without the approval of the Ministry board , and even before the ownership had been transferred legally.
9.Under the pretext of distributing school books and instruments sets , a sum of Rs. 9,543,552.00 was misappropriated .
The monies were fraudulently used for Dilan's political activities.
10.Saying relief is to be provided to families of the migrant workers who fell victims to landslides at Miriyabedda , a sum of Rs. 1 million was collected , and out of that only Rs 1 ,69,190.00 was spent towards that.
After spending another sum of Rs. 10,000.00 on fuel , the entire balance had been wasted on Dilan's political activities supported by fake bills .
11.Spending Rs. 5,53,700.00 towards "Migrant workers piyasa"
This was an absolute unalloyed fraud supported by fake documents.
12.A fraud of Rs. 6,61,500.00 committed after preparing spurious documents , under the guise of educating the migrant workers.
These are clearly flagrant violations of financial regulations and procurement guidelines code; misuse of state assets during elections ; wrongful use of the services of State officers for elections ; forgery - preparing forged documents ; and committing financial frauds ,according to the Auditor General.
The Auditor General has recommended that these crimes shall be investigated under the Bribery Act, Public property Act, and money laundering Act.
The chairman of the SLBFE lodged his complaint with the FCID based on these recommendations.
A copy of the complaint is herein. It can be read by magnifying the image below .
This scoundrel of a corrupt crooked minister who must answer for all these grave crimes, at the last presidential elections campaigned and worked with absolute commitment to steer the most brutal corrupt Mahinda Rajapakse to power , while none voted to elect Dilan to parliament. Thereafter , grabbing a free (Pinnadi) ministerial portfolio like a beggar , it is this same shameless confirmed crook who is castigating the leaders of Civil Organizations who gave their unstinted and unwavering support to the government of good governance , and questioning 'is this good governance?'
In the circumstances , if the FCID is not working according to political agendas , it must immediately arrest Dilan Perera based on these glaring and monumental crimes , begin investigations and file cases , it is then and only then it can prove it is the president in his recent speech who blundered by making the allegation the investigating Institutions are serving political agendas. That will clearly bring to the open who is truly protecting Dilan Perera . By that the FCID can also prove who is truly behind the maneuvers to protect criminals , and clear its own name.
By Chandrapradeep.
Translated by Jeff
---------------------------
by (2016-10-19 14:31:04)
We are unable to continue LeN without your kind donation.
Leave a Reply