Court orders Anura Senanayake to be moved out of hospital and into prison –Sickness racket exposed !
Doctor -mocker mafia helped him with false reports !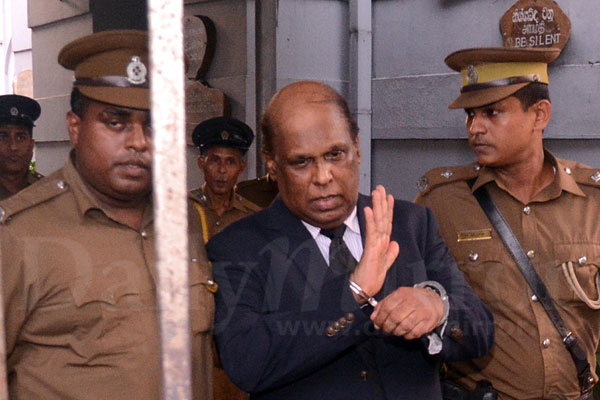 (Lanka-e-News -21.Oct.2016, 2.25PM) Former senior DIG Anura Senanayake the accused in the brutal Thajudeen murder who is enjoying his incarceration in remand prison by getting himself admitted to the paying ward of the Colombo National hospital with the assistance of the latest breed of Doctor mockers' mafia , was ordered by the Colombo additional magistrate Nishantha Peiris to move Anura Senanayake out of the paying ward and detain him in prison. The additional magistrate issued this directive to the Prisons Authority yesterday .
In the order of the Magistrate which comprised 40 pages , it was stated the accused is not suffering from such a grave ailment to necessitate treatment in a hospital ward.
The magistrate while saying nobody is above the law and all are equal before the law which is a basic tenet of justice , went on to emphasize that illness should not be determined or defined on the basis of status or affluence . At the same time all suspects should be entitled to medical treatment , but that does not mean , wealth should have a bearing on it, he added. Hence he instructed the Prisons Authority to discharge the duties in accordance with section 69 (1) of the Prisons Act.
Sri Lanka is a signatory to the UN charter regarding detainees , and providing medical treatment for payment is not covered by it , the magistrate pointed out. Besides , since 2003 , there was no occasion on which Anura Senanayake has taken indoor medical treatment after hospitalization , based on medical reports furnished , the magistrate observed.
Meanwhile, the magistrate also issued an order to Professor Carlo Fonseka, the president of the medical society to furnish the report pertaining to the investigations conducted by the medical society into former Judicial medical officer Ananda Samarasekera , before the 30 th.The magistrate while lamenting that the report had been delayed inordinately - having taken 9 months , directed that the report be produced in court without undue delay as justice shall be meted out on behalf of the people.
Based on reports reaching Lanka e news , although Duminda Silva , Wimal Weerawansa's brother , and several others have been sentenced to death , they are not in prison cells but in prison hospital. Believe it or not , it is the diseased doctor mockers mafia of SL that is shamelessly extending support to these evil manipulations and sickness conspiracies by providing false medical reports regarding their medical condition. Consequently the Prisons Commissioner too is unable to do anything about it.
---------------------------
by (2016-10-21 09:14:10)
We are unable to continue LeN without your kind donation.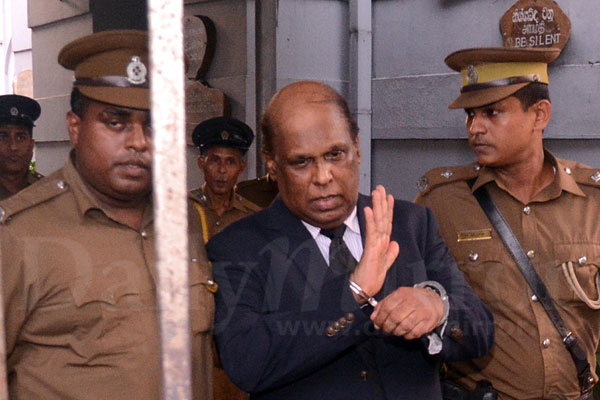 Leave a Reply