Body of youth found in home of Weerawansa ! Deceased has neck injuries and bleeding nose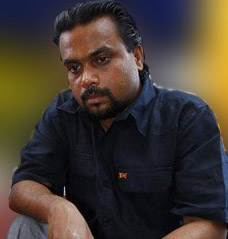 (Lanka-e-News -26.Oct.2016, 10.30PM - second edition 11.30PM) The body of a youth who died under most suspicious circumstances was discovered from the Hokandara home of Wimal Weerawansa this noon.
This youth about 24 years old Lahiru Janith is a distant relative and a friend of Weerawansa's son Vibuthi . He is a resident in the vicinity of Weerawansa's house. He had also now and then been driving the car of Sashi Weerawansa as her driver.
Yesterday night Vibuthi and four of his friends have thrown a party , and Lahiru too has attended it. All of them had consumed liquor. Lahiru has spent the whole night at Weerawansa's house. The same night there had been a noisy quarrel in Weerawansa's house which had disturbed the neighborhood so much so that the neighbors complained they could not sleep owing to the fracas.
The following day , Sashi Weerawansa at about 9.00-10.00 a.m had phoned Lahiru's parents and informed that Lahiru is asleep , and he cannot be woken. Thereafter . Lahiru's parents have gone to Weerawansa's house , and taken Lahiru to Jayawardenapura hospital .
The youth had already died a long time ago , and his body was turning blue while the youth was being taken to hospital .
A Hospital spokesman told Lanka e news that there was blood oozing out from the deceased 's mouth , and some one has wiped away the blood . There were injuries on the right side of the neck . There were also tell tale signs of assault with blue patches on the left rear side near the forehead , and on both sides of the stomach of the deceased .
In any event, the death of the youth is surrounded by grave suspicions. A medical examination is to be performed on the body tomorrow. No one had been arrested so far , but two lawyers have arrived and were seen impeding the investigations .
The distant relative of Weerawansa who arrived at the police stated , the deceased was having a hole in the heart .
Meanwhile , the police summoned Weerawansa's wife Sashi , son Vibukthi and the servant woman in the house and are being questioned .
Though Weerawansa has been in the house yesterday night based on information received , he had not been questioned yet.
A neighbor said , there was a love affair between Weerawansa's very young daughter Vimasha Vishwadari and the deceased , and that was the background to the attack launched on the deceased by the inmates of the house.
---------------------------
by (2016-10-27 02:46:46)
We are unable to continue LeN without your kind donation.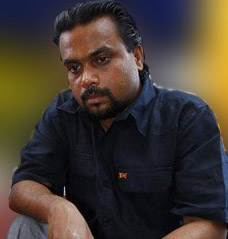 Leave a Reply