Government analyst department deeply in its toil to rescue crooked Gota – Conspiracy leaks out !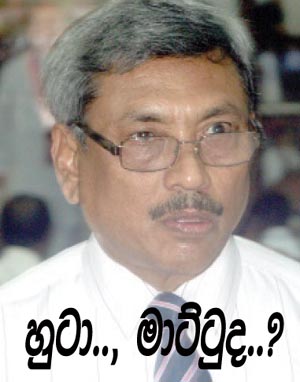 (Lanka-e-News -27.Oct.2016,11.30 PM) Efforts are now under way to rescue notorious Gotabaya Rajapakse from yet another robbery committed under the Blue Brigand during the nefarious decade of Medamulana Rajapakse . This is a secret follow up action that has been initiated by traitorous stooges of the Rajapakses in the Government analysts department , as revealed by the pro good governance staff in that department.
At the center of this robbery is the 'Mausoleum palace' built in memory of the parents of Rajapakses built wasting public funds. Under the signature of Gotabaya, a sum of Rs. 110 million belonging to the Low lying lands development Board has been paid on account of this 'mausoleum palace' located at Tangalle.
The investigations into this were concluded , and the file was sent to the Attorney General (AG) to initiate legal action ,and in order to confirm the signature of Gota ,the AG's department has sent it to the handwriting examination division (department of questioned documents) under the Government analyst department.

However , the pro good governance staff in the Government analyst department reported to Lanka e news inside information division that the scoundrels and stooges, namely Batagoda and Jayasundara the examiner of questioned documents (handwriting) and his assistant respectively are engaged in a conspiracy moving heaven and earth to issue a bogus certificate that the signature is not that of Gota.
It is a well and widely known fact that many traitorous heroes have suddenly turned active now who are determined to rescue notorious Gota the culprit who is incriminated in many criminal cases.

If these two venal villainous officers are to issue a bogus certificate for love of filthy lucre that the signature on the document is not that of Gota who released Rs. 110 million of public funds to build a mausoleum for the parents of Rajapakses , the next pertinent question is , who is the lunatic who would have stuck his neck out to place a signature (forgery) to enable others to build mausoleums for their parents..?
On the other hand, if somebody else had forged the signature of crooked Gota, to enable the construction of the mausoleum in memory of the parents of Rajapakses, what was the chief of the low lying lands development doing and where was he looking when that was happening ?
---------------------------
by (2016-10-27 19:15:20)
We are unable to continue LeN without your kind donation.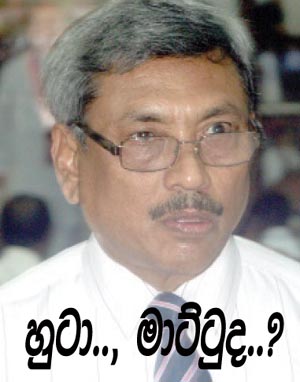 Leave a Reply