PTA enactment will be re- implemented disregarding Int. community ; LeN is a source of danger; Wijedasa barks and howls (video)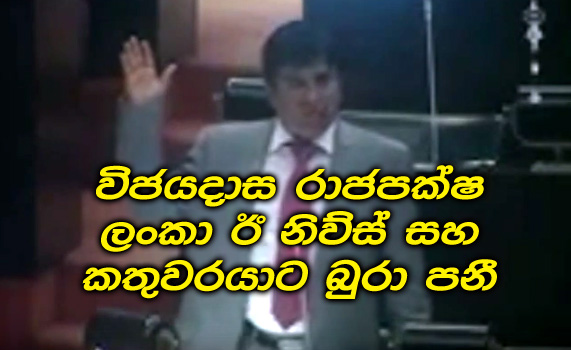 (Lanka-e-Mews -20.Nov.2016, 11.45PM) The minister of justice Wijedasa Rajapakse who participated in the budget debate narrated a number of controversial stories like Kindergarten children relating fairy tales. One such story was , 22 members of four Sri Lankan families have gone for ISIS training, and those are families of the higher echelons in society .Extremist Muslim Organizations are arriving here and they are teaching extremism in Muslim schools , he added.
Another controversial tale of his was, irrespective of what the international community says , at the necessary time the prevention of terrorism Act will be implemented. Resorting to Draconian laws intensely the dangers posed to the nation shall be thwarted, he pointed out.
Finally, he said in a mad fit of rage, Lanka e news and its editor are damaging the independence of the judiciary which has been restored after surmounting grave difficulties, and they are a peril to the nation. Moreover , he held out a warning that an international warrant shall be issued , the editor got down to SL , and sued.
He also remarked , because of Lanka e news , a judge is unable to deliver an independent verdict , because Lanka e news is publishing where the judge went to have meals before delivering the verdict , and about those who collected cash . Minister Wijedasa cited that as an example to illustrate his point. Hence no matter where he is , whether in London or anywhere else the editor shall be got dawn and action shall be filed against him he insisted . ( May we remind , it was this same story teller Wijedasa Rajapakse who earlier on said in Parliament , as long as he is the minister , he will not permit Gotabaya a byword for corruption and brutality to be arrested ).
Wijedasa who addressed Kamilini , a former LTTE organization women's armed division leader most respectfully as 'Madam, ' called the editor of Lanka e news most disdainfully as 'Pulanneku.' (a destitute person)
Lanka e news editor is a 'Pulanneku' who was chased out from the country , and he is not a journalist . He is one who had placed advertisements requesting funds , and if Keheliya gives him 100 sterling pounds to him with the request to sling mud at him (Wijedasa) , the editor would do that , Wijedasa exhorted.
He also went on to say , while extending an invitation to others ,he would join in to halt the damage that is being done to the national security by news websites like Lanka e news. He referred to Mahinda Rajapakse the ex president as his example.
While Wijedasa was barking and howling taking refuge under the parliamentary privilege , it were joint opposition M.P.s who gave him support ,with Keheliya Rambukwella and Dinesh Gunawardena being the main supporters. Whatever Wijedasa forgot was reminded by Keheliya.
The relevant part of the speech of Wijedasa Rajapakse is hereunder
Expect the reply of Lanka e news shortly
---------------------------
by (2016-11-21 03:58:25)
We are unable to continue LeN without your kind donation.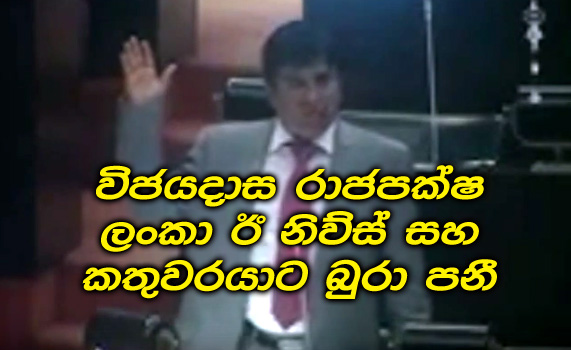 Leave a Reply