CID tells court Interpol rejected red alert warrant request against LeN editor
Poor reflection on magistrate Kaveendra..!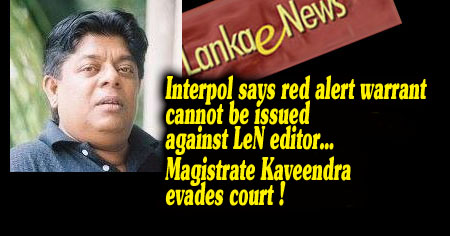 (Lanka-e-News- 09.Dec.2016, 11.30PM) The CID today informed Gampaha court that since no charges had been filed against Lanka e News editor Sandaruwan Senadheera , the Interpol had stated a red alert warrant cannot be issued to arrest Sandaruwan.
The CID also told court the Interpol had notified there are no provisions to implement an international warrant against Sandaruwan,
Previously charges were falsely mounted against Lanka e news that the latter published a photograph of suspect Premananda Udalagama who attacked former Rivira editor Upali Tennekoon (the suspect was identified by the victim) prior to the identification parade in court , and based on those charges a warrant was issued to arrest Sandaruwan on the grounds that the latter thereby committed contempt of court. The Gampaha chief magistrate issued a warrant to be given effect through the Interpol , and also gave a directive to the Immigration and Emigration department to arrest Sandaruwan when he arrives here.

This magistrate Kaveendra Nanayakkara who gave illegal orders on that day took leave and kept away from attending court today when the case was taken up . Lawyer Hemantha Warnakulasuriya who intruded from nowhere on that day too was not present in court.
Today, the case was heard by acting magistrate Ms. Chandima Jayadevi Amarasinghe . From next week there is a one month long , end of the year court vacation , and when the court resumes sittings next year , Kaveendra who gave this illegal order would not be there to hear the case as she is transferred to Pugoda courts. Hence she will not be hearing this case again.
The mass crimes division of the CID also informed acting magistrate Ms. Jayadevi Amarasinghe today ,that Sandaruwan was not at the address mentioned in the warrant issued by court.
The CID while informing court that the investigation into the assault launched on Upali Tennekoon is continuing , requested another date be fixed to report its progress . The next date of the case was fixed for April 2017.
It is significant to note this was the first occasion the Interpol rejected a request for a warrant made by a Sri Lankan court, sources say. This is a poor reflection on the judge.
---------------------------
by (2016-12-09 21:35:21)
We are unable to continue LeN without your kind donation.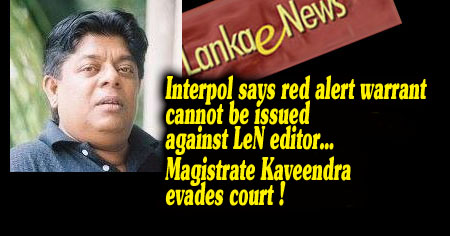 Leave a Reply