Int. Bank to close the account of a former SL parliamentarian, notorious blue Brigand rogue immediately
- Decides its reputation is at stake due to this racketeer !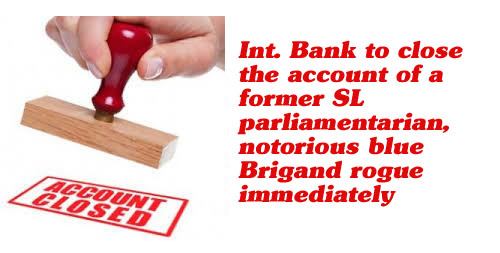 (Lanka-e-News -13.Dec.2016, 7.00AM) A reputed International bank has decided to close the account in Britain in which many millions of sterling pounds (illicit funds) have been deposited by a former Sri Lankan parliamentarian – an ace rogue of the Blue Brigand .
The branch in Britain of the reputed International bank has decided to close this account irrespective of the amount of funds amassed by this culprit because of the reputation risk faced by this bank owing to this account holder.
Hence the bank has decided to close the account and send this ace rogue a check leaf for the amount of funds plus interest accrued .This racketeer has asked for two weeks time to make arrangements to transfer the funds to another bank , but the international bank has refused to comply with the request.
The main reason that prompted the international bank to take this action was , this ace rogue had been receiving large amounts of money in bulk regularly from Singapore to his illicit account. When it was probed how these funds were generated , suspicions have been aroused that this is money laundering , and these are funds earned via underworld dealings.
At the same time in Sri Lanka too cases have been filed against this ace rogue of the blue Brigand based on charges of misappropriating many millions of rupees of Tsunami funds in association with the LTTE terrorists .One of the suspects has fled to UK , it is believed.

Some time ago , when this rogue tried to enter Singapore he was detained at the Singapore airport and interrogated for over 24 long hours by the Singaporean officials in connection with his money laundering activities .Finally this notorious crook was refused entry and deported to Sri Lanka. Subsequently however , this culprit struck a clandestine deal with a chief of the good governance government who spoke to the Singapore government , and made arrangements to allow him entry to Singapore. When he was remanded too , he got the order vacated through a higher court violating the laws which are in existence dating as far back as 1833.
The reputed international bank of Britain after taking into consideration all these details and his antecedence , had decided no matter how much of funds the culprit has in his account , if this account is allowed to be continued , the bank's reputation is at risk . This rogue is also an owner of a media Institution in SL .
---------------------------
by (2016-12-13 01:32:15)
We are unable to continue LeN without your kind donation.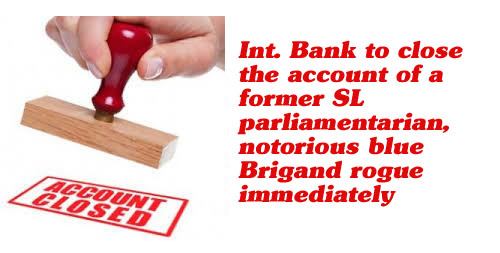 Leave a Reply