The specter of evil even devouring the good dep. Minister Ranjan is trying to do !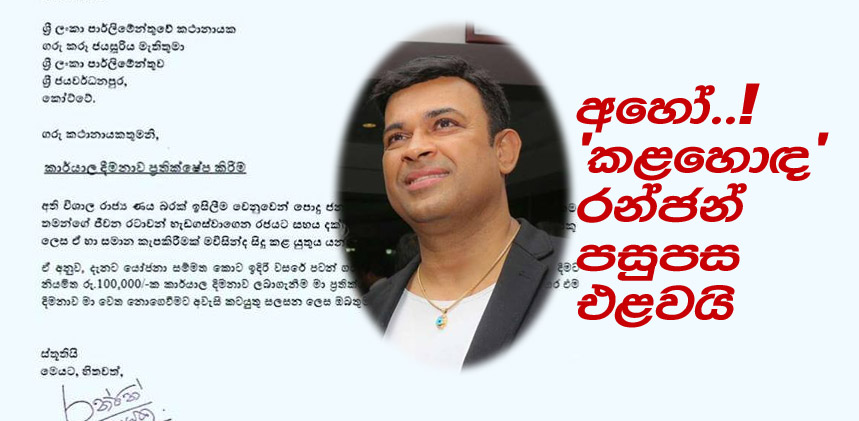 (Lanka-e-News -19.Dec.2016, 11.55PM) The good deputy minister Ranjan Ramanayake tried to do is being repulsed by the evil for their selfish gains , based on reports reaching Lanka e news inside information division.
The good Ranjan did was : refusal to accept the proposed additional allowance of Rs. 100,000.00 plus the increased payment of Rs. 2500.00 for every parliamentary sitting that are be to be granted to the parliamentarians from next year. This good deed of Ranjan is something which cannot be expected of the politicians of the present day – that is the present political sharks and Shylocks !
Ranjan has sent letters to the speaker and the parliament general secretary on the 16 th rejecting these payments vis a vis the colossal debt of Rs. 900,000 million in which the country is now drowning.

Ranjan who spoke on the phone to the speaker who is on a tour of China had explained , because he is not married , and he has sufficient money based on his earnings from his acting to spend on behalf of the people of his electorate , it has become necessary for him to refuse to accept the payment of Rs. 100,000.00 granted by the government at a time when the country is deeply in debt.
It is learnt that the speaker has told him that this request can be accommodated.

Sadly however following this announcement , evil (which is in a majority) has started chasing behind Ranjan and devour the good he is seeking to do .
It is obvious if Ranjan rejects this extra allowance , it is going to militate against the other parliamentarians , for they may also be bound to make this sacrifice. On the other hand if they don't, it will be Ranjan alone who will stand out as a hero and patriot .Consequently , a number of MPs and ministers have expressed their opposition to Ranjan 's decision.
Of course there are 'indigent' MPs who are not in a position to make the sacrifice Ranjan is prepared to make . But what most rudely shocks and irritates is ,the objections raised against Ranjan's humane gesture by inhuman ministers and MPs owning 5 to 6 helicopters and ships.
No matter what , owing to pressures brought to bear on the government bigwigs by the other parliamentarians ,the bigwigs have phoned Ranjan and instructed , not to act in a manner that would make him a hero , but to accept the allowances which have been ratified by the parliament .They have also forced Ranjan that in case he does not need that payment , to accept it and distribute the allowance to ten people in the electorate at Rs. 10.000.00 each , which move will not stand in their way.

The deputy minister is now in a quandary owing to these pressures , and he has to withdraw the letters sent by him to the speaker and the parliament secretary , according to reports reaching Lanka e news inside information division.
In the circumstances while this government was installed to introduce a welcome 'change,' it is a pity even when one member at least is committed to bring about the change , to the others - the so called people's representatives who are allergic to anything good , and who can never think of doing any good unless it finally serves their own selfish selves , nothing is more abhorrent than contributing to the welcome change which the entire country is earnestly anticipating.
Maniacal obsession for super luxury vehicles
A simple example would elucidate this situation …..
During the recent past , super luxury vehicles for ministers and MPs costing countless millions were approved to be obtained out of people's funds. Of them only three parliamentarians rejected those. They were three deputy ministers , Ranjan Ramanayake , Dr. Harsha De Silva and Palitha Thevareperuma
Yet , two ministers who were not even elected on the people's votes and secured pinnadi (gratis ) portfolios grabbed super luxury vehicles worth many millions of rupees at the expense of people's funds not only for themselves but even for their families ! The price of the two vehicles obtained by Field Marshal Fonseka and his wife was a whopping Rs. 70 million. The other minister who also obtained vehicles for his family was S.B Dissanayake. He obtained super luxury vehicles for himself , his wife and son. It is significant to note his son holds no official position in his ministry . The value of the two BMW super luxury vehicles for S.B.'s wife and son is around Rs. 70 million .The value of the Benz vehicle obtained by S.B. alone is around Rs. 40 million ! Unbelievably ,all these were grabbed by them over and above the tax free vehicle permits granted to them ! What fat lot of concern they are showing towards the poverty stricken masses ! 'Thanks' to good governance for pampering them .
If any virtuous individual would come forward to conduct a survey on the maniacal vehicle obsession of the ministers and MP's of the good governance government which on the contrary came into power to introduce welcome 'change,' he/she can rest assured that we are there to give utmost publicity to them .

---------------------------
by (2016-12-20 01:50:28)
We are unable to continue LeN without your kind donation.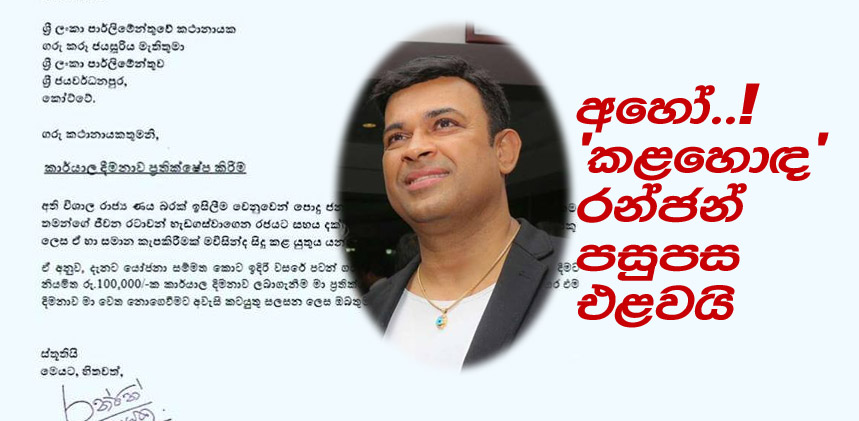 Leave a Reply