Villainous ex minister of Rajapakse regime who robbed 12 million public funds poses as a hero !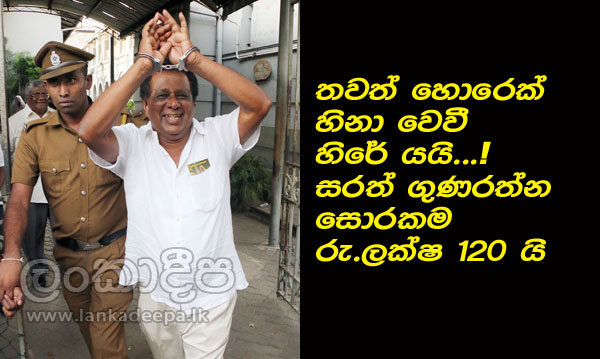 (Lanka-e-News -03.Jan.2017, 8.45PM) Ex minister of the Rajapakse regime Sarath Kumar Gunaratne the political scoundrel who robbed Rs12 million of public funds which were allocated for Negombo zone development , to the amazement of all raised his handcuffed hands and gleefully (photo) walked to the remand prison yesterday as though he is a great celebrated hero.
This was the rascal who avoided the CID four times when he was summoned . However , after he arrived at the CID today his statement was recorded . Thereafter when the CID arrested him the suspect showed no surprise like a seasoned criminal..
After he was produced before Colombo chief magistrate Sarath Kumara Gunaratne , the ex minister was remanded until the 9 th. His lawyer at that juncture related the usual story , that is , his client is ill and therefore to grant bail . The magistrate however responded in the negative and said that may be considered on the next date -9 th.
Based on reports reaching Lanka e news, there are charges of murder and heroin dealings against the ex minister . This rascal who also misappropriated colossal public funds trying to pose as a hero before the cameras by raising both his handcuffed hands and sporting a broad smile were therefore frowned upon by all . It seems all the Rajapakse regime's crooked ministers have lost their sense of shame for all of them pretend they have committed no wrong at all and pose to the cameras as heroes after committing all the villainy.
According to political analysts , this law enforcement against this crook Sarath Gunaratne with the dawn of the year signals that the good governance government is making determined efforts to repulse the grave accusations leveled against the government in the past that that it is taking no action against those who robbed public funds during the past regime.
---------------------------
by (2017-01-03 15:26:56)
We are unable to continue LeN without your kind donation.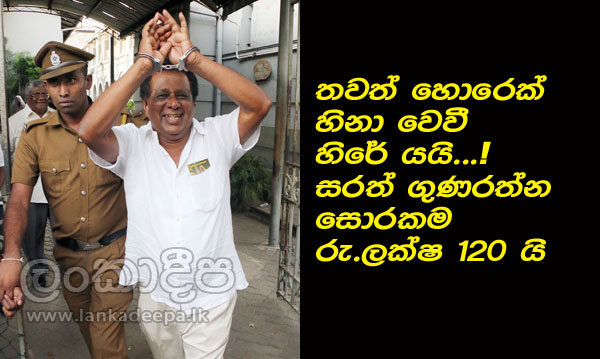 Leave a Reply