Weerawansa was remanded because of MR ! B report reveals -story in detail …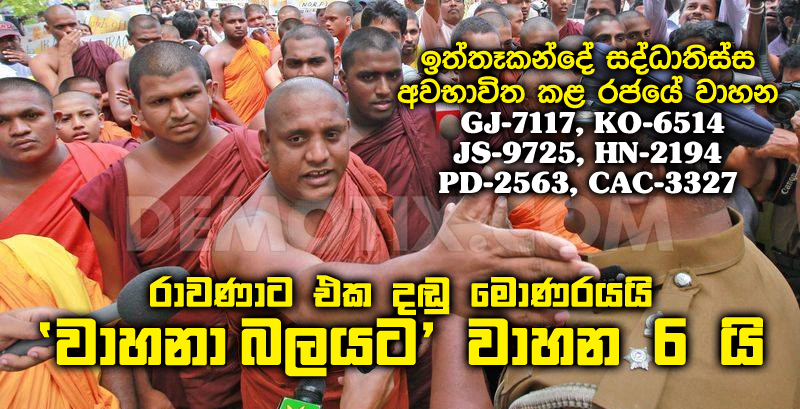 (Lanka-e-News -17.Jan.2017, 10.10AM) It is the question on everybody's lips , how was ex minister Weerawansa responsible for the misuse of Sate vehicles ? Meanwhile Mahinda Rajapakse and Namal Rajapakse who are displaying the label that they are lawyers are questioning , aren't deputy minister , chairman and others too responsible ?
Based on the report submitted to court in connection with the crime committed by Weerawansa , it has come to light that it is none other than Mahinda Rajapakse who is accountable for Weerawansa's incarceration. Sadly ,the total lack of legal knowledge of these two synthetic and spurious lawyers (papa and sonna) who passed law examinations via trickeries and treacheries has become crystal clear going by their stupid questions and remarks.

Unbelievably , it has now become clear , it is Ali baba (chieftain of the den of crooks) Mahinda Rajapakse who is responsible for the incarceration of ' 'malli baba' (member of the den) Weerawansa owing to the following reasons…
The minister exercising his ministerial discretion can employ voluntary officers , but there is no provision that permits the minister to grant state vehicles to them .
The minister is entitled to only three official vehicles and the number of vehicles that can be used by the minister and his staff is decided based on the presidential circular. In case more vehicles are to used , prior special permission has to be obtained from the presidential secretary . Otherwise the minister must hold himself fully responsible for the extra vehicles used.
Shockingly , when grade nine qualified Weerawansa who was a pauper some years ago , as a minister granted vehicles to his sister , wife's sister ,the cook at home and so many others close to him like his dowry property and ancestral property , he had not obtained the permission of ( currently deposed and discarded ) ex president Mahinda Rajapakse's secretary . Therefore in such circumstances , the deputy minister or others do not become liable since the entire guilt and responsibility must be shouldered by ex minister Weerawansa (the corrupt crook) himself , under the laws. If Weerawansa has granted vehicles to his relatives or any other duly after obtaining permission legally , Weerawansa the moron would not have been liable. Interestingly, the necessary permission was not granted by Machiavellian and mendacious ex president Mahinda Rajapakse , and that is what led to Weerawansa's incarceration . Today , Weerawansa is in dire straits because of Mahinda . Therefore poor Weerawansa the moron who is grade 9 qualified, and unable to identify what is lawful and unlawful had granted state vehicles to 'all and sundry' like those are part of his dowry property and ancestral property.
Based on statements recorded of Weerawansa's secretaries , Gotabaya Jayaratne , Wimalasiri Perera and Nissanka Naomal Wijeratne , extra vehicles beyond those allocated to the ministry by the presidential secretariat were obtained solely and wholly on the initiative of Weerawansa the minister then , and it were on his advice . Weerawansa's statement too had confirmed that .
Although it was possible to make his actions lawful through the treasury secretary subsequently , Weerawansa has acted as though he is a law unto himself. What better conduct can be expected of a grade 9 qualified moron who was a riffraff just some years ago ?

Poor Weerawansa therefore had to bear the brunt of the entire responsibility .
The question posed by Namal 'baba' and Mahinda 'papa' why, deputy minister , the chairman and others who were also liable not charged ? is answered by the reply , what is the gain they secure by providing vehicles to Weerawansa's relatives and hangers on ? Besides , why should those rackets of Weerawansa pain them when they know it is he who has to face the consequences some day ? whereas Namal 'baba' and Mahinda 'papa' (Alibaba the chieftain of the crooks) are pained over Weerawansa's frauds because they too have obviously gained from Weerawansa's perfidies and treasons.
Based on the investigations , it has become very clear that Weerawansa has directly taken initiatives and intervened to provide vehicles to his relatives and his party activists . This was corroborated by none other than Ananda Priyadharshana the husband of Weerawansa's younger sister Nilani Weerawansa. Priyadharshana had also revealed , he was asked to get a driver by the name of Ajantha in addition to the vehicles after mentioning the names of Wimal Weerawansa and Sarath Weerawansa , according to the B report.
Apart from Wimal Weerawansa and Samantha Lokuhennedhi who were recently remanded , charges have been filed against Prasad Manju ( Weerawansa's private secretary ), W.H.K.P.S. Wijesekera (Weerawansa's co ordinating secretary ) , and P.S. Wijesiri alias Dhampala( Weerawansa's Homagama electorate organizer) . Cases are to be filed against them shortly, according to the B report.
The comprehensive B report pertaining to Weerawansa the cardboard patriot and his 'patriotic' fraud causing billions of rupees loss to the country can be downloaded by clicking on the line below.
http://www.lankaenews.com/home/downloads/43/B-Report-of-Wimal-Weerawansa-Vehicle-corruption-2017Jan.pdf
---------------------------
by (2017-01-17 04:49:11)
We are unable to continue LeN without your kind donation.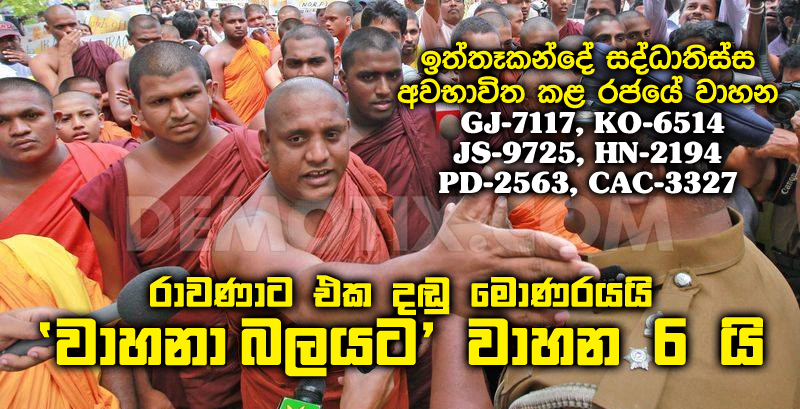 Leave a Reply