Alibaba politics oriented crook of a judge sent home..! Exemplary punishment -JSC earns plaudits..!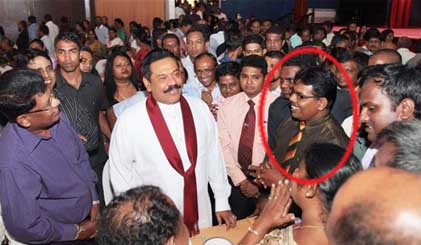 (Lanka-e-News -03.Feb.2017, 7.00PM) A politically inclined unscrupulous judge who produced falsified information and entered the judicial service was packed and sent home by the Judicial Service Commission (JSC)
Based on a complaint made by a civil organization which created a salutary precedent in the judicial sphere , this judge by the name of D.M.A.I Dissanayake (Asanka Dssanayake) got the sack. This judge is a grade one class two magistrate who secured the judiciary position by forwarding a phony address that he resided at Water tank road , Colombo 10 , whereas his true place of residence is Kelaniya.
Sri Lanka Human rights center lodged a complaint with the JSC against this magistrate . That complaint incorporated the following :
1.The magistrate has secured appointment to the judicial service by using a phony address : No. 73/1 , Water Tank road , Colombo 10.
2.He had been engaged in politics directly for a long time.
3.In the infamous impeachment motion against ex chief justice Shiranee Bandaranaike , a political meeting was organized by this magistrate in support of the impeachment .

4.He went against the decision of the Bar Association (BASL) , and participated as an activist in the manipulations to expel Shiranee Bandaranaike from her judicial post.
In the petition filed by the SL human rights center it is mentioned that Asanka Dissanayake who received the magistrate appointment is also infected with the face book mania like that suffered by some other judges of SL , of making unalloyed political comments and engaging in politics . Even the BASL has verbally complained against this judge to the JSC ..

This is the first occasion after 1977 , a magistrate was dismissed from his judicial post following a complaint made by a civil organization to the JSC . Certainly the JSC has won the admiration and applause of the law abiding citizens of the country for taking such a courageous and most 'caring for justice' decision in the best interests of the judiciary specially and the entire nation generally, thereby creating a most welcome precedent. It is the consensus that such judicial decisions will certainly re build the image of the judiciary which is currently tainted and tarnished by judges like Asanka Dissanayake .
( The photos depict how the judge engaged in politics. Unbelievably these photos were publicized via his face book)
---------------------------
by (2017-02-03 13:50:56)
We are unable to continue LeN without your kind donation.
Leave a Reply