SAITM executive director shot at..! LeN warning 4 days ago of potential Fascist blood shed proved true !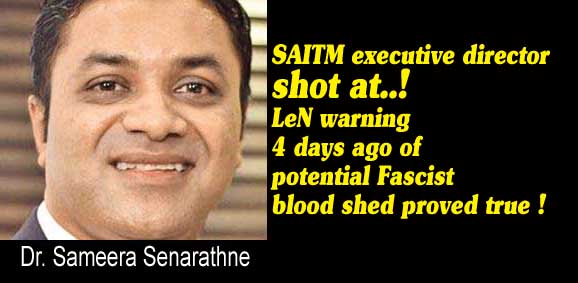 (Lanka-e-News -06.Feb.2017, 11.30PM) On 2nd February , Lanka e news warned while publishing a report in Sinhala edition under the caption ' Free education ' that 'we will win the first round , but in the second round , the Fascists are going to shed blood!' This warning turned true today (06) when the chief executive of SAITM medical College and teaching hospital Dr. Sameera Senaratne was fired at by two unidentified gunmen.
When Dr. Senaratne after concluding his duties at SAITM , and was travelling to his home at Rajagiriya , two individuals who arrived on a motor bike wearing full face helmets had shot at him when he was driving along Chandrika Kumaratunge mawatha, and fled . Dr. Senaratne has had a close shave , and escaped but his vehicle driving seat front side and rear door had been damaged following the gun shots.
Senaratne who suffered from grave shock is under treatment in hospital .
It is specially worthy of note that this violence was launched after the JVP leader announced today that the JVP shall extend support to the terror organization of Padeniya and Soysa.

It is well to recall some decades ago , the JVP terrorists who joined with the terror organization of doctors against the private medical Colleges bombed the Ragama medical College administrative building, and destroyed it . Because the members of the Ragama administrative board were threatened with death , they even had to leave the country . During that period the Vice chancellor Professor Stanley Wijesundara of Colombo University and Vice chancellor Professor Chadraratne Patuwatavitharne of Moratuwa University , two most valuable intellectuals were killed like dogs.

Lanka e news on the 2 nd issued the dire warning ' For sure these terrorists are going to unleash a blood bath ', based not only on the violent antecedence and murderous history when two terrorist organizations were together then, but because currently , even the brutal discarded Rajapakses who introduced the white Van murder culture , and the Peratugami terrorists who are opposing not only the 19 th amendment but even the national drugs bill have joined hands opposing the court order .
---------------------------
by (2017-02-06 18:58:09)
We are unable to continue LeN without your kind donation.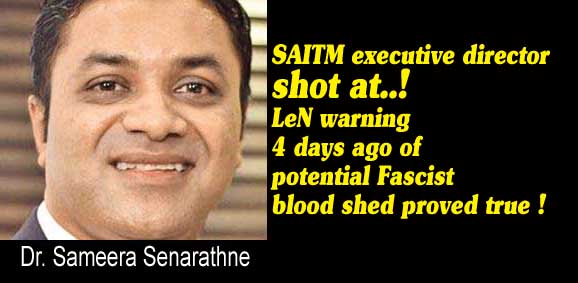 Leave a Reply