Weerawansa the crooked patriot re remanded ! His accomplice was sentenced earlier too over swindling Rs. 2.2 million of war heroes' funds !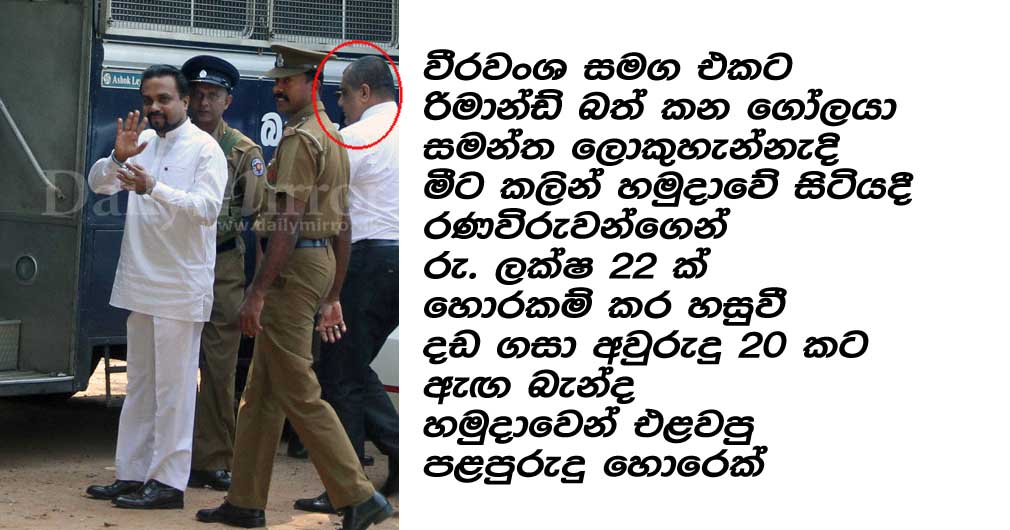 (Lanka-e-News -09.Feb.2017, 6.00PM) The accomplice Samantha Priyanath Loku Hennedige ex Human resource manager of former minister Wimal Weerawansa the notorious crooked cardboard patriot ( both of whom are now in remand custody) involved in the fraud amounting to Rs. 91.6 million of distributing 37 State vehicles to relatives , has previously too committed a fraud in a sum of Rs. 2.2 million while he was serving in the army . After he admitted his guilt in that crime he was punished by courts, and is now serving a 20 years suspended jail sentence, based on reports reaching Lanka e news.

Loku Hennedige is the accomplice in the present crime in which the prime suspect is Weerawansa (the self proclaimed 'patriot' a crook though . He is now behind bars along with Weerawansa . It is well to recall , earlier too Loku Hennedige while serving in the army aerial administration board as a Captain has swindled a sum of over Rs. 2.2 million that was allocated for the foreign travel of army officers in connection with LokuHennedige's training. That sum included Rs. 600,000.00 during the whole year - 1998 ; Rs. 1.4 million during the whole year -1999; and about Rs. 200,000.00 during the first four months of the year 2000. Hennedige has been indulging in this fraud for a long time. After this was discovered , he was expelled from the army , and a case was filed.
When he admitted his guilt and agreed to re pay the sum in that suit , he was fined Rs. 180,000.00 and a 20 years suspended sentence was delivered against him. That is a six year jail term suspended to 20 years.

That was in 2014 during the era of the Rajapakses when they were entertaining the notion they would never be defeated, and Rajapakse the chieftain of the crooks is a 'nomerenna miniha' though only a cursed individual would nurse such a devil's desire . The sentence was passed by Colombo High court judge Ms. N. Ranawake .In other words the sentence of most criminal Weerawansa's equally criminal crony will terminate in 2034 ( copy of the relevant news report is appended ) .
That means Weerawansa the crooked 'patriot' had selected another crooked rat as his Human resource manager on purpose so that buddies of the same feather could rob together .In other words for Weerawansa's crooked activities ,while parading as a self proclaimed 'patriot' he has employed another experienced crooked scoundrel who had clearly demonstrated the same crooked streak in him by robbing the funds of ' war heroes' . Obviously , he made Loku Hennedige as his human resource manager because Weerawansa wanted to have an experienced criminal with him to aid and abet in his crooked activities and rook the public wholesale. The natural and necessary outcome : the fraud jointly committed by the duo involving a sum of Rs. 91.6 million.
Weerawansa remanded again
When Weerawansa and LokuHennedige who are in remand custody were produced in court on the 7 th , they were remanded again until the 20 th by Colombo Fort magistrate Lanka Jayaratne .
Weerawansa's henchman who shouted in court on the previous court day admits his guilt..
Sudesh Premalal a henchman of Weerawansa who was remanded for shouting and behaving violently in court on the previous court day during sessions , was produced in court from remand custody . Sudesh pleaded guilty to contempt of court charges and he was fined Rs. 1000.00 and sentenced to one and half years in jail suspended to 7 years by the judge.
Weerawansa's application for bail fixed for hearing on the 13 th……
Meanwhile the revision application for bail filed by Weerawansa challenging the refusal to grant same by judge Lanka Jayaratne filled in Colombo High court was taken up for hearing on the 6th . High court judge Vikum Kaluarachi postponed its hearing until the 13 th.
The respondents cited in the application by Weerawansa's lawyers are the Attorney General and the OIC of FCID . They were noticed to appear in court on the next date .
---------------------------
by (2017-02-09 12:46:42)
We are unable to continue LeN without your kind donation.
Leave a Reply