Mahinda the 'Cheatah' : incriminated in Kollupitiya 2 acre land 99 year lease fraud : cheats SL airlines in a sum of Rs. 110 million !!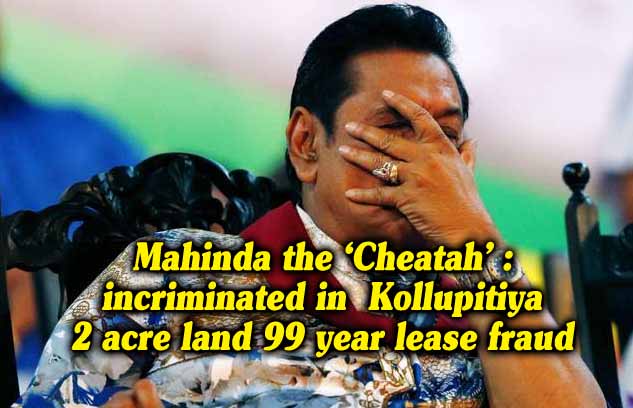 (Lanka-e-News -11.Feb.2017, 6.30PM) A massive fraud allegedly committed by ex president Mahinda Rajapakse pertaining to a land 2 acres in extent at Kollupitiya via a 99 years lease for the construction of a Hotel complex is currently being investigated by the FCID, Finance minister Ravi Karunanayake revealed yesterday.
A sum of Rs. 7 million was spent on the inauguration alone of this Hyatt hotel project, and ten fold more had been spent under the counter which is not officially known . Though state funds were deployed for this project , it is not sure whether this is a project of the government or private . This entire valuable land has been given on lease for Rs. 9,99,000.00 (Rs. nine hundred and ninety nine thousand only) the minister further disclosed.
This project with a board of four directors, comprised members including Gamini Senarath (former chairman of Insurance Corporation) and a draft was prepared to allocate shares of Rs. 10/- to them . Investigations are now under way to ascertain to which party this project belongs, the minister elaborated.

This project was initiated by the previous regime apparently on the lines of a government agreement, and hence has to be continued on that basis . Already a whopping sum of Rs. 38000 million (Rs. 38,000,000,000.00 !) had been expended, the minister said when answering a question posed by Nalinda Jayatissa M.P.
Incredible but true ! Mahinda and Shiranthi had cheated even Sri Lankan Airlines to the tune of Rs. 110 million !
During the tenure of office as president, Mahinda Rajapkakse along with his wife has swindled Sri Lankan Airlines to the tune of over Rs. 113, 400,000.00 (113.4 million) during the period between March 2011 and December 2013 via flights made by them .On top of that , Shiranthi has not paid the ticket fare valuing Rs. 725,000.00 due to the airlines on account of her tour to Rome (Roman holiday) !
When a poor man robs some food he is thrown into jail unhesitatingly , but when a president of a country robs jointly with his wife in billions and cheats on people's funds , and mind you that is during the tenure of office , he enjoys immunity and wife impunity . Little wonder law is described as an Ass sometimes even by legal luminaries.
---------------------------
by (2017-02-11 13:14:37)
We are unable to continue LeN without your kind donation.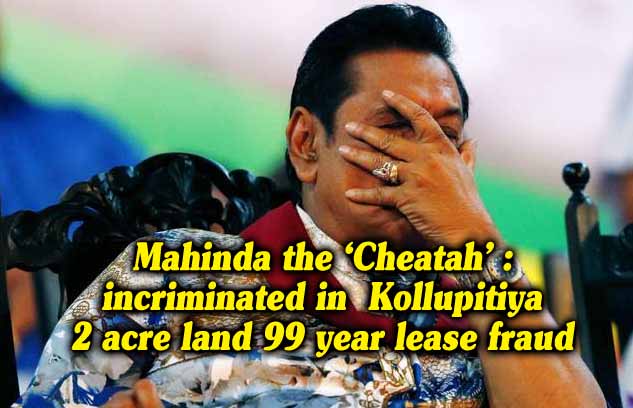 Leave a Reply