SC decides Gota is liable –orders him to pay compensation ! Army officer falsely implicated
Court verdict overturns 'War hero' circus of Rajapakses !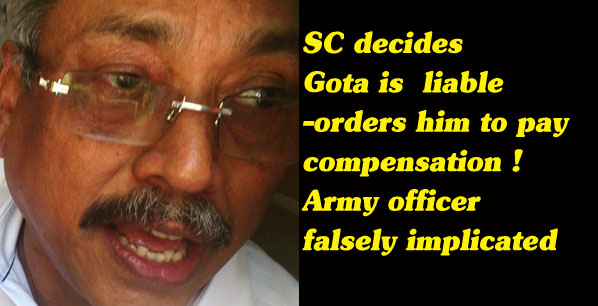 (Lanka-e-News -20.Feb.2017, 7.45PM) How the Rajapakses who are now making a huge din and 'circus' to describe their criminals as 'war heroes' after fastening that label on them , were earlier on fastening spurious criminal labels on true war heroes was clearly confirmed and brought to light by a verdict delivered recently by the Supreme Court (SC) .
With a view to suppress the true information and data in order to file false charges in connection with the brutal cold blooded murder in broad daylight of Lasantha Wickremetunge , it was a Lance Corporal Piyawansa of the army intelligence division who was made the fall guy and held in custody for over a year.

Lance Corporal Piyawansa who was falsely implicated in order to save the true criminals by Rajapakses ,filed a fundamental rights petition claiming compensation on the grounds that he has been wrongfully detained and his fundamental rights have been violated citing ex defense secretary Gotabaya Rajapakse , ex DIG Chandra Wakishta , ex additional defense secretary S. Hettiarachi and IP Bogamuwa as respondents.

The SC which examined the petition delivered a verdict ordering each of the respondents including Gotabaya Rajapakse to pay the army intelligence Lance Corporal a sum of Rs100,000.00 .
The petition was heard by a panel of three judges comprising Sisira De Abrew, Upali Abeyratne and Anil Gunaratne .
---------------------------
by (2017-02-20 14:23:35)
We are unable to continue LeN without your kind donation.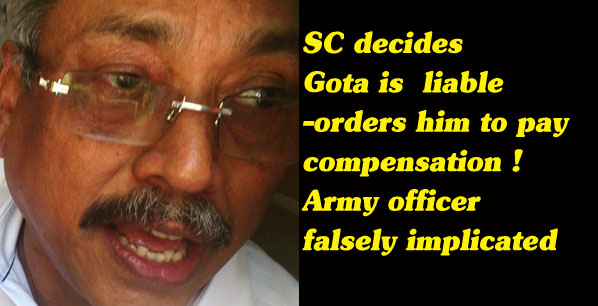 Leave a Reply