'Parliament has become a 'joke' with UPFA hoodlums making it a bedlam' -Handunetti ; speaker blamed by govt. group ! (Video)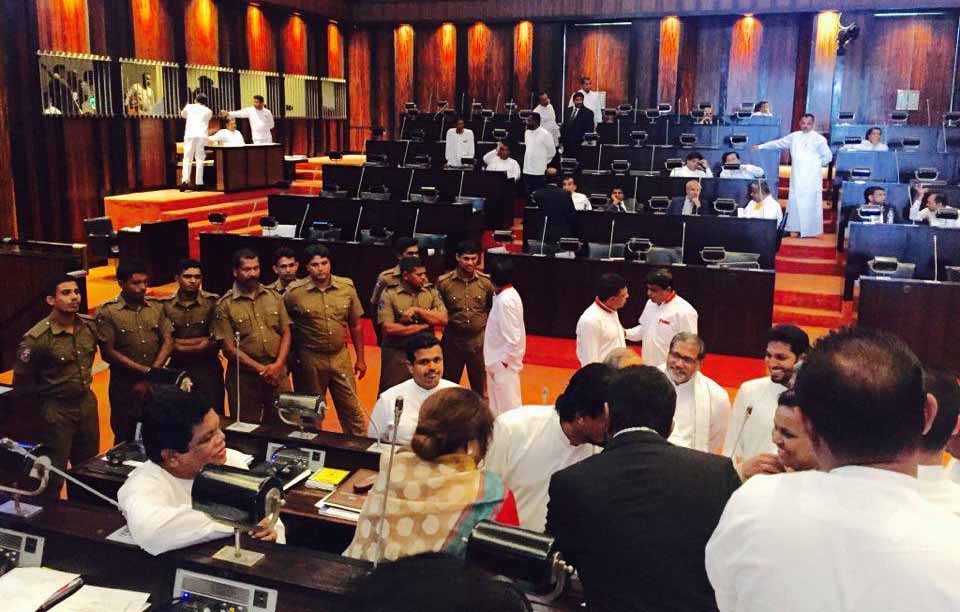 (Lanka-e-News - 13.March.2017, 11.30PM) During the last four days of parliamentary sessions it was only precious public funds amounting to Rs. 18,400,000/- that were wasted by dragging an issue concerning the SLFP party into parliament, thereby making the August assembly a bedlam , said JVP M.P. Sunil Handunetti while pinpointing those were conflicts created unnecessarily and purposelessly .

Following the disgraceful scenario created by UPFA M.P. Wimal Weerawansa the notorious grade nine qualified goofy goon that his own party is entitled to parliamentary privileges , UPFA M.P. Dinesh Gunawardena who is already suffering from senile decay , and long considered as having outlived his utility on earth had to be suspended from parliamentary sittings for a week.
The next day too , the UPFA again created a rowdy commotion that the chief whip post of Dinesh shall be entrusted to Dallas .On that day (last Friday) , for the first time in Parliament history the government group walked out of parliament.

This was because the government group blamed the speaker for allowing the saboteurs to make their speeches without granting opportunities to the government group.
Charges were mounted that the speaker did not even allow the leader of the house to speak. The government M.P.s held the view that the speaker expressing his regrets the next day over the suspension of Dinesh is unbecoming to the speaker, and uncalled for. They also pointed out , a judge is not expected to regret after delivering a death sentence on a criminal . He does not say, 'I did not send him to the gallows intentionally , but because I had no other choice. I regret it'. On the same token , the speaker is not expected to 'cry' after giving his decision.

In any event , it is learnt based on information reaching Lanka e news , all this devil dance and barbaric acrobatics were performed by the UPFA hooligans only during the two hours live telecast of the parliamentary proceedings . These UPFA hoodlums who turned the August assembly into a disgraceful bedlam during those two hours to make a vain display of themselves as 'heroes' to the public , after the conclusion of the live telecast disappeared faster than wind even without sitting in their seats , according to LeN parliament reporters.
In any case the statement made by Handunetti is most paramount in this context.. If the parliament ,the August assembly where policy decisions are formulated , is to be converted into a theater to stage the power struggles within a political party, the faith and confidence the people repose in the parliament can be undermined.
The video footage of the speech made by Handunetti in this regard at a media briefing at Matara on 11 th is hereunder .
Vide footage provided by Indunil Kelum Jayaweera , Matara
---------------------------
by (2017-03-13 20:18:34)
We are unable to continue LeN without your kind donation.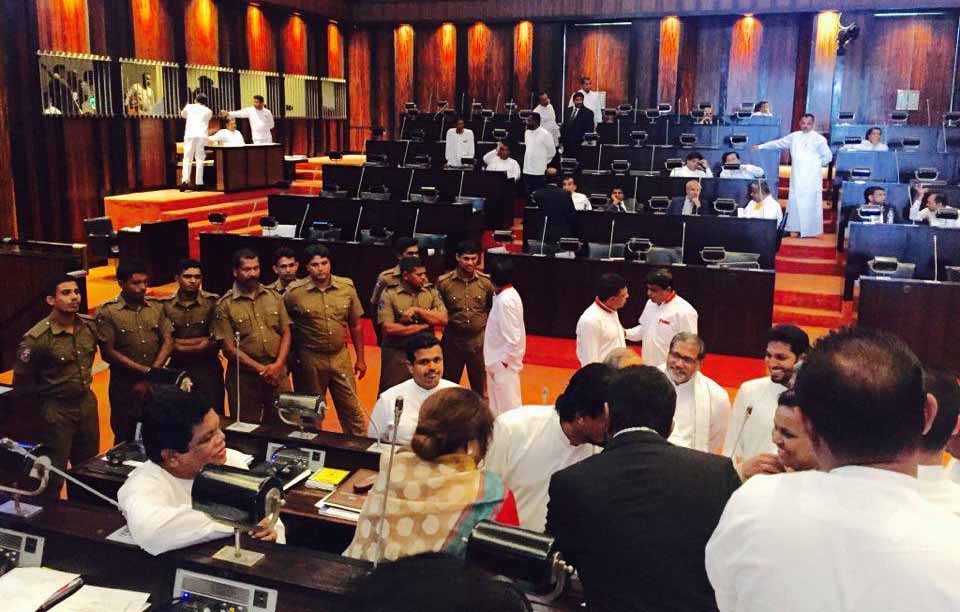 Leave a Reply