'Sorry Sirisena !'… Shiral and Dharmasiri of presidential media unit -a subsidiary of Capital Maharaja on a mudslinging campaign against UNP leaders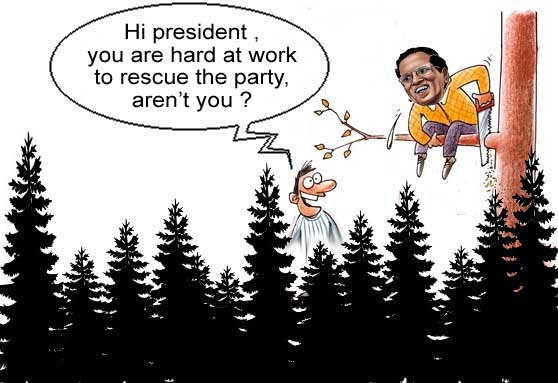 (Lanka-e-News -20.March.2017, 5.50AM) A group led by NGO crook Shiral Lakthileke and Dharma Siri Ekanayake who are serving under president Maithripala Sirisena are in the process of making preparations to indulge in character assassinations via a mud slinging campaign targeting many powerful and popular leaders of the UNP including Ranil Wickremesinghe , based on reports reaching us. In fact it is the presidential media unit which has by now become a 'subsidiary' of Capital Maharaja Co. which is engineering this move.
Several popular UNP leaders within the government including ministers and state ministers who work with commitment making valuable contributions at the crucial hour and when vital decisions are being taken are targeted in this conspiracy. Among those ministers targeted are : Lakshman Kiriella , Ravi Karunanayake, Akila Viraj Kariyawasam, Daya Gamage and Harin Fernando , as well as deputy minister Ranjan Ramanayake , according to clear and cogent evidence available with us.
The aim of this mudslinging campaign is to make a large number of UNP heavyweights unpopular among the people. To accomplish this dastardly and deceptive goal , electronic media , websites, social media and newspapers are being enlisted mainly. The primary objective of these villains is to tarnish the character of the victims , and undermine the confidence people are having in them , by publishing inaccurate details about them . The media aforementioned are being most craftily and cunningly used towards this obnoxious and hate mongering goal.
Wheeler dealer Kili who met Maithri on 10th Jan 2015 (early morning )
It is the TV channel of Maharaja that is to be utilized as the official channel for this mudslinging shamelessly despite Raja Mahendran foundering on the rocks when trying to pursue and propagate his filthy and foul political agenda via his TV channel. Yet he is unashamed .
It is an unequivocal fact Sri Lankans have never heeded or acted on Maharaja's television telecasts. If the people have truly followed Maharaja's channel , by now it is Milinda Moragoda or Sajith Premadasa who ought be the president of the country, and prime minister should have been Buddhika Pathirane , while Ranil Wickremesinghe and Mangala Samaraweera must have been in the thick of the Amazon forest.
Yet Kili Maharaja had still not learnt a lesson in spite of his putrid antecedence. Kili Maharaja and his mahajara stooges have descended to the lowliest of levels to sacrifice the personal lives of people and even friendship at the altar of treacherous and cheap political aims and ambitions.
Though dispensation of justice belongs to courts , Kili Maharaja has now begun even hearing cases and delivering judgments via his TV channels. While these are the mahajara activities this mentally deranged Maharaja is engaged in while prodding and propelling his lackeys and political pimps into parliament only to make the August assembly a subsidiary of his business racket organization , president Maithripala on the other hand becoming his lap top mouse in spite of Maharaja's mahajara stench from top to bottom is most reprehensible , repugnant and repulsive from the standpoint of the masses . It is the consensus among all that Maithri is trying to lop a branch of a tree while sitting on it !
Maithripala Sirisena took oaths as president on 9 th January 2015. The main guest whom he met in the early morning of the following day (10) was Kili Maharaja . It was then Dharma Siri was made media director . We shall reveal details of this at a later date. No matter what , sadly it has become the primary task of the president now to look after the necessities and foul desires of infamous mahajara Maharaja.
One such necessity was related via our story which revolved around the US $ 300 million dollar warship deal. The president is in the ready to grant this deal to Maharaja even flouting tender procedures . It is learnt that president will be travelling to Russia on account of this deal. In other words Maharaja is currently president Maithripala's 'deal kili' (pampered parrot sans wings of Maithri)
Presidential media division - a subsidiary of 'Capital Maharaja'
One cursory glance at the presidential media division which is submerged under Kili clearly reveals the plight and predicament president Maithripala has been plunged into , with his media 'men' serving the wheeler dealer Kili and not the nation. The 'efficiency' and 'capabilities' of President's mediocre media division were well portrayed by the lackluster media coverage given to the Moragahakanda project ceremony which was only next to the phenomenal Mahaweli project. This was because the sole and whole gaze of that division is fixed on other sordid self serving goals .
The best evidence that bears out the accusation that the presidential media division is functioning as a subsidiary of Capital Maharaja is : Dharma Siri Ekanayake , the presidential media director even at the moment of writing this report is receiving salaries from the presidential media unit as well as from Capital Maharaja conglomerate while also enjoying other perks and privileges. If an individual is drawing salaries holding posts as Director from two Institutions concurrently , those are affiliated bodies , aren't they ?

In other words , Capital Maharaja the private enterprise and presidential media division the State enterprise are functioning as affiliated entities. If what we are revealing are untrue , we challenge Dharmasiri Ekanayake to file action in any court. We are ready to prove that he is also under the pay of capital Maharaja .

The illicit mudslinging campaign of maharaja is being carried out with the full assistance of and through presidential media Director Dharmasiri . While defense secretary Karunasena Hettiarachi was sending a letter of demand to Professor Sarath Wijesuriya of movement for just society claiming compensation based on defamation charges, the president who pretended he knew nothing about it , is apparently behaving in like manner even now as regards the political mudslinging campaign conducted by his media division . At this rate , at a not too distant date the president too will have to face the same music . Hypocritical cutthroat friends turning into foes is much easier than eating hoppers. In plain language , turncoats- cutthroats Shiral and Dharmasiri the confirmed lackeys and lickspittles of Maharaja who have been given a blank cheque by president to do what they want in the media division , are one day surely going to slit the throat of Maithripala Sirisena with the same sword they are wielding given by Maharaja to carry out his instructions.
In case the president hasn't the capacity to understand this , let us refresh his memory on one incident to open his eyes and mind: It will be best if President Maithripala recalls what his media division did on his behalf when corruption charges were leveled against the president in Australia. When the occasion demands , at a future date we shall expose the relevant details .
'Serpent'
The notorious NGO crook Shiral Lakthileke is a rare mental patient who cannot be searched and found even in the lunatic asylum . A specimen even laboratories would refuse to have for dissection. An English newspaper journalist who was closely associated with Shiral had this to say :
''When a person meets Shiral for the first time and talks with him he gives the impression he is a pundit on politics and social science. But on the second occasion when one speaks with him , the realization dawns he is just a vacuous goofy goon who repeats the same highfalutin sentences to everyone he meets to impress that there is no one in the world who can match him . The only difference I see between him and a medicinal oil seller on the Pettah pavement is , Shiral wears a tie and sports a beard. Some even say he first wears a tie when he has to go even to the latrine.'' Those who really know Shiral acknowledge this story not only with their hands even their feet raised up.
If one truly wishes to know more about the true eccentric and megalomaniac nature of Shiral , a well known news website editor shall be contacted. He would explain how this goofy goon Shiral was made a fool to perform 'Dips' exercises on the main road before all at Nugegoda junction .
It is worth probing how Shiral the goofy goon who was chased out from the UNP and floated into the main election office of president Maithripala like a Haley's comet during the last presidential elections secured such a post. This is a scoundrel who campaigned against the very leader of the party which steered him into power . He is not only a goof but also a tie coat wearing goon and a leader of hooligans who attacked his party leader and Sri Kotha with stones and missiles.
On another occasion , Shiral the gang leader shot himself on the main Road at Matara in protest against his own UNP leader who groomed and guided him . This proves how demented he is.
Maithripala who became the president undoubtedly on the support and assistance of the UNP leader surprisingly appointed this psychotic Shiral as his co ordinating secretary as though to give a slap on the face of Ranil Wickremesinghe . If Ranil has only done what Maithri did at that time , how would have Maithri felt ?
Shiral the goofy goon shall be enlightened on a fact. During that period , the contest for presidency was not between Ranil and Maithri , rather between Maithri and Mahinda. Hence, it would do immense good to him if he remembers that. The SLFP votes were cast to Mahinda and not Maithri. Hence ,it is well for Shiral who somehow inveigled his way into Maithri's camp to secure the co ordinating secretary post realizes Maithri was put on the pedestal of president because of the UNP votes. Therefore , it is hoped Shiral takes heed of the warning that after securing this position solely and wholly because of the UNP, if he is to use that same position to hit out at the UNP, his ingratitude and monstrosity will never ever be forgotten by the UNP ers even after lightning has struck such ungrateful two legged sinister brutes .

President Maithri taking advice from such goofs like Shiral who is suffering from a mental disequilibrium , and full of guiles and guises is sure being led down the garden path . By the time Maithri realizes his mistake , it might be too late. A word of caution is all what can be offered to the president for permitting 'serpents' like Shiral who was a walking catastrophe wherever he worked , to creep into Maithri's most protected crevices of his body . Being a 'serpent' he would not leave until he has stung and destroyed the one he has crept upon insidiously ,like how he has been wreaking havoc wherever else he served.
Mudslinging maniacs
The other rascal who is hanging on the footboard with this mudslinging Kili, Shiral , Dharmasiri group is none other than Ruwan Ferdinands. The latter became notorious for his villainous betrayals while he was with minister Mangala Samaraweera, after collecting millions of rupees from Rajapakses . He is therefore of the same ilk of the other members of the mudslinging group. He was chased away by Mangala when his true colors became known. Now Ruwan who is with a bigwig of the SLFP is existing on illicit and degrading contracts entrusted to him . His inordinate love for filthy lucre however earned has made Ruwan very close to others with the same rapacious lust .

Ruwan whose gaze is fixed only on filthy lucre hasn't any capacity to engage in genuine politics or in the journalist profession though he makes pretences in those spheres . As long as filthy lucre flows into his ever opened pockets, he doesn't care two hoots for anything else that is worthwhile or ethical in this world.
Ruwan's newspaper which has a sale of about 4000 to 5000 copies on Sundays is extending support to this mudslinging campaign. The newspaper of his which reveals all the lies on Sunday , and are declared as wrong by the websites of his paper on Monday ,after lying idle without sales with the newsagents finally find the way into the refuse bins Sunday evening. This newspaper which has become a joke is soon going to grind to a halt like a discarded old crock.
Sorry Sirisena …..
It is a pity president Maithripala is unaware that these mudslinging villains who are soiling the image of the entire good governance government are sure going to sling mud at him , and even stab him on the back one day. If the president is unable to keep these ravenous rapacious rascally hunting dogs which are running amok tied, the day will come when we may have to leave him because we are not having the blood of Brutus coursing through our veins . Besides we are answerable to the nation that elected us to power on 2015-01-08 . Moreover , we are not only having our party but even the whole country faithfully aligned behind us. On that day when we take leave of you , we shall say 'Sorry Sirisena' because we can only feel sorry for somebody who cannot be curbed or corrected commits indiscretions.
Bhagavan Daas
Translated by Jeff
---------------------------
by (2017-03-20 00:35:00)
We are unable to continue LeN without your kind donation.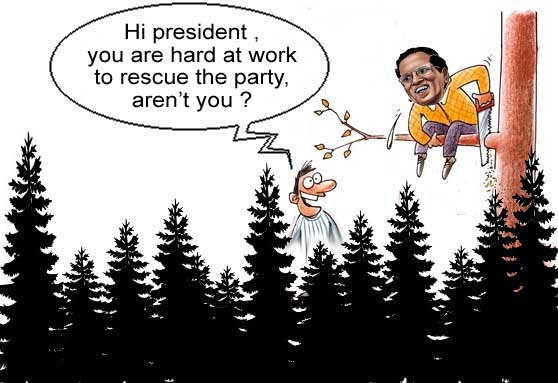 Leave a Reply