Weerawansa the born trickster 'sells' his daughter to obtain bail ! -Can a 16 year old be admitted to children's hospital meant for children under 12 years ?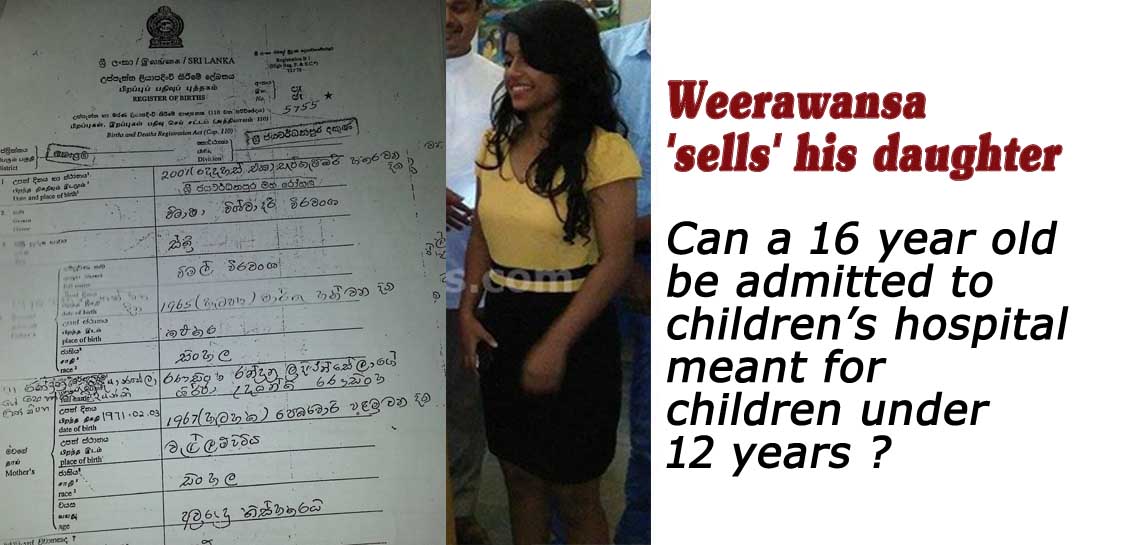 (Lanka-e-News- 27.March.2017, 5.00AM) Machiavellian Wimal Weerawansa the accomplished liar and crook by birth who is currently in remand custody on grave charges of misusing public funds to the tune of Rs. 90 million ; unlawfully distributing State official vehicles to his stooges ,party henchmen , family members and relatives; is once again seeking to hit news headlines via attempts to fool the court with a view to secure bail by even 'selling' his daughter .
Weerawansa started a fast within the remand prison on the 22 nd to pull a fast one in order to cheat all and sundry, applied for bail again from the Colombo Magistrate court on the 24 th through his lawyers. This application was made after the high court had refused bail .

It is a pity this Weerawansa only proved what a stupid idiot and imbecile he is by requesting bail from a lower court when the high court has refused same. This grade nine nitwit did not have even that little grey matter to realize , it is only the appeal court that can consider a bail application when that has been refused by the high court. Believe it or not this is the Weerawansa who heard a case under the lawless corrupt Rajapakse regime to dismiss a chief justice !
16 years old grown up girl in children's hospital meant for treatment of children below 12 years of age !!
Be that as it may , the grounds on which Weerawansa sought to secure bail from the magistrate court on the 24 th was even more ridiculous and ludicrous ! In the application for bail of Weerawansa , it was stated Wimasha Vishwadari Werawansa ,the 16 years old daughter of Weerawansa is in a state of shock over her father's fast , and as she is suffering from fever , she has been warded at Lady Ridgeway hospital for medical treatment .
It is worthy of note , the Lady Ridgeway hospital is the only children's hospital in Sri Lanka where children under 12 years of age are treated, whereas daughter of Weerawansa is nearly 16 years old (about five months more to reach 16 ) . Then how come she was receiving treatment after being warded at Lady Ridgeway hospital ?

It is most clear this Weerasangili Pannikiyage Wimalasena alias Wimalasiri Gamlath alias Wimal Weerawansa who has made his whole life and living a pavement melodrama while existing entirely on guiles and guises exploiting the gullible nature of Sri Lankans , has even in this instance lied blatantly and brazenly to court , and sought to 'sell' his daughter to 'buy' his freedom after committing the gravest crimes for which he is incarcerated .

This most crafty corrupt criminal had first got his daughter and 20 years old (5 months more to reach 20) son Vibuthi Vishwajith admitted to Ragama teaching hospital . Thereafter Vibuthi was discharged ,and it was stated that daughter Wimasha was admitted to Lady Ridgeway hospital .
Who is the fool will seek a hospital far away when treatment can be obtained from close by?
Weerawansa lives in Colombo while his wife and children reside at Hokandara in the 'Viagra house' and the hospital in close proximity is therefore Sri Jayawardenapura hospital . Then why were the children who were supposedly sick taken to Ragama hospital which is far away for 'treatment ' instead of the closest hospital ? If any parent takes his/her child who is having fever unless it is for specialist consultations , to a far away hospital instead of the closest , surely that parent must be treated first at the mental asylum , Angoda.
It is a well known fact that Machiavellian Weerawansa is a crook who defrauded public funds to the tune of Rs. 90 million , and involved in other deceitful practices . Werawansa who is accustomed to cheating the gullible Sri Lankans wholesale as a politico ,bankrupt though , obviously is aware he cannot get bail because of the gigantic fraud he has committed. Hence , he is trying every trick in the book and conspiracy to secure bail . He is seeking every hospital where his crooked doctors are , to get 'treatment' for his children in order to make that a sympathetic ground to request bail .
Are the courts and hospitals arenas of clowns and acrobats ?
It is imperative and important that r the judicial courts inquire into who is the doctor who admitted an almost 16 years old girl to the Children's hospital ? Does the hospital administrator have the powers to make such admissions ?
It is noteworthy ,after five months that is when Wimasha reaches 16 years of age she can marry of her own accord . That means, Wimasha will have need to seek admission thereafter to the Castle maternity home . In which event he will have a sympathetic ground to cite in his present bail applications.
At the outset ,when Weerawansa was incarcerated, his daughter mounted the stage on 27 th January at Nugegoda with great glee ,delight and full pride to greet the public to create the impression her crooked mentally zero father is a 'hero' . Now after three months however , suddenly when he is leaving no stone unturned to secure bail , he ' sells' his daughter again. He makes her develop great 'anxiety' for him. A true child does not develop anxiety for the father who she misses, only after several months. Besides , anxiety state is developed by small children and not grown up children. If Wimasha has any anxiety state at this age , certainly that is not anxiety for her father ,rather it is anxiety for something else which has made girls of that age in their extreme anxiety state even to end up in the lunatic asylum ,when they are denied that special gratification peculiar to that age. Hence if Wimasha is truly suffering from anxiety state , she must be admitted to the mental asylum to find the extreme cure for the gratification she is starving from.
In the circumstances , this play acting of this family of tricksters and crooks must be stopped once and for all. Not enough robbing public funds and the country , these criminals and crooks are having the height of cheek to try and make courts and hospitals in the country too jokes of the century .
Fasting or pulling a fast one ?
As elders , Lanka e news wishes to proffer a piece of sincere advice to Weerawansa : Do not try to involve your family in your treacheries and trickeries. Just because you could not go beyond grade nine in education , could not even see Sigiriya , could not become a journalist , could not even get a young life partner commensurate with your age , could not become an honest respectable politico, does not mean you should drag down the lives of your own children too to those lowliest levels . At least at this belated stage try to be true to yourself and reform with a view to building an image that can command minimum respect even if you think it is now moth eaten beyond repair.

Copy of the birth certificate of Weerawansa's daughter is herein.
---------------------------
by (2017-03-26 23:58:18)
We are unable to continue LeN without your kind donation.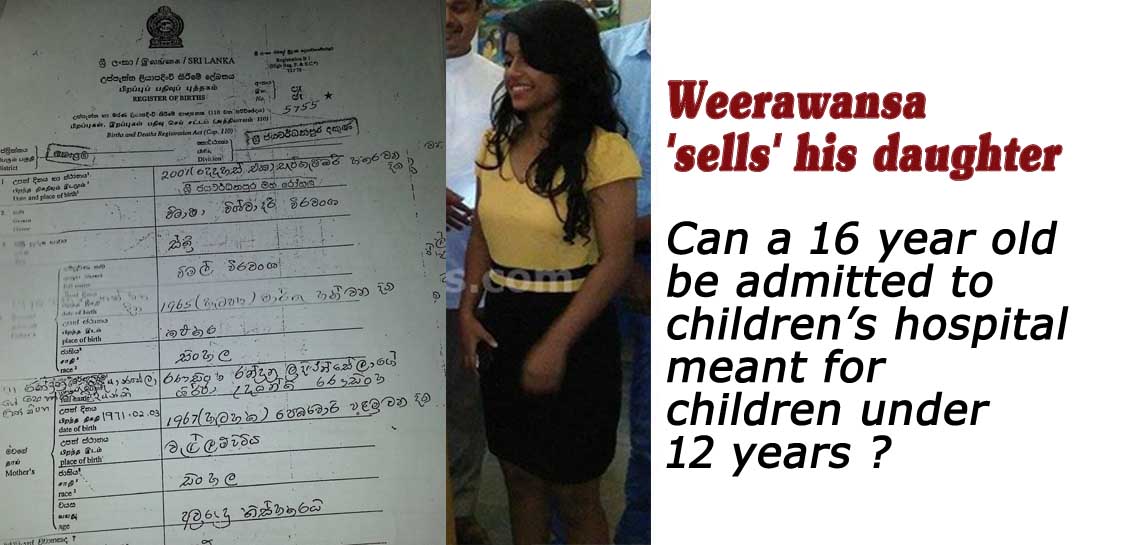 Leave a Reply