Shame ! shame !! Vehicle mania of good governance bursting at the seams ! -Karunatileke and Karunaratne have no karunawa (sympathy)
- Waste public funds like nobody's business !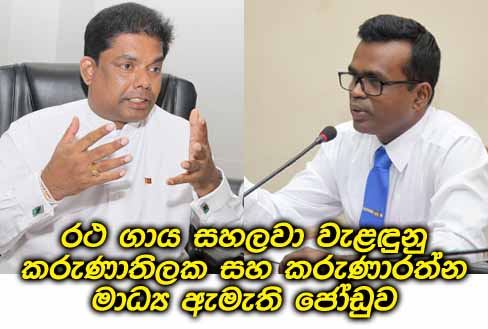 (Lanka-e-News - 29.March.2017, 11.30PM) What a shame ! while a supplementary estimate has been tabled in parliament on the 24 th requesting a further allocation of Rs. 370 million to meet the deficit in respect of the cost of import of vehicles for ministers, the deputy minister of media Karunaratne Paranavitharnage going even beyond that to take measures to get down a super luxury jeep spending (wasting ) Rs. 43 million of public funds for himself is a matter for rude shock and disgust , leave alone its controversial aspect.
The proposal that was brought in parliament to pay a sum of Rs. 700,000.00 monthly to each M.P. on account of the vehicles that are provided to them has foundered because the signature of the secretary of the media minister had not been obtained.
A large group including civil organizations and media personnel have pointed an accusing finger most justifiably at this crazed deputy minister of media Paranavitharnage over his maniacal vehicle obsession uncaringly spending Rs. 43 million of precious public funds . They have totally opposed and condemned this move wasting public funds, as most unreasonable ,unconscionable and unjustifiable in the circumstances .
Vehicle greed of maniacal Karunaratne knows no bounds..
Yet , Paranvitharanage is so mentally deficient that he has via his blog site 'Sathara diganthaya' had attempted to justify his vehicle maniacal obsession and wasting public funds. He had said , he is now using a vehicle belonging to the ministry of provincial administration , and that is old.
Of course that is true. But at the same time he had made another reprehensible and abominable statement : the price of the new tax free vehicle is Rs. 7 million , and because he quoted the vehicle price which is inclusive of taxes , the media have misunderstood him .
It is a pity this deputy minister who is supposed to represent the people and has entered parliament promising to alleviate the burdens of the poor masses who are struggling to eke out a living , is having no capacity to understand it is these already burdened masses on whose shoulders he ruthlessly rode to creep into parliament will have to bear the tax burdens too . It is on these taxes collected from the masses the opulent and extravagant lifestyle of these headless bottomless two legged political heartless beasts thrive.

Besides , this buffoon of a deputy minister not knowing the simple fact that across the whole world the price of a commodity is quoted to customers inclusive of taxes, has only made himself a laughing stock before the whole world. Exporters quote prices sans taxes to their wholesale buyers only.
Karunatileke's super luxury vehicle mania reaches explosive proportions !
This mentally deranged deputy minister based on his vehicle mania has further stated, since there wasn't a deputy minister , there hasn't been a vehicle. Let us educate this minister whose gaze is fixed only on super luxury vehicles at the expense of the country's interests on a fact ( hope he is intelligent and intelligible enough to assimilate this fact) . The ministry of parliamentary affairs is under the ministry of media , and super luxury vehicle of the minister of parliamentary affairs is being used by Gayantha Karunatileke , the media minister. That is in addition to the two super luxury vehicles used by the media minister . This means already the ministry of media is in possession of three super luxury vehicles – 2 Toyota Land cruiser VX V8 , and 3 cars including an Audi 8 car .
If the rulers were truly having any concern for the masses and the interests of the people at heart , what they should have done is allocated one of those vehicles to the deputy minister . But Gayantha being a minister who is mentally warped owing to his maniacal obsession for super luxury vehicles , has retained all the three super luxury vehicles for his personal use , and made arrangements to get another super luxury vehicle valued at Rs. 43 million for the deputy minister !!
Though Nimal Bopage the secretary to the media ministry under the same minister had the power to halt the monthly payment of Rs. 700,000.00 to each M.P. on account of the vehicle mania , the minister himself who is in charge is unable to stop the corrupt moves of the deputy minister under him. Consequently ,crazed Paranavitharne 's vehicle mania has become so grave and critical that no medicine is answering his morbid vehicle obsession.
Empty rhetoric of president and P.M. of good governance….
A sum as huge as Rs. 371,097,000.00 has been requested by a supplementary estimate tabled in parliament on the 24 th by Parliamentary reforms and media minister Gayantha Karunatileke to purchase new vehicles for the ministers and state ministers.
During the parliament sessions week before the 24 th , an estimate was tabled requesting a sum of Rs. 540 million to purchase vehicles for ministers, and prior to that by supplementary estimates a sum of Rs. 790 million and Rs. 1180 million , and a total of Rs. 2510 million has been allocated by now for purchase of vehicles via supplementary estimates. Now the total amount is Rs. 2880 million .
Surely this is not the 'change' that was expected of the good governance on 8 th January 2015 !
Even a beggar to whom small change is a fortune would teach much better the meaning of 'change' .
---------------------------
by (2017-03-29 20:17:50)
We are unable to continue LeN without your kind donation.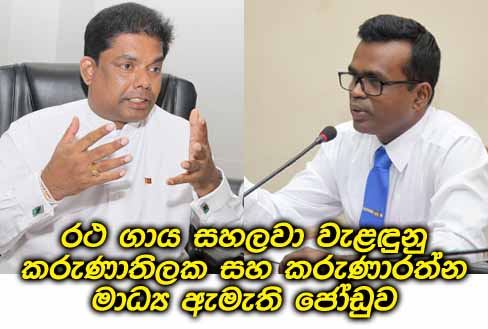 Leave a Reply