Damning Expose`: SL Dep. Ambassador Kamal Gunaratne brutally murdered his worker in Brazil..!
Murder suppressed jointly with Gota the dark minister of the graveyard..!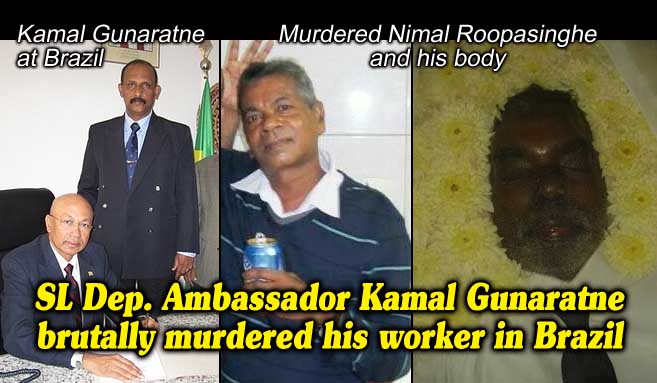 (Lanka-e-News -03.April.2017, 11.30PM) Retired major General Kamal Gunaratne the self proclaimed Nandikadal hero during the period he was the deputy Ambassador in Brazil had brutally murdered I.D. Nimal Roopasinghe who was serving under him by launching an assault causing injuries to his head with a blunt instrument . And, as always jointly with ex defense secretary Gotabaya Rajapakse the most elusive blood thirsty criminal under the lawless Rajapakse era had suppressed this most cruel and foul murder . It is with deep sorrow Lanka e news reveals this most ruthless ghastly murder committed with impunity .
The murdered Nimal Roopasinghe was sent by the ministry of foreign affairs to serve in Sri Lanka Embassy in Brazil on 2011-11-26 . Kamal Gunaratne was subsequently sent as deputy Ambassador by the Rajapakses in 2012. Bestial Gunaratne in much the same way he was in the forces , had been treating the subordinate staff at the Embassy most disdainfully like stray dogs, and had made that his favorite habit. Though Raja Edirisuriya was the ambassador , Gunaratne who was enjoying special patronage of criminal Gota had been throwing his weight about even disregarding the ambassador, taking full control of the Embassy. The staff were kept frightened by this scoundrel by circulating the story that he was a relative of Gota . The staff knowing well about toffee nosed Gota as a most notorious and powerful criminal under the brutal lawless Rajapakse regime were gripped by a fear psychosis.
Gunaratne has been using Roopasinghe to do all his menial work including washing his clothes . The staff of the Embassy was therefore naturally most resentful and angry about Gunaratne's crude , callous and obnoxious attitude.
Roopasinghe in June 2013 has via phone call bemoaned to his only daughter I.D. Thejika Sandamalie Roopasinghe about the high handed and villainous conduct of Gunaratne , and how he is getting work done treating him like a slave . He has also said , he is thoroughly disillusioned therefore , and there are a lot of issues in the Embassy owing to Gunaratne.

On another day , Roopasinghe has phoned his daughter and complained , Gunaratne had one day chased him out of the Embassy in the dead of night.
Some days after this on 2013-11 -02 , Roopasinghe has phoned his daughter and stated , he was going to the Embassy the following day to collect the passport , his travelling bags , and after purchasing an air ticket he is coming back to SL , while adding he would speak to her again after buying the ticket .
However Roopasinghe has not thereafter spoken to anybody in Sri Lanka including his household members
Though what happened to him was kept top secret hitherto most cruelly , now Lanka e news is in possession of all details relating to this crime .
On the 3rd of November 2013 , that is the day following his speaking to his daughter , there had been an altercation between Roopasinghe and Gunaratne over the issue of former being treated like a slave , and Roopasinghe being chased out by Gunaratne in the dead of the night. Gunaratne had then attacked Roopasinghe with a blunt instrument causing head injuries which had rendered him unconscious .

Since he was not duly treated medically , he had been in a coma for several weeks before he finally died. Because all the lies were told to Roopasinghe 's family as regards the cause of death of Roopasinghe in order to cover up the cold blooded murder, even Roopasinghe's remains was not sent to his family in SL .
The methods and machinations ruthlessly and unconscionably resorted to by Gunaratne and criminal Gotabaya who got together to suppress this brutal murder heartlessly are most deplorable and disgusting . Nobody will even believe their ears if they are told such ruthless ,heartless brutal murderers are living on mother earth who can commit such horrendous crimes. How can a human being kill another so brutally like a fly just because the killer enjoyed the patronage and protection of another two legged beast of a criminal ? Isn't the one who aided and abetted in this horrendous crime to suppress this heinous crime a worse criminal?

Thejika Sandamalie Roopasinghe the bereaved and grieving daughter of the victim had this to say :
The poignant tale of most grief stricken Sandamalie ….
My father did not speak to me after 2013-11-02. Therefore I phoned my father on 2013-11-04, but my father did not respond. I tried to speak to my father many times daily ,but my efforts did not bear fruit.
I even tried to speak to the friends of my father , but I could not succeed . Since I could not garner any information , I spoke to the ambassador on the 6 th of November . After explaining to him all what my father told me ,I requested him to furnish me with some information about my father . The Ambassador Raja Edirisuriya then told me ' I am a nominal ambassador only, and all actions and decisions are taken by Kamal Gunaratne" Following this discussion , Sandamalie spoke to Anjula Ruwanpathirane a friend of Roopasinghe working in the Embassy known to a cousin sister of Sandamalie .Anjula had revealed a most intriguing tale :
Anjula's startling disclosure …
Roopasinghe 's head was kicked by a horse on 4 th November(2013) . He is being treated in the intensive care unit and his condition is critical . He is living because of the life machine support at the ICU , and to remove the machine , the consent of a family member of Roopasinghe is required.
No sooner this information was received than Roopasinghe's wife and daughter have rushed to the foreign ministry in Colombo. When they met the Director General in charge of diplomatic missions at that time , he had said , SL embassy in Brazil has not intimated to him of such an incident . Thereafter after the foreign missions administration division contacted the Brazil Embassy , they related a different story ..
Sandamalie went on to relate thus :
'They narrated another tale . They did not say about an attack by the horse. The division informed, as my father was in a most inebriated state he was shouting and behaving badly . Thereafter even without the knowledge of the Embassy he had gone away to an unknown place. The division here further said , that information was conveyed by the embassy to them just at that moment. When we inquired whether the Brazilian police had been notified , the division replied , no such complaint had been made.
Since the foreign ministry was saying one thing and Anjula told something else , I somehow contacted Anjula via my phone . I told him the foreign ministry had related the incident , and therefore urged him to disclose the factual story. He replied he will relate the truth in detail the following day , but the following day and thereafter Anjula could not be contacted. He was avoiding us. However to my cousin sister he had given some details of the hospital where my father was supposedly being treated.
A nurse pretending to be a doctor deceived us ..
The name of the hospital was given as Do Base Df hospital ,the name of the doctor administering treatment as Dr. Loria , and the phone number of Dr. Loria was given as 0556133151637.
After obtaining the telephone No. of the hospital ,I gave a phone call to that hospital and inquired , whether a patient by the name of Nimal Roopasinghe is a patient in that hospital and is he taking treatment ? The hospital authorities said , there was no patient by that name.
Subsequently , we gave a call to Dr. Loria who Anjula mentioned. 'Yes Dr. Loria is speaking' , she said .The patient referred to is being treated by her and not at hospital , she answered. She also explained,' your father 's heart is 85 % okay , but he is now in a coma. Because of the grievous injury caused to his brain , blood has seeped into the brain. It is only after father regains consciousness , surgery can be performed,' she pointed out.
Later . we somehow managed to contact a friend of ours in Brazil . His wife was a nurse there. We sent him to St. Maria hospital to meet my father where he was supposedly taking treatment . He came back and told us , our father had all along been at St. Maria hospital and he is still in a coma. However, do not have any hope that he would survive , he said while disclosing my father had not been provided with any facility by the SL Embassy. It is later I discovered Anjula had a love affair with a nurse , and Dr. Loria was Anjula's lover , the nurse who pretended to be a doctor.
Rs. 2.5 million needed to bring the remains here : Don't knock your head against granite rock
We told the foreign ministry to get us the remains of our father or to help us go to Brazil. They did not agree to any of these requests. On the 10 th of March 2014 , the foreign ministry informed our mother that our father has passed away.
On the 11 th we went to the Consular division and requested them to bring the remains of our father to SL, whereupon we were directed to meet the Director General of the administration division of Diplomatic missions . He told us there is nothing that he can do in this connection. The consular division assistant Director Rasik told us we will have to pay Rs. 1.9 million to get down the remains here.
When we tried to collect that sum ,he told us since three days have elapsed , a sum of Rs. 2.5 million will have to be paid. (This attempt to collect this large sum by the victim's family to get their father's remains proves how much their father was worth to them . Whereas the foreign ministry divisions dilly dallying uncaringly about this grave issue including murder demonstrates how inhuman these two legged beasts in human form were under the corrupt marauding murderous Rajapakse regime , and how unconcerned they were about precious human lives , even after committing cold blooded murders).
We were also told , a large sum will have to be spent to keep the body of our father at St. Maria hospital, and only after meeting that expenditure out of father's pension , the balance can be released. 'You have only this daughter. Hence do not try to hit your head against a granite rock' Rasik warned my mother."

After that I spoke to Ms. Janaki who was functioning as the secretary to the ambassador at the SL embassy in Brazil , and requested her to send us every belonging of our father to us including the photograph of my father's remains. Janaki then said , St. Maria hospital officials are averse to taking photographs of the remains.

When she informed , the body of our father had been received by the embassy, I told her , okay , now the body is at the Embassy , so please take a photograph and send me. Janaki replied , Gotabaya (the dark minster of the graveyard) is arriving in Brazil now , and therefore photograph cannot be taken or sent.
Subsequently the death certificate of my father was sent to the Consular division . They said that was issued by the Brazilian government. However in that the gender , skin complexion, date of death and the hospital where death occurred were only mentioned ."
What is most paramount , pertinent and perturbing in this mysterious death is the discovery that the telephone number of dead Roopasinghe is still active . 'Even today when I give a call , father's phone is ringing and somebody is listening to what we say , but nobody from that side is answering. It is therefore most suspicion ridden.' Sandamalie noted.
Gota in Brazil to rescue the murderer
When listening to this most poignant and heart rending tale of the only daughter about the sudden death of her beloved father , one can imagine what a brutal, barbaric and heartless murderer this so called Nandikadal Kamal Gunaratne is , who is responsible for this ruthless murder.
Gotabaya the dark minister of the graveyard visiting Brazil during that time , and meeting Kamal Gunaratne in the Embassy itself was to show to others he was there to suppress this brutal cold blooded murder of an innocent individual . Consequently, no one had opened his/her mouth to talk about it let alone spit after seeing this dark minister of the grave yard , who was at that time like a most feared modern Dracula thirsting for blood of innocents.
In the circumstances , the subterfuges and camouflages resorted to in order to halt the remains of an employee under the murderer from being sent to the deceased's family in SL simply because the truth will come to light and to suppress the cold blooded murder are absolutely unpardonable and inexcusable .
No matter what tricks and treacheries were resorted to so far in order to cruelly conceal this ruthless murder , the situation has however changed now. The true post mortem report has been received which says Roopasinghe died due head injuries following an attack launched on him using a blunt weapon. Those who were deaf, dumb and blind to this murder have started talking now.
This being another of the series of cold blooded murders the lawless Rajapakses are seeking to suppress , it is the fervent hope of the masses who are for justice that those responsible for this ghastly cold blooded murder shall be brought before the law and duly punished without delay.
In the first photograph is Kamal Gunaratne with Raja Edirisuriya when they were the SL's deputy ambassador and Ambassador respectively in Brazil . In the middle photograph is Nimal Roopasinghe when he was alive.Third photograph : The remains of Roopasinghe
By Wimal Dheerasekera
Translated by Jeff
---------------------------
by (2017-04-03 18:22:35)
We are unable to continue LeN without your kind donation.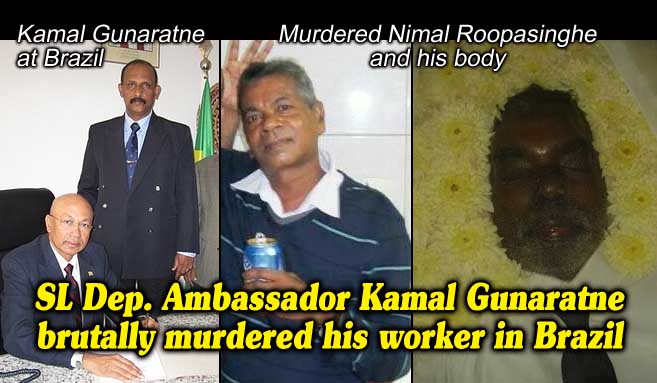 Leave a Reply