Navy Commander disdaining court order dispatching the criminals out of country by boat on the sly ?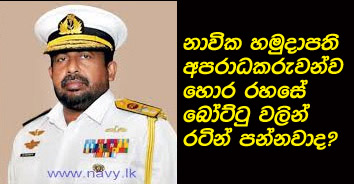 (Lanka-e-News -04.April.2017, 12.45PM) Grave suspicions have sprung up that Navy Commander Ravindra Wijegunawardena is seeking to dispatch the criminals involved in the ruthless mass murder of schoolchildren ,out of the country by boat on the sly.
It is significant to note even after the CID told court with concern on the 23 rd of March that the present Navy commander is acting to the contrary despite the court directive issued to him to extend co operation to the CID in connection with the mass murder of innocent children after committing extortion , again on April 3 rd , based on reports reaching Lanka e news courts inside information division the Navy Commander without assisting the CID , and telling lies is hiding a prime suspect in that mass murder .
The Navy officers of the White van murder squad who are now in custody have revealed the name of a chief officer who gave them orders to commit the crimes. The name of that criminal is Lieutenant Commodore Hettiarachi and the CID must have the consent of the Navy Commander to record a statement of Hettiarachi.
Even after the court gave orders to the Navy Commander to render assistance to the CID in its investigations , the former is keeping the prime suspect Hettiarachi hidden. Wijegunawardena , the Navy Commander who earlier said the suspect has gone on leave , now says he has gone on retirement .

In the circumstances suspicions have arisen that the Navy Commander has dispatched Hettiarachi on the sly by boat to another country.
It is a crime to harbor , hide a criminal or suppress information regarding him/her. That is tantamount to authorizing a crime. It is therefore a pertinent question in the best interests of the country and the rule of law whether the Navy Commander can be permitted to act this high handedly and unlawfully , disdaining the court order and assisting the criminal ?
It is the president himself the commander in chief of the forces who recently announced and pronounced in public , even if they are officers of the security forces , he hasn't any need to safeguard and shield them in the cruel mass murder of children not linked to the war . Then , if he is a genuine good governance leader who is truthful in word and deed , why is he deaf and dumb to these glaring unlawful actions , and looking the other way permitting the chiefs of his forces to engage in unlawful criminal activities ?
---------------------------
by (2017-04-04 07:21:14)
We are unable to continue LeN without your kind donation.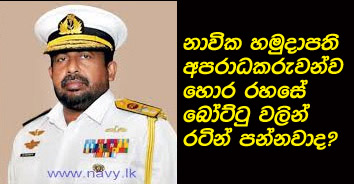 Leave a Reply