Trickster cum fraudster Weerawansa out on bail –'critical patient' stands on ambulance footboard like bus conductor !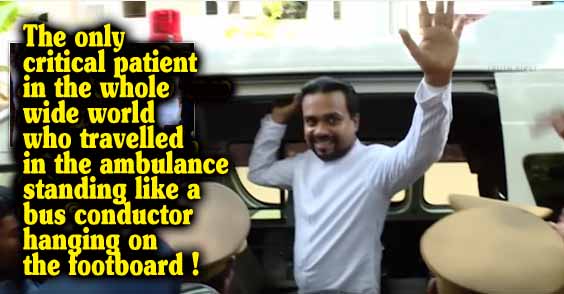 (Lanka-e-News -08.April.2017, 1.45PM) Notorious Machiavellian mendacious ex minister Wimal Weerawansa who was in remand custody for over three months on grave charges of misusing and distributing as many as 40 state vehicles was released on bail on the 7 th.
A second application for bail was presented before the Fort additional magistrate Lanka Jayaratne recently . After considering the special circumstances cited in the motion, he was granted bail on the 7 th . The special circumstance was his daughter suffering from anxiety and being hospitalized following Weerawansa staging a so called fast .
On the 3 rd , bail was not granted because the daughter's anxiety state was not substantiated by a medical certificate.
Though a medical certificate was somehow produced ,interestingly and intriguingly , his daughter supposedly suffering from anxiety state even until as late as 7 th of April even after Weerawansa abandoning his fast is a matter for surprise.
The most ludicrous part of Werawansa – daughter combined pavement drama was : the daughter who is 16 years old being treated after being warded in a children's hospital meant only for children below 12 years of age. Though nobody gave an answer to this most perturbing and pertinent question , Weerawansa however pulled a fast one , and managed to get his bail.
Weerawansa the fraudster was released on a cash bail of Rs. 50,000.00 and two surety bails in sums of Rs. 500,000.00 each. His passport was also impounded.
Weerawansa the confirmed fraudster proved he is also an accomplished trickster inside and outside of jail : He came to get his bail in an ambulance as a critical patient , but after securing bail he went in the ambulance standing erect like a bus conductor hanging on the footboard ,as fit as a fiddle waving his hands at the on lookers. Weerawansa who is notorious for breaking ignominious records created another record on the 7 th as the only 'critical patient' in the whole wide world who travelled in the ambulance standing and waving at the outside crowd.

The government doctors who allowed an innocent three and half years old child admitted recently to Matara hospital to die without any treatment being administered , had no qualms when providing all the facilities including an ambulance to the notorious fraudster cum trickster Weerawansa , who pulled a fast one by staging a spurious fast .
The doctor killers who were staging a heartless strike on the 7th and imperiling the lives of patients , nevertheless followed the fast forward track for Weerawansa by attending to all his needs before that , and ensured the scoundrel who robbed public funds secured bail . Besides , the so called 'critical patient' Weerawansa went home hale and hearty as though he never had any illnesses .
This jocular melodrama enacted by political bankrupt Weerawansa only bears ample testimony , in Sri Lanka (SL) , the administration of justice and medical treatment are being bent and twisted crudely and cruelly to please and pamper the rascally politicians, while destitute simple Simons are left in the lurch . Whither SL ?
---------------------------
by (2017-04-08 08:21:15)
We are unable to continue LeN without your kind donation.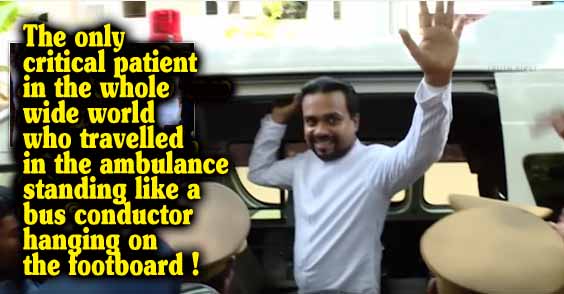 Leave a Reply