Can you beat that ? Judges cutting cake holding fondling hands of accused..! Photo testifies..! : Is Mihal's JSA permitting or promoting this fondling ?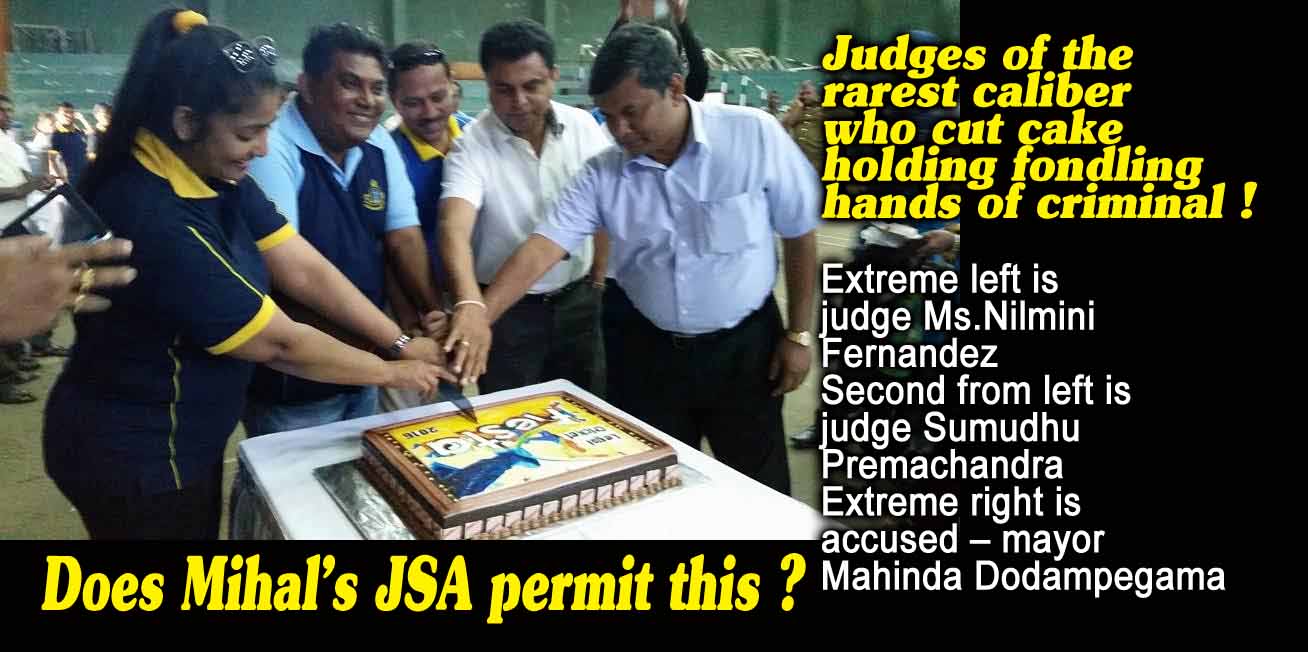 (Lanka-e-News - 12.April.2017, 7.25) This is not a story taken from 'Ripley's Believe it or not' , rather a shocking story concerning shameless Sri Lankan (SL) judges of judicial courts who cut cakes holding fondling hands of the accused , which therefore deserves a most prominent place in Ripley's book for openly disgracing SL's sacrosanct independent judiciary by the very judges who are expected to hold aloft the sacred and hallowed judicial traditions and norms. The photograph herein confirms the most deplorable and disgraceful state of affairs which is soiling the image of SL 's judiciary beyond repair.
Second from left in this photograph is judge Sumudhu Premachandra . It were the photographs of this same judge (born without any sense of shame in much the same way as a naked animal ) half naked with his wife on Vedda's honeymoon bed making a public display, we published some time ago.
This same judge attended the 'bana (sermon) party' which was conducted on Kandy court premises recently , flagrantly violating Judicial Service Commission circulars . Last year when Premachandra was the judge at Nuwara eliya , along with another judge Nilmini Fernandez who knew sweet nothing about law , and conducted herself like a pavement 'Watti amma' ( a pavement vendor), abusing their lofty judicial positions played 'pandhu' collecting monies from those attending court to play a game of cricket alias 'criminal cricket carnival'. Unbelievably , a notorious accused , the mayor Dodampegama who has a number of cases against him which are being heard before these judges was a participant in the 'cricket tamasha' . What's more , the criminal and judges cut the cake together on the occasion (the photograph herein depicts ) !
Much worse , even though complaints have been made to the JSC against such judges playing cricket with criminals openly , and having fun and frolic with the mayor against whom and his family there are a number of civil and criminal cases in the courts of these judges , sadly no action has been taken.

Premachandra and Nilmini despite being judges , used the staff of the courts to collect cash from those attending courts for their 'cricket Tamasha' . In addition after the cricket match pocketed the balance monies , according to the courts employees.
The JSA which comprises nefarious pro Rajapakse judges of the nefarious era ,and its secretary Mohomed Mihal , instead of taking urgent and stern measures to chase out such 'criminal cricket carnival' criminal judges who are disgracing the bench and polluting the judicial atmosphere , is unfortunately wasting all its time on chasing after irrelevant issues relating to the dismissal of Ramanathan Kannan who had not breached any disciplinary rules , and was appointed duly and legally as a high court judge.
In the circumstances , is or isn't a hybrid court necessary for this country is a most pertinent question ?
---------------------------
by (2017-04-12 14:03:38)
We are unable to continue LeN without your kind donation.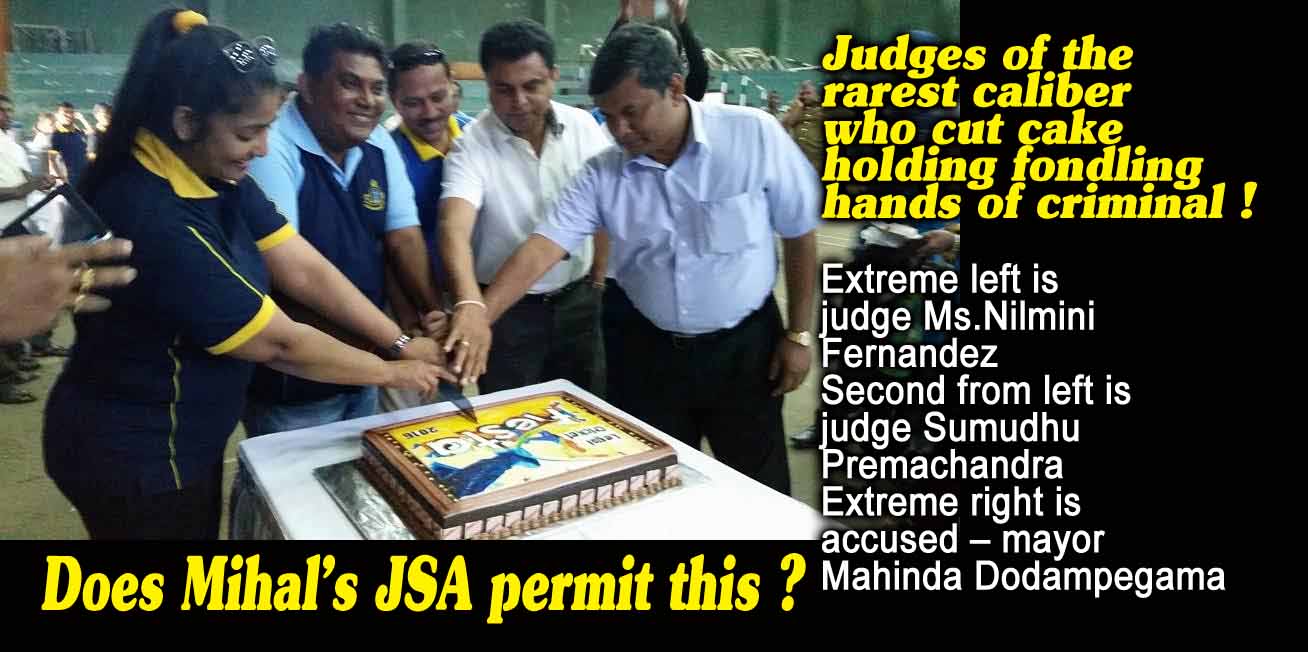 Leave a Reply