Sri Lankan exports win unparalleled break from GCC's premier logistics hub : Great opportunity for SL exports'-Rishad
Oman opens premier free port facility for Lankan exporters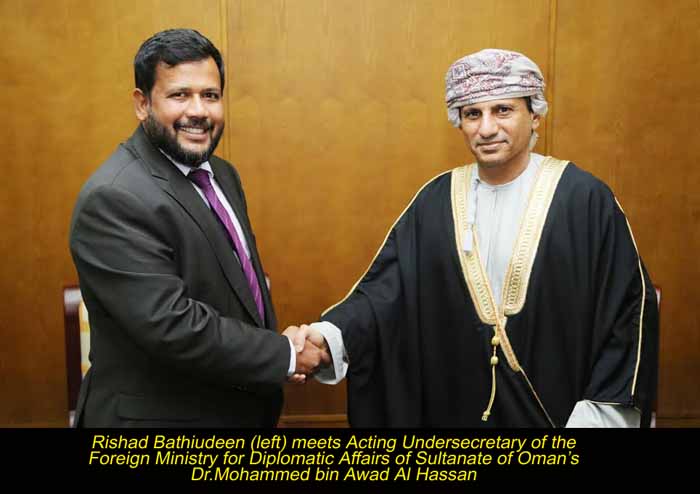 (Lanka-e-News -16.April.2017, 4.00PM)
* Invites SL to set up at historic Sohar free port & Zone's Phase II
* Ceylon Tea & other SL products can be re-exported duty free from Oman
* Sign up, immediately get GCC & East Africa!'-Oman Undersecretary Al Hassan Sohar Port a leader in $70 Bn GCC logistics market
In a new breakthrough for Sri Lankan exports sector, one of the fastest growing free ports in the world, and one of the biggest free-ports in the powerful Gulf Cooperation Council has opened its doors to Sri Lanka with unparalleled incentives of entry hitherto not offered by other free ports in the world-and historic Ceylon Tea, and several other Lankan sectors, are the immediate beneficiaries in the proposed win-win play.
"Sri Lanka has multiple benefits beyond exports when starting at Sohar which can be Sri Lanka's main manufacturing and re-exports base in the Middle East" said the Acting Undersecretary of the Foreign Ministry for Diplomatic Affairs of Sultanate of Oman's Dr. Mohammed bin Awad Al Hassan on 6 April in Colombo. The visiting Undersecretary Al Hassan was meeting Sri Lanka's Minister of Industry and Commerce Rishad Bathiudeen on 6 April at the Ministry of Industry and Commerce, Colombo 3.
"Oman's four famous free economic zones are Sohar, Al Mazunah, Salalah and Duqm. We like to discuss the possibility of a Ceylon Tea Hub in Sohar Free Port and Free Zone's newest phase. You can process, blend Ceylon Tea and re-export to the entire Gulf Cooperation Council (GCC) region, the Indian Sub-Continent and East Africa, almost duty free. From Zohar, Ceylon Tea and other Lankan exports can reach 3.5 billion consumers in the Gulf region straight away. Sohar is Oman's joint venture with the Port of Rotterdam and this is one of the fastest developing port cum economic zones anywhere in the world. Sohar zone is more than 11000 acres (4500 hectares). Its first phase has been completed and almost all the space has been taken by 16 global Companies. Vast amount of space is available for Sri Lankan exporters to set up with us in Phase II. We allow 100% ownership, zero custom duties and great tax exemptions. Most importantly, we do not impose stringent rules on employees-there is no requirement to employ only Oman citizens but you can bring your own Sri Lankan workers for your export projects at Sohar and employ them. Only 10% of your workforce at Sohar need to be Omani nationals and the other 90% can be Sri Lankans. Therefore Sri Lanka has multiple benefits beyond exports when starting at Sohar which can be Sri Lanka's main manufacturing and re-exports base in the Middle East as well as GCC. At this moment I talk only about Ceylon Tea since it is the well-known Sri Lankan export in the Middle East, but you are welcome to set up in other defined segments in Zohar's designated clusters -rubber, plastics, ceramics, food & perishables and steel & iron, and take advantage of our capacity in GCC logistics market."
The GCC's logistics market is estimated to be one of the fast growing sectors at a valuation exceeding US $70 billion, with Oman playing a lead role in it with Saudi Arabia and UAE.
"I discussed better trade when I visited Oman six months ago. I believe Oman can be the Ceylon Tea hub for Middle East and we will convey your good news to our exporters and Prime Minister Ranil Wickremesinghe" said Minister Bathiudeen responding to Undersecretary Al Hassan and added: "This offer is a great news to our historic Ceylon Tea industry. In fact, Ceylon Tea industry too is now working to develop innovative entries with ways of cost reduction. Similarly, I invite Omani businesses and investors to invest in Sri Lanka and using our FTAs with India and Pakistan, to the huge 1.7 billion South Asian markets. Oman-Sri Lanka bilateral trade has also been irregular and it is time to boost trade to strengthen our relations further. We are encouraged by the fact that our products can reach more than 13 billion Middle Eastern customers through Oman."
According to the Department of Commerce, annual bilateral trade between Oman and Sri Lanka shows an irregular pattern and totals around $250 Million. More than 50% of Sri Lanka's imports from Oman are Petroleum oils while Sri Lanka's main exports to Oman are light electrical products and coconuts. Both Sri Lanka and Oman are members of Indian Ocean Rim Association (IORA).
During their 6 April meeting both Minister Bathiudeen and Undersecretary Al Hassan also delved into many other ways and means of cooperation between both countries.
---------------------------
by (2017-04-16 10:37:31)
We are unable to continue LeN without your kind donation.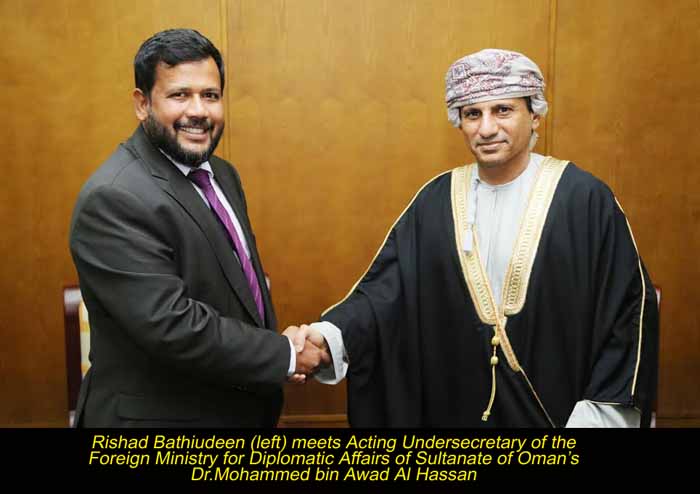 Leave a Reply