Hail president !! Maithri takes up cudgels – gazette notification to halt stinking politicos from cashing in on garbage tragedy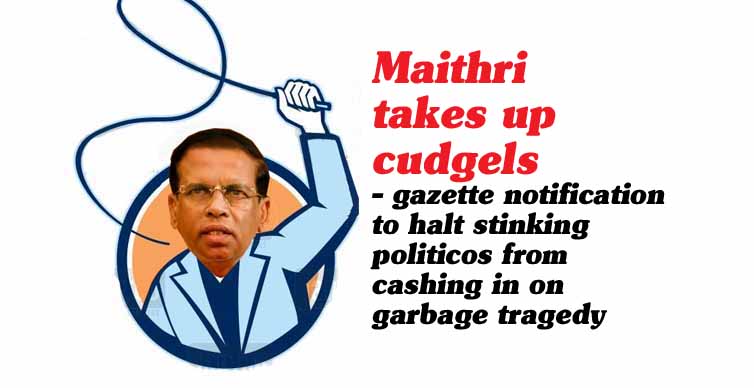 (Lanka-e-News -21.April.2017, 5.00PM) Those who are protesting against the garbage disposal exploiting the Meethotamulla tragedy in order to score political plus points shall be arrested without a warrant . The president has issued a gazette notification declaring the garbage disposal as an essential service with effect from midnight (20 th) .
The president by a special gazette notification declared garbage disposal operations in all administrative districts Island wide as an essential service under article 17 of the Public Security Act .
Hereunder is the full text of the communiqué issued by the Presidential media division
Based on a directive issued by His Excellency , the president of Sri Lanka under article 17 of the Public Security Act , has declared all tasks performed pertaining to the garbage disposal , collection, transporting , temporarily storing and segregating , which will include garbage on the highways , garbage disposed of from homes , shall come under this directive.
Accordingly , these tasks have been declared as essential services. The under mentioned activities are covered by this directive.
1. It is an offence if any individual orally or in writing engages in or attempts to create impediments to these tasks by threats or by force or by any other means , or insults , obstructs, or causes delays to such activities . Similarly it is illegal to provoke the public , use force , or incite them through other means, or hinder those engaged in the garbage disposal activities , or compel them to resign their jobs. It is also unlawful to provide job opportunities, to take up jobs or to keep away from the jobs in order to participate in such illegal actions. Any verbal , physical or written compulsion to engage in these illegal activities is a punishable offence .
2. Under the provisions of this Act , any police officer is empowered to arrest any individual without a warrant if the police officer has reasonable grounds to suspect that the individual has committed any of the abovementioned offences.
3. The accused is liable to rigorous imprisonment if proved guilty based on the court trial after being produced before a magistrate .
Presidential media division
Following the Meethotamulla garbage dump collapse , political henchman have commenced demonstrations obstructing garbage disposal at all the garbage dumping sites across the whole Island. Consequently , garbage disposal has been sabotaged and hampered making the country to stink , and to plunge it into a perilous situation .A deputy minister of the SLFP, Dilip Wijesekera a rascally bootlicking stooge of garbage Rajapakses who has one foot in the Rajapakse camp was seen staging protests against garbage disposal while posing off as a great ' chandiya ' thriving on garbage.
The public are earnestly anticipating the day , the president will in this same way declare the government medical services also an essential service . The only solution available if the medical services which have become the bane of the country is to be improved to make it a boon to the people.
---------------------------
by (2017-04-21 11:36:54)
We are unable to continue LeN without your kind donation.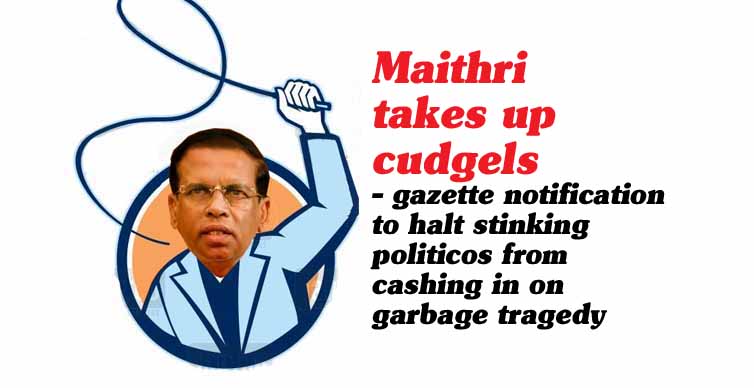 Leave a Reply