IGP Koloma (eccentric) goes berserk ! scolds OIC in raw filth ; assaults lift operator with fists and feet ; police discipline crashes to zero level !!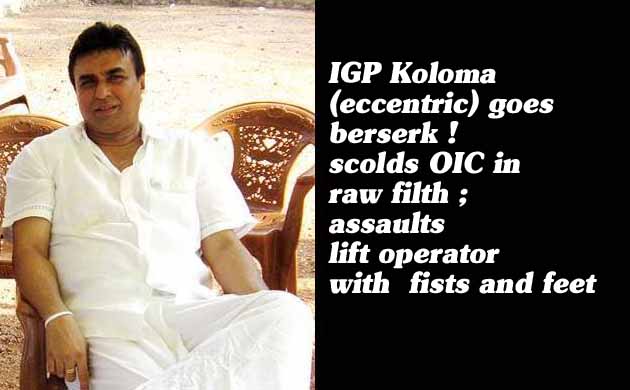 (Lanka-e-News -21.April.2017, 5.00PM) Sri Lanka's Inspector General of Police (IGP) Poojitha Jayasundara who is already dubbed as the Imbecile General of Police (IGP) owing to his eccentricities and insanity fits even while engaged in his duties , is fast transforming the Police department into a lunatic asylum by dismantling the police discipline deliberately on a scale never before witnessed in the police force under any other IGP.
Another incident of the series which confirms this pathetic odious trend was reported on the 21 st. It is a pity the IGP who should be exemplary and be a boon has become a bane to the entire country.

The IGP issued an order that all police officers should perform meditation every morning from 8.30 to 8.45 under the program code Name 2553 .However because an orthodox Christian IP Ludowyke failed to carry out this instruction , the Imbecile General of Police Poojitha the eccentric (Police Koloma) has scolded Ludowyke in raw filth even insulting Ludowyke's mother on the 11 th.
Ludowyke is the OIC of the anti narcotics division and a most law abiding officer. Ludowyke being an orthodox burgher and not a hypocritical humbug was honestly engaged in his official duties at his office as usual during the meditation time set by the eccentric IGP . The latter who is prone to insanity fits even during office hours , had barged into Ludowyke's office , to scream at him like a lunatic let loose. 'Aren't you meditating?' the Imbecile general of police Poojitha had inquired in a rage and abused him in unalloyed filth .

Ludowyke who was most shocked had questioned ,' Sir , I am a Catholic .So why are you forcing me to meditate ?' The IGP who was then provoked even more , had most insolently shouted and barked 'I don't care what religion you belong to , you dog , do the meditation as I have directed. '

Ludowyke who could not bear the humiliation he was subjected to before his subordinates in the open by the Imbecile General of Police, was hospitalized due to his blood pressure shooting up.
Every citizen has a right to practice his religion freely and unhindered under the constitution . Besides hurting the religious susceptibilities of any citizen is a most grievous offence . Therefore this IGP has violated the constitution most outrageously and brazenly . The next pertinent and paramount question is , can the IGP who committed such a serious offence be allowed to continue in his post without being taken to task ?

Prior to scolding and insulting Ludowyke , on the same day this Imbecile General of Police has assaulted the minor employee M. Samarakoon Banda ,the lift operator ruthlessly in a manner never before any other IGP had , for not meditating. This mad maverick of an IGP has caught Banda by the collar and attacked him with his fists and feet .

It is learnt those who were around had videotaped the incident. No matter what, this is a most peculiar 'Buddhism' mania which even true Buddhism will not condone.

Be that as it may , it is the most paramount duty of those in the higher echelons of the state to take a serious view of this situation , in which a mad maverick alias IGP of a country is on a rampage insulting , berating and assaulting innocents because they are not carrying out his so called meditation. In fact meditation is meant to inculcate calm and composure whereas this bird brained mad hatter is in a state of agitation while talking about meditation like a mentally deranged individual. Lord Buddha must be turning cartwheels inside the grave over the actions of this maniacal and mentally deranged imbecile General of police who does not know true Buddhist tenets and true goals of meditation , yet forcing others to meditate .
This conduct or rather misconduct of the IGP , is causing a total breakdown of discipline in the Police which is already fast crumbling .
Here is another incident that bears testimony to this disintegration of police discipline because of this eccentric …
Recently Ludowyke who earlier fell victim to the insanity fits of mad maverick IGP was conducting an anti narcotics division training class . High rung officers : the acting director of the division , Siyambalapitiya , ASP , and Jagath Rohan ASP too were in the class.

Ludowyke rightly mounted an allegation against a most corrupt senior officer , Rangajeewa of the anti narcotics division who was also attending the class .Ludowyke pointed out ,by sending the officers under Rangajeewa on official duties without informing Ludowyke the OIC , discipline cannot be maintained. Rangajeewa the notorious officer has at once stood up and furiously insulted and abused OIC Ludowyke in filth before all the superior officers , while also recalling , 'not enough the shelling you got from the IGP the other day.'
In other words Rangajeewa the corrupt officer has followed the example set by the imbecile IGP . Unbelievably the two high rung officers Siyambalapitiya and Rohana have behaved like two castrated eunuchs still groaning in pain following the castration and therefore unable to concentrate on what is going around. Instead of taking disciplinary action against the inferior officer for scolding the superior officer in filth in public , they had mid way left the training class.

No wonder the police discipline has dropped to zero because a lunatic IGP is at its helm . It is because of his lunatic and maniacal obsessions that even the abbreviation standing for IGP will have to be necessarily changed into Imbecile General of Police as long as he holds that post. If anybody assumes Poojitha can discharge his duties towards the public duly ,that individual is laboring under a delusion.
In the circumstances , let us conclude with this warning : If the law and order minister , the Police Commission , the president , the prime Minister , and the constitutional council that appoints an IGP do not review this situation most seriously and urgently , worse mishaps and destruction are in store in the Police force to the detriment if he entire country!
Post scriptum :
This IGP (Imbecile General of Police) alias Police Koloma (eccentric) recently cursed Lanka e news editor for exposing all his egregious sins , wrongs and eccentricities . He openly exclaimed the editor must be struck by lightning 7 times , and the police officers who pass information out a 14 times.
---------------------------
by (2017-04-21 11:46:27)
We are unable to continue LeN without your kind donation.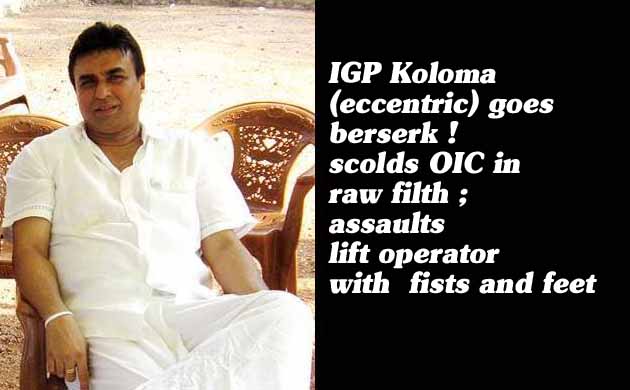 Leave a Reply