Meethotamulla tragedy : 30 houses gifted already; Rs. 250,000 for household effects ; Rs. 50,000 monthly to evacuate from danger zones.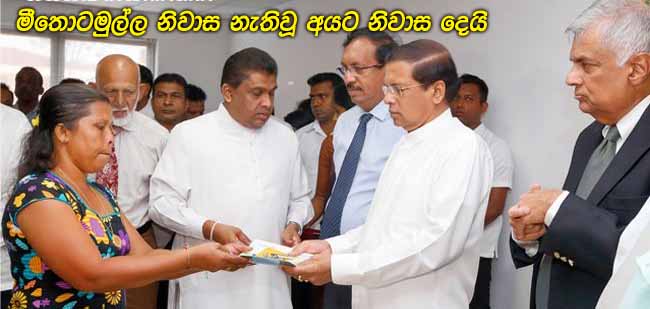 (Lanka-e-News-22.April2017, 11.45PM) The gifting of new houses to those whose homes were completely destroyed in the recent Meethotamulla tragedy began on the 21 st .Under the patronage of the president and the Prime Minister, in the first phase , 30 new houses were provided.
The government has by now made arrangements to grant houses to all 98 families who were deprived of their homes. 30 families that wished to get houses in the first phase of this program were granted their houses on the 21 st. In addition a sum of Rs. 250,000.00 per family was paid to enable them to purchase the household effects.

The government has also decided to pay a sum of Rs.50,000.00 monthly to every family that is moving out from the garbage dump danger zone until full compensation is paid or a permanent residence is provided , while an additional sum of Rs. 10,000.00 per family is to be paid for transport of their household goods . Moreover , it was decided that within three months , either full compensation that is assessed or a house shall be provided. According to the government , there are 211 houses in the areas identified as danger zones.

The government has allocated Rs. 392 million towards providing houses to the 98 families. The value of each house that was granted on the 21 st is Rs. 4 million.
In case following the evaluation , if the value is more , apart from the houses granted , the government is to take action in the future to make extra cash payments to those families.
President Maithripala Sirisena and Prime Minister Ranil Wickremesinghe along with Susil Premajayantha, Anura Priyadharshana Yapa , Patalie Champika Ranawake , Vajira Abeywardena , A.H.M Fowzie, Lasantha Alagiyawanna , Dunesh Gankande , S.M.Marikar and others participated in this event on the 21 st in which deeds of 30 houses were gifted . This distribution took place at the Disaster management ministry auditorium .

---------------------------
by (2017-04-22 21:39:32)
We are unable to continue LeN without your kind donation.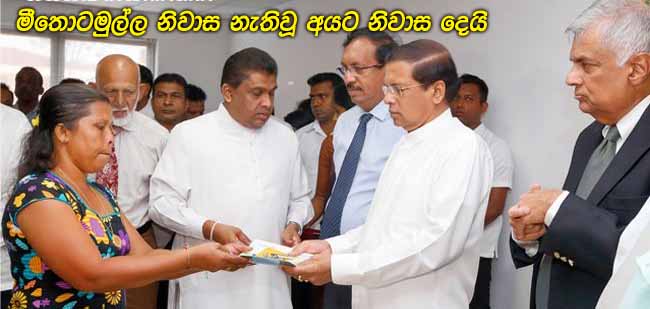 Leave a Reply