Ranil visits India after concluding tour of Japan for tripartite agreements !
-Neanderthal Leftists and supporters of discarded Rajapakses stage meaningless strike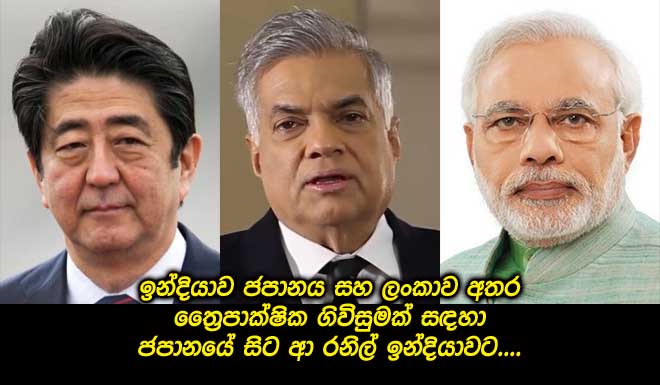 (Lanka-e-New- 25.April.2017, 11.00PM) Prime Minister Ranil Wickremesinghe will be visiting India on an official tour on the 25 th.
While in India he will have bilateral discussions with Indian P.M. Sri Narendra Modi . He will also be meeting with senior ministers, and Congress party leader Ms. Sonia Gandhi .
The P.M. during a meeting with the public at Suduwella recently , he said , he will be leaving for India for discussions to launch several development projects , and to sign tripartite agreements among Sri Lanka , India and Japan.
The P.M.concluded his tour of Japan recently and returned to the Island.
Wickremesinghe explained as follows at Suduwella …
"I shall be leaving for India with a message from president Maithripala Sirisena . Dicussions are to be held with Indian P.M. Narendra Modi. The aim is to initiate development programs in the East , Central and Western provinces based on tripartite agreements . The Trincomalee port is to be made an extremely fast developing Port.
Japan is extending support to some projects while India is providing the balance assistance. India and Japan are ready to provide assistance towards several Trincomalee Port projects . Singapore will be assisting in the Trincomalee Port development .India and Japan are expecting to provide assistance to build two natural liquid gas stations in Kerawalapitiya . In addition , a floating natural gas pool is to be built in the sea jointly by Japan and India ," the P.M. elaborated.
Professor Maithri Wickremesinghe , minister for disaster management Anura Priyadharhsana Yapa, Development strategy and international trade minister Malik Samaraweera , Secretary to P.M. , Saman Ekanayake , additional secretary Saman Athaudahetti and special assistant Sandra Perera are participating in the Indian tour .
Meanwhile, Minister of State enterprises Kabeer Hashim addressing a media briefing on the 24 th revealed the government's policies in regard to oil tanks. An agreement has been reached , according to which , the primary ownership of Trincomalee oil tanks will be with the government . Out of that 14 tanks will belong to LIOC , 10 tanks will belong to the Ceylon Petroleum Corporation (CPC) , and the balance 74 will be run as a joint venture between the two countries, he said.
There are no plans at all to sell any harbor in SL, and if such an opinion exists , that is a misconception. Even previously , Trincomalee oil tanks were entrusted to India , and hitherto no Institution or the government used all these oil tanks , the minister pinpointed. Besides , the CPC had no ownership of any of these oil tanks hitherto. On the advice of the P.M., a group including minister Chandima Weerakody toured India recently . It is following discussions there , the aforementioned agreement was reached , and everything is being done according to that agreement, the minister pointed out.
Meanwhile , the Neanderthal Leftists and supporters of the defeated discarded Rajapakses have staged a strike falsely alleging the Trincomalee oil tanks are being sold to India. What is crucial to note is , the 99 oil tanks of Trincomalee which were built by the British during the colonial era had been in existence for the last 70 years. . Yet the leftist parties to which these unions belong , during their period when they were with the ruling governments did nothing or took any action to make use of the oil tanks . It is now these unions are staging strikes when development programs are under way . This is most intriguing.

The trade unions of SL are only taking advantage of the democratic freedom now prevailing under the good governance , and are misusing that freedom. They are not staging strikes with genuine motives to achieve true demands or for the benefit of the people . They are politically motivated and serve foul anti national agendas. Those demands are extreme and retrogressive. Among their many anti national agendas are : opposing the development of Hambantota Port which is now a white elephant ; and the development of the Trincomalee oil tanks .
These demands are not because of any true concern for country's economy or its development , rather simply based on pseudo patriotism carrying the hackneyed slogan 'country is being sold' which everyone knows are bogus dramas.As these unions are aware if their foul political agendas are made directly known , they would stand naked , so under the guise of trade union demands , their hidden agendas are being pursued.

In the modern era , countries like Malaysia and Singapore did not achieve their development goals based on the antiquated advice and outmoded concepts of these discarded Neanderthal Leftists .
---------------------------
by (2017-04-25 18:53:55)
We are unable to continue LeN without your kind donation.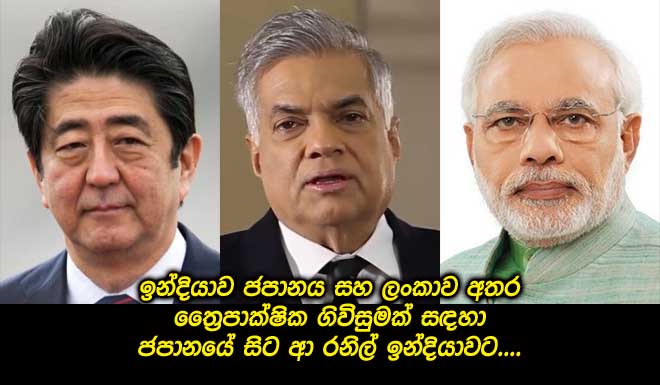 Leave a Reply