New year bonanza for Arjuna-Dhammika the Blue brigand thieves ! Misguide president to line their pockets with Rs. 50 million..!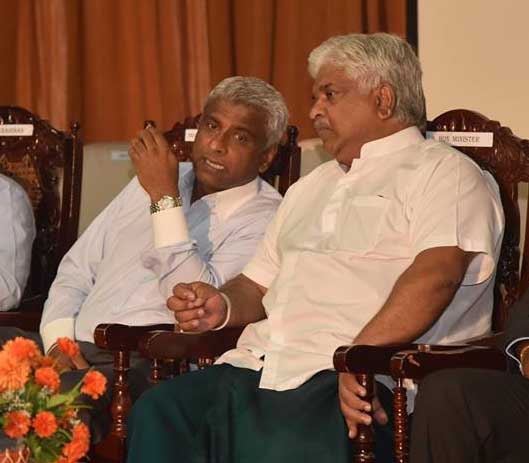 (Lanka-e-News - 28.April.2017, 9.25AM) The notorious minister of Ports Arjuna Ranatunge of the Blue brigand who loudly and proudly brags of halting thefts and perfidies but engages in those very activities on the very next day , has yet again taken the president down the garden path to release 1150 containers after collecting a kickback of Rs.50 million, according to reports reaching Lanka e news inside information division.
Prior to the last Sinhala New year , 1150 containers of 5 companies that imported white sugar were detained at the Port for failure to submit the necessary clearing documents . While the detention charges alone for non clearance of cargo had shot up to Rs. 100 million payable to the Port , Arjuna had met with president Maithripala Sirisena and frightened him by saying , if these containers are not released , there could arise a sugar scarcity in the country for the Sinhala New year ..
The president who is vulnerable to such mischievous plans and misguidance has ordered Arjuna to release the containers without collecting the detention charges. Arjuna who was anxiously waiting for that approval from the president had immediately informed those sugar importers to get the containers released without the payment of the detention charges amounting to Rs. 100 million, but not forgetting his own favorite ' santhosam' request –that is, after the payment of a bribe of Rs. 50 million. Accordingly , each of the 5 companies had agreed to pay Rs. 10 million . Arjuna after lining his pockets had released the containers. By this the loss incurred by the Port is Rs. 100 million !
The Arjuna – Dhammika crooked duo , the brothers in rackets have thereafter enjoyed Sinhala New year to the hilt with this Rs. 50 million illicit collection .

It is no wonder Arjuna is trying to pose off as a hero by agitating against privatization of loss incurring government Institutions , because it is through that masquerade even via the loss incurring state Institution these rogues and rascals can make a fast buck . If such loss incurring Institutions cease to exist , these rogues and rascals who are committing high treason to the detriment of the country will be left high and dry - lose their opportunities of robbing.
( We shall shortly reveal how this same Arjuna Ranatunge the crook of the Blue Brigand similarly celebrated his 53 rd Birthday most wastefully and extravagantly at JAIC Hilton Hotel , along with Polhengoda Wimalasiri alias ' Doctor' of Arjuna )
---------------------------
by (2017-04-28 03:57:43)
We are unable to continue LeN without your kind donation.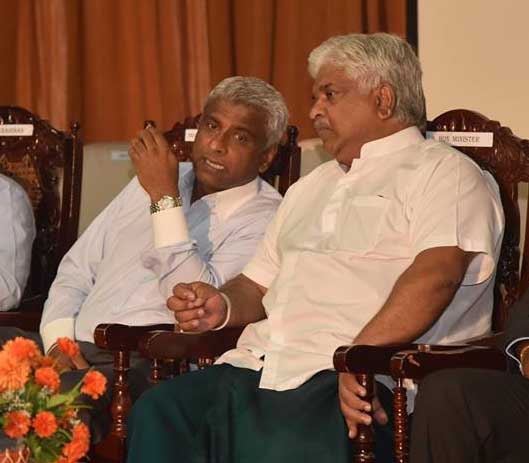 Leave a Reply