JVP and Padeniyas while staging strike imperiling lives of patients fill their pockets via private practice : Ranjan's receipt exposes all ! (Video)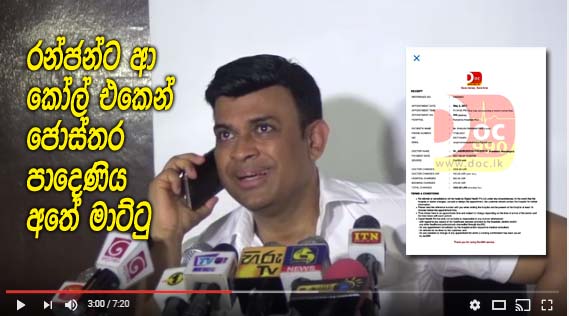 (Lanka-e-News - 05.April.2017, 10.20PM) The shameless and villainous motives which drive the Padeniyas and the JVP to stage strikes were exposed well and thoroughly by Ranjan Ramanayake before the people with evidence! Padeniya the president of the GMOA that was staging the strike was caught red handed .
It was proved beyond any doubt that the hypocritical , cruel and unscrupulous doctors of Padeniya's GMOA despite having taken the sacred oath of Hippocrates were engaged in private channeling practice in hospitals to earn filthy lucre even today – the day of the strike organized by themselves.
Herein is a receipt issued by Nawaloka hospital to a patient fixing an appointment at 4.05 p.m. to consult Dr. Padeniya today (05) . The patient Ranjan Ramanayake has obtained this appointment at about 10.30 p.m. yesterday .
The channeling charges of Doctor monster Padeniya as per the receipt is Rs. 1000.00 ; hospital charges is Rs. 500.00; VAT levy is Rs. 150.00; Booking charges is Rs. 275.00 ; the total fee is Rs. 1925.00 which was paid by the patient.
When Ranjan Ramanayake was booking his appointment , he was the sixth patient in the list of Dr. 'Avaricious duplicitous' Padeniya the notorious Dr. Killer who was putting the lives of innocent patients in government hospitals in dire jeopardy while giving priority to his selfish private practice earnings.
Padeniya's GMOA leaders said the strike will be from today (morning) until tomorrow morning, and loudly announced they would not even engage in private channeling during that period. Hence ,this receipt given to the patient proves Padeniyas have no sincere motive or agenda in their strikes , for while crippling the government health services after getting paid by the government too , they are chasing after pelf for selfish reasons through private practice compromising national interests, and precious lives of patients .

Following the exposure of Dr. monster Padeniya the duplicitous medical practitioner by Ranjan Ramanayake via his face book , Padeniya has got jittery, phoned Nawaloka hospital, and cancelled all appointments today. So this is the so called 'patriotic minded' avaricious duplicitous Padeniya who is showing great concern for the medical education of Sri Lanka , and staging strikes against SAITM private medical College .
Believe it or not , when Ranjan Ramanayake was holding a media discussion this noon , Nawaloka hospital had phoned him in a panic at about 11.30 a.m. and informed , Padeniya has cancelled all his appointments today . Ranjan allowed this phone call to be heard by the media participants .The caller said , just about 10 minutes earlier Padeniya gave that instruction.
Meanwhile this rascally behavior of the scoundrel Padeniya was discussed in Parliament , and the receipt of Ranjan was tabled. The JVP M.P. Bimal Ratnayake who is a sleeping partner of Padeniyas , like the pariah dogs on pavements having no answer to give in defense alleged in a rage that the receipt of Ranjan was counterfeit. Nevertheless Ranjan had concrete proof that he had made payment through his credit card.
The receipt of Ranjan which stripped nude the rascally rapacious Padeniyas and the JVP , and how patients are being killed through unjust strikes ,duping the people and committing treason is herein . The video footage as follows
---------------------------
by (2017-05-05 17:22:35)
We are unable to continue LeN without your kind donation.
Leave a Reply