Govt. cracks down on railway strikers ! If they don't return to work will be treated as have vacated their posts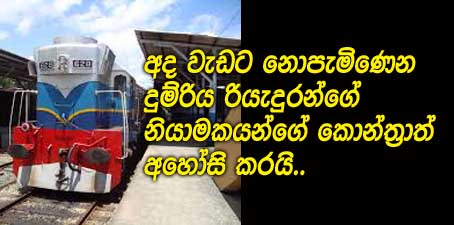 (Lanka-e-News- 06.May.2017, 11.45PM) Stern action will be taken against the railway drivers and controllers who commenced a strike on the 5 th taking cover under the SAITM issue which in fact are guiles and guises to bring back the deposed Rajapkses who were discarded by the people , minister Nimal Siripala De Silva asserted.
It has been decided that all drivers and controllers who are on a contractual basis shall compulsorily return to work on the 5 th , failing which they will be considered as having vacated their posts. This decision was announced by Railways Authority Vijaya Samarasinghe in pursuance of the advice of the minister.
Though the railway drivers and controllers notified that if the minister would have a discussion with them , they will abandon the strike , the minister had disdainfully rejected that proposal saying , if they don't return to work abandoning their unreasonable demands , they will be treated as having vacated their posts.
If a strike is staged based on justifiable grounds such as against increase of the prices of essential foods beyond what people can bear , or threats posed to national security , or any agreement being signed which betrays national interests , are understandable . But just staging meaningless and sinister strikes citing trifling and unreasonable grounds like the SAITM medical education issue are absolutely unjust and unfair , and cannot be condoned under any circumstances . These actions are unjust and no civilized society should tolerate this nonsense of these strikers who have become a national scourge and curse. The sole and whole motive behind these strikes is to cripple the good governance government before the corrupt and crooked Rajapakses are jailed which is by now a certainty and is going to materialize very shortly.

In the circumstances , to combat the conspiracies of these evil and sinister manipulators , it is best these strikers are treated as having vacated posts , and replaced by drivers and controllers brought even from India to carry on the essential services. Otherwise because of these conspiratorial actions citing SAITM as the issue , and owing to harboring fears owing to these scoundrels , no foreign investor will come forward to invest in Sri Lanka . The outcome : the country 's economy will be routed. Even the remedial proposals made by the government to elevate the standard of education has come a cropper owing to the villainous machinations of these conspirators.

Meanwhile another 225 trade unions have refused to extend support to these unjust and inane strikes.
---------------------------
by (2017-05-06 21:23:15)
We are unable to continue LeN without your kind donation.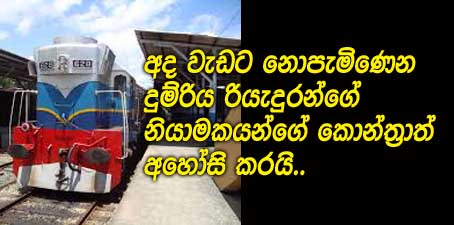 Leave a Reply