When those who shouted 'aiyo Sirisena' then are being given diplomatic assignments , today 'aiyo Sirisena' has to be told by us !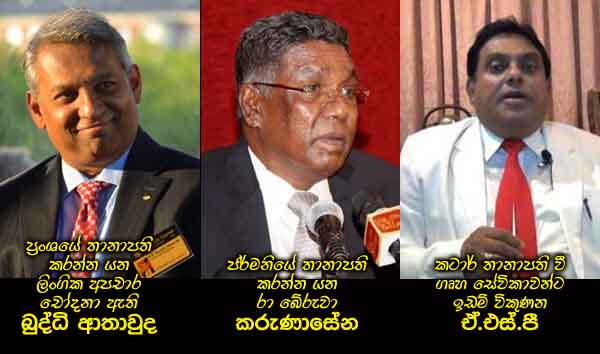 (Lanka-e-News -12.May.2017, 6.30 PM) During the run up to the last presidential elections , when there were those who wanted to bury the incumbent president Maithripala Sirisena six feet underground , and anxious to carry his coffin on their shoulders after accelerating his death , it was us who averted that and carried Maithripala Sirisena on our shoulders instead to the winning post. But now, unfortunately it is these villainous scoundrels who at that time insulted and vilified Maithripala openly shouting 'aiyo Sirisena' and circulated defamatory tales who are today under the shade and shadow of Sirisena . The media Mudalalis who were attacking him viciously and venomously vi a the media then are also with him now. The foreign Diplomats of Mahinda then are also his foreign Diplomats now. In addition, the ambassador to Germany ,Karunatileke Amunugama and High Commissioner to Washington Prasad Kariyawasam then who came down to Sri Lanka on duty leave to participate in Mahinda Rajapakse's election campaigns are still in those positions because of Maithri's patronage even despite the fact they have reached the stage of senile decay , and should have been sent home.
While former minister Athauda was stripping nude to do the sordid biddings of defeated and people discarded Mahinda Rajapakse, his rascal of a son was the ambassador to Germany and Netherlands . Intriguingly , it is this Buddhi Athauda who was creeping and crawling under the jockstraps of the Rajapakses , and who shouted ' aiyo Sirisena' insolently whenever Buddhi came out of the jockstraps then is going to be made the ambassador to France by the same Maithripala Sirisena now.
Perhaps president Maithripala is unaware this rascal ought to be in jail in fact. That is because this scoundrel was involved in sexual embarrassments to women and outraging their modesty . In one instance , following the sexual harassment caused by him to a woman employee in his foreign mission office at that time , she made a complaint to the foreign ministry . Nobody knows what happened thereafter , for he remained scot free despite his lascivious nature detrimental to his profession and dignity. Also, nobody ever knows whether he found the cure for his itch at the wrong place though everybody knows as long as there are bigwigs to prop and propel him while turning a blind eye to his vices and vile nature , Buddhika of course will love to have that itch even if he goes to hell , let alone France .
Ironically , it was the woman who fell victim to his inordinate lust who suffered – she was transferred to another place. Mind you at that time the victim sent a taped recording of the obscene language used by Budhi Athauda against her to the foreign ministry . That tape recording is with an officer in the foreign ministry. Not only there are many complaints against him of sexual harassment to women but also misuse of State property . Yet it is learnt president Maithripala who gave appointments to a number of corrupt individuals and misfits after becoming president , has decided to appoint Buddhika who truly should be behind bars, as ambassador to France .

The Presidential secretariat sources confirm, president Maithripala has also decided to appoint another sidekick of his , the present defense secretary Karunasena Hettiarachi , a dipsomaniac (toddy maniac) as the ambassador to Germany. By appointing such an alcoholic to an important country like Germany will serve no purpose to the motherland unless the idea is to lure toddy tappers and kasippu distillers , but let the president be informed ahead , there are no toddy tappers or kasippu distillers in Germany .
Truly speaking , Germany is an important European country , if our motherland is to benefit , and aid and assistance are to be secured for SL , a competent and capable ambassador shall be appointed. By appointing a dipsomaniac who drinks like a fish , and sleeps with stray dogs under the bushes and trees in Polonnaruwa , it is the country that is going to lose . Today , the second in command at the Embassy in Germany is also an individual who was looking after the cattle herd at the home of the Sirisenas.
Even A .S.P. Liyanage is another scoundrel of the same ilk. It is learnt this rascal is now neglecting his duties of ambassador to Qatar ,and is only busy with promoting his personal businesses in Qatar. He is currently moving heaven and earth to sell his properties even to housemaids. He is therefore spending most of his time in SL engaged in his businesses ,and not in Qatar embassy. When such fraudsters who were even in jail but were given diplomatic appointments by the equally corrupt and crooked Rajapakses, are still enjoying diplomatic assignments under the good governance government today ' aiyo Sirisena' has to be said by us.
-Diplomutt-
---------------------------
by (2017-05-12 13:16:20)
We are unable to continue LeN without your kind donation.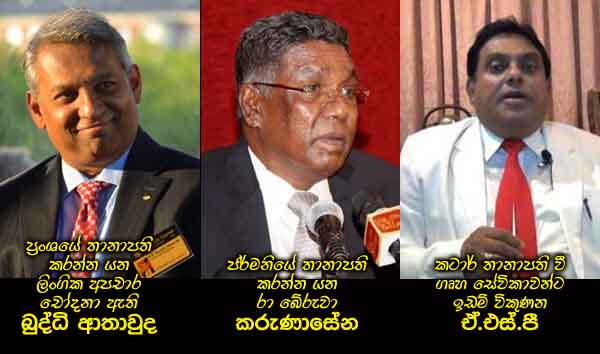 Leave a Reply