Boniface who is seeking illicit avenues to become army commander involved in grave fraud ! CID investigates siphoning off of Rs. 10 million of flood relief funds !!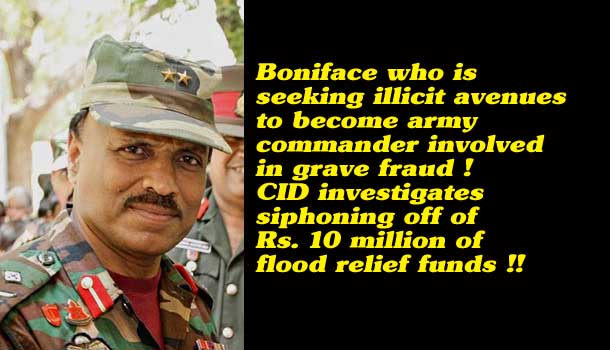 (Lanka-e-news -03.June.2017, 11.30PM) Major General Boniface Perera who is leaving no stone unturned to secure the post of army commander is an ace crook based on his fraudulent and corrupt activities following detections made by the CID , according to reports reaching Lanka e news inside .
When Boniface Perera was the governor of Eastern province , he has misappropriated a sum of Rs. 10 million that was allocated by the government as flood relief funds to be used for the victims of the flood disaster .

Flood relief fund amounting to Rs. 10 million has been credited by Boniface Perera to his Peoples bank Welimada branch account as his personal fixed deposit ( this is reminiscent of the colossal Tsunami funds that were siphoned off into ex president Mahinda Rajapakse's account ). If those were funds allocated for use by the army , and if there is a balance remaining , that balance should have been credited to the Army welfare fund, at least. Therefore Boniface Perera opening a personal fixed deposit account utilizing these funds constitutes a most grave fraud. This crime is all the more because he is a Major General in the army !
Boniface who feared that his fraud would be discovered had made this personal fixed deposit a 'Call deposit.' A Call deposit in the people's bank is identified by a number and not by name. Subsequently , this sum of Rs. 10 million has been invested by him in Central bank treasury bills . Those bills too are under a number and not under a name . Now this sum of Rs. 10 million has snowballed under treasury bills together with interest .
Following a complaint received by the CID , this grave fraud committed by Boniface Perera was detected based on its investigation .
Unbelievably , it is while this serious investigation is under way Boniface Perera is moving heaven and earth to get himself appointed as the next army commander. Perhaps he must be hoping like in the manner other misfits were appointed which is the present trend , he too would stand a chance.
---------------------------
by (2017-07-03 18:46:42)
We are unable to continue LeN without your kind donation.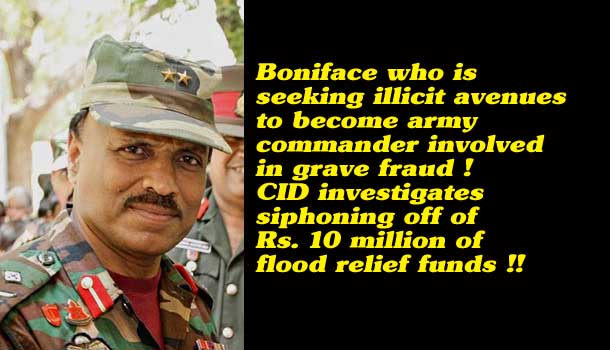 Leave a Reply