GROBR ! Abeykoon the president's secretary – one huge garbage heap is gone !!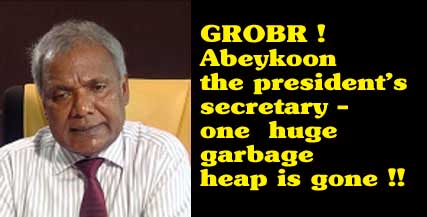 (Lanka-e-news -01.June.2017, 11.30PM) President's secretary P.B. Abeykoon officially handed over his letter of resignation relinquishing his official duties , to the president lastday .
He had informed via the letter that he is resigning owing to health reasons . However , based on reports reaching Lanka e news , for the last several months the president has been intimating to him to tender his resignation.
In fact he ought to have resigned on 2015-01-10, that is the very date he was appointed because he was one of the scoundrels who violated all election rules flagrantly despite being a government servant (who is not legally eligible to engage in such activities) , and appearing on TV channels to openly announce to vote for despotic Mahinda Rajapakse a most corrupt and criminal ex president who was thrown out lock , stock and barrel by the people at the last elections. Lanka e news at that time reported with concern , it is alright to appoint Abeykoon only if the need is to send a copy of that letter of appointment while being prepared itself , secretly at that very moment to Medamulana Rajapakse .
Abeykoon who is from a backward Kantalai colony joined the government service as a clerk before long became most notorious as a most venal government servant and a despicable stooge who grabbed even 50 cents when collecting bribes. When he was in the registration of persons department his notoriety as a bribe taker hit a new high.
When he was at the Immigration and Emigration department he carried a black brief case given by the government into which he thrust all the kickbacks (currency notes) he collected . His favorite hobby was counting the cash collected as bribes most avariciously at the end of the day after visiting the Bristol Bar .That is , he was such an infamous government servant with record breaking venal and sycophantic traits from birth.
When he was the Commissioner of Immigration and Emigration department , his traitorous activities became widely known. With his support and of course after collecting bribes from many LTTE terrorists , he helped them to flee the country after obtaining passports within 24 hours .
This is the penurious and penniless Abeykoon from a colony who has now become a billionaire – the most corrupt rags to riches bribe taker billionaire ! Certainly he will also go down in history as the only illiterate individual who without a knowledge of English and even proper Sinhala held the post of secretary to Sri Lanka's president , the highest in the hierarchy.
The plight of good governance
Abeykoon of course made a huge contribution to the government's efforts but in the negative direction . He was the snake under the grass who moved heaven and earth to rescue the corrupt government officers from punishment . President who is handicapped from birth with a weakness which precludes him from selecting the right individual to an official position , must thank his stars that his secretary Abeykoon another of his misfits is leaving at least now (without staying any longer) after wreaking havoc on good governance for two and half years. The entire nation must be heaving a sigh of relief and saying loudly G R O B R (Good riddance of Bad rubbish) .
Based on reports reaching Lanka e news inside information division , Abeykoon the thrown out ' bad rubbish' is going to be replaced by Austin Fernando a most popular and reputed State administrative officer . Austin Fernando served in all parts of the country and was never tainted by any bribery accusations. He is well known as an officer who knows both languages , and a gentleman out and out . He was defense secretary , governor and has held many other high ranking government posts . He has been in government service for over 50 years , and he is among the few most experienced officers who are living today. It is Austin Fernando who introduced the words 'disaster management' the current popular subject in SL which led to the launching of a new ministry under that name.
During the late sixties the disaster management bill was enacted with his contributions . Most people may not know he prepared a concept paper providing solutions to combat disastrous floods .
In any event , these days the president is conducting his affairs not according to the established rules and regulations governing administration , but in accord with the pressures brought to bear on him by deceiving diabolic monks who were never there alongside most reputed monks of integrity and honesty like late most Ven. Maduluwawe Sobitha Thera who steered the good governance government to power . Therefore nobody is sure who will be appointed as the successor to Abeykoon tomorrow , because the president is dancing and prancing like a puppet controlled by the devils in robes and their guiles . Whenever they pull the string he dances even if it is against his wishes. In the circumstances if these robed devils stage a puppet show tonight and pull president like a puppet on strings , tomorrow the decision can be different even if it is most detrimental to the entire nation.
---------------------------
by (2017-07-03 19:52:19)
We are unable to continue LeN without your kind donation.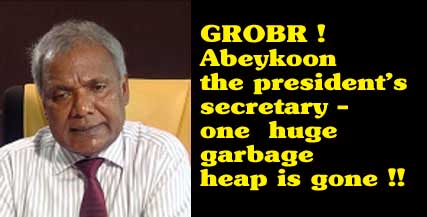 Leave a Reply