Trojan horse within govt. shows its true colors ! Starts investigation against lawyer Lakshan Dias who exposed the crimes !!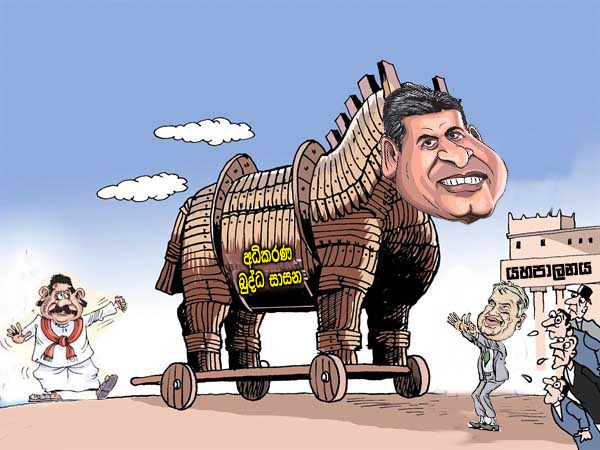 (Lanka-e-News - 09.July.2017, 12.40PM) Believe it or not ! Lawyer Lakshan Dias who said , even after this government was installed in power a number of Christian places of worship were attacked , and that he has appeared for such cases has been subjected to a criminal investigation by the police of this government of good governance.
This investigation has been begun on the orders of the IGP by the group criminal investigation division which is best known for doing he worst sordid biddings of the IGP.( A favorite henchman of the IGP by the name of Kamal De Silva who was the Director and DIG of the anti narcotics division was recently appointed as the chief of this division) . It is by now well known Kamal De Silva was transferred in order to rig the investigations into the shooting incident targeting the anti narcotics officers when he was at the anti narcotics bureau. This is because , instead of handing over the investigation to the CID , Kamal was transferred to the group criminal investigation division and that shooting incident investigation was entrusted to the group criminal investigation division now under Kamal De Silva. This is tantamount to arranging the mother to investigate the crimes committed by her son.

The cruel irony is , the lawyer who exposed a number of crimes have been committed is being persecuted and prosecuted instead of launching an investigation into the crimes he exposed . Unbelievably , the group investigation division has launched an investigation against the lawyer who acted in the best interests of all law abiding citizens. This is obviously a 'Kekile court' inquiry. Having put aside the urgent investigations into the most heinous crimes committed by the notorious crooks and the corrupt of the Rajapakse era , now investigations are being conducted against the lawyers who were responsible to propel the good governance government to power.
As turncoat ,cutthroat Wijedasa Rajapakse who his now dubbed the Trojan horse secretly hostile to the good governance government threatened publicly against lawyer Lakshan Dias, so a witch hunt has begun against him.
A most infamous racial monk Medille Panjalka Thera and a group had been used to set this in motion this witch hunt . This group had made a complaint at the Police headquarters against Lakshan. It is none other than Wijedasa Rajapakse the notorious tie coat, turn coat, cutthroat who is behind these manipulations.

The same Wijedasa Rajapakse similarly and most atrociously exerted pressure on various individuals to complain against the Movement for just society and the Citizen's Force that published a newspaper notification with 170 signatures by which they appealed to all, ' there shall be no racism and religious hatred – never , never' . Wijedasa has brought pressure to bear on Richard and Kuruppu , two long time activists of the movement for just society .Wijedasa has given jobs to them in his ministry and had had told them if they do not make a complaint that their signatures were used without their permission , they would lose their jobs. These two individuals who are not turncoats wearing tie coats or cutthroats wearing black coats of the ilk of Wijedasa , have not yielded to Wijedasa's evil pressures . They have not made the false complaints compelled by Rajapakse , come what may, even risking their jobs.

While the right thinking citizens of the country are protesting against this cursed racism and religious hatred( that is being spread by evil self centered groups for their own selfish self advancement) after realizing what holocaust those evils are leading the country into vis a vis the 30 years ethnic war which devastated the country and claimed so many innocent lives, and which are still fresh in their memories , it is a crucial question , how a responsible minister of a government , specially a government of good governance can act so slyly, irresponsibly , traitorously , and abominably to plunge the country into doom and gloom again ?
Based on the aforementioned deadly incidents It is abundantly clear there are some individuals ( shameless turncoats , cutthroats and betrayers) within this government who have gone so far as to take revenge on the forces that steered it to power. If the government of good governance of the president and prime minister do not control Wijedasa Rajapakse who had crept into the government to play the role of a Trojan horse, it is certain this government will be defeated not by its opponents but by the very forces that put this government on the pedestal of power. These groups now must be rightly saying ' this is goo (shit) governance'.
---------------------------
by (2017-07-09 07:07:45)
We are unable to continue LeN without your kind donation.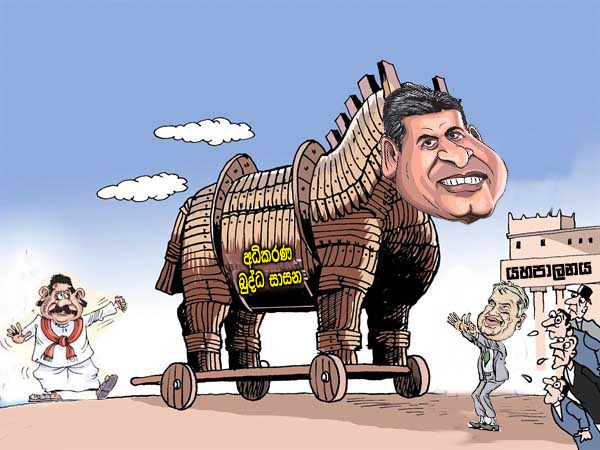 Leave a Reply