Specter of criminal politics looms as salutary moves are being made to eradicate white Van abductions and disappearances ! -Mangala Samaraweera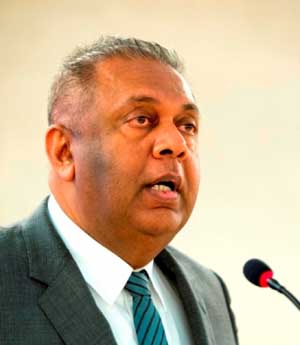 (Lanka-e-News - 09.July.2017, 11.30PM) Sri Lankan government signed an international treaty on 2015-12-10 with a view to protect all citizens from abductions and forced disappearances , and that was ratified by the government on 2016 -05-25 .In order to give legal validity to it , the relevant draft was gazetted on 2017-05 09 , and it was decided the draft resolution shall be tabled in parliament for its ratification.
This draft resolution was scheduled to be debated in parliament on 2017-07-05 , but on the same day a debate had been fixed pertaining to the bribery draft bill. Because there was a large number of speakers in regard to these two draft bills , it was decided that the debate on the timely bill concerning prevention of forced disappearances shall be taken up at a later date.
This is an enactment which concerns the human rights of every citizen of a just , free and civilized society .
The primary aim and objective of this enactment is to ensure that every one born and residing in Sri Lanka shall live without falling victim to abductions, forced disappearances or wrongful incarceration . This enactment is designed to put a full stop to eradicate the white Van culture , and put a full stop to disappearances of opponents with state patronage as well as abductions .Therefore all law abiding citizens should welcome it feel happy .

Yet , the specter of evil politics as usual is today attempting to mislead the people of this country. We roundly condemn these false propaganda that is being spread founded on evil destructive motives to the detriment of the country.
It must be mentioned this draft bill has an impact on the future and is not retrospective. At the same time it ensures that the children born in this motherland in the future will not face the same unfortunate fate what the children of the past had to under the Rajapakse era .
We would like to ask , is this rooting out of the white van culture forever going to be an issue to humanity that knows what is fragrance from stench .
Are those who are opposing this bill indirectly saying even in the future ,opportunities must be afforded to sacrifice young lives , and destroy them ruthlessly in cold blood?
The pro Rajapakse groups at a recent media briefing said, this enactment is pernicious to the forces. Aren't the Rajapakses by this allegation telling the world , it were the security forces that were responsible for the abductions , forced disappearances , and extra judicial killings in this country during their reign? and thereby loudly declaring the war heroes are war criminals?

Sadly , Mahinda Rajapakse M.P. by acting in this diabolic and traitorous manner has once again made an exhibition of his sinister and villainous traits thereby stripping himself nude before society.
The most ludicrous part of Rajapakse M.P.'s play acting is : It is he who requested the consent to allow the UN action team to visit SL on 1989-12-04 for the first time in regard to disappearances – forced and due to negligence in SL, and it is the same M.P. Rajapakse who posed as a great lover of human rights then who has now forgotten the past. This is of course unsurprising because it is natural for a double dealing Rajapakse who is intoxicated with power greed to resort to double crossing .
In conclusion what can be said is, the time has come to sweep away such double faced politicians from democratic politics .
Mangala Samaraweera
(Translation by Jeff)
---------------------------
by (2017-07-09 21:41:07)
We are unable to continue LeN without your kind donation.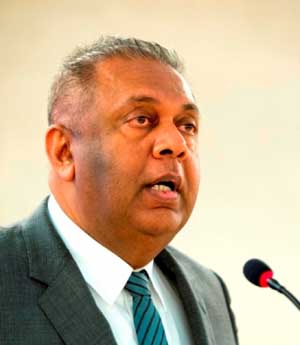 Leave a Reply